Distribution of 'iOS 15' started, summary of new functions such as 'centralized mode' and 'text recognition display'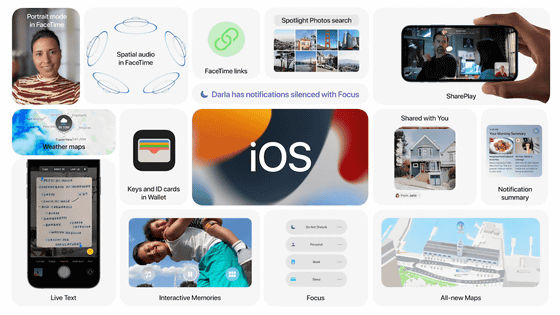 From the early hours of September 21, 2021, the latest version of the OS for iPhone, ' iOS 15 ', has been released.
At WWDC
2021 in June 2021 when iOS 15 was announced, the explanation focused on the function to connect people who were separated by the pandemic of the new coronavirus, but other than that. Many new features have appeared.
iOS 15 is available today --Apple
https://www.apple.com/newsroom/2021/09/ios-15-is-available-today/
About iOS 15 Update-Apple Support (Japan)
https://support.apple.com/ja-jp/HT212788
iOS 15 --Features--Apple (Japan)
https://www.apple.com/jp/ios/ios-15/features/
Updating to iOS 15 is easy, tap 'Upgrade to iOS 15' from 'General'-> 'Software Update' in the 'Settings' app.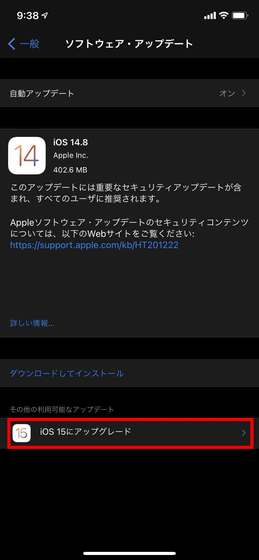 Tap 'Download and install' and it's OK. The capacity required for the update is 3.2GB.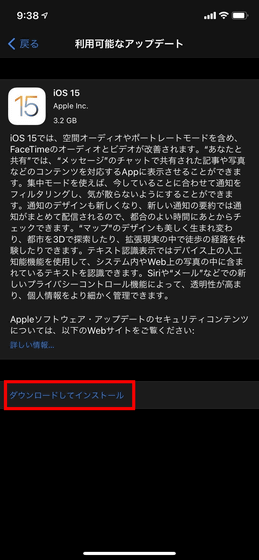 Below is a list of new features in iOS 15.

◆ FaceTime enhancements
Both FaceTime video and audio calls have been updated to make your calls more natural and realistic. FaceTime now supports spatial audio, where participants' voices can be heard from different directions during group calls.

In addition, a new microphone-related function, 'Voice Isolation,' can use machine learning to remove background noise and give priority to the user's voice in a call. On the other hand, if you want to deliver all the sound including background noise to the other party, you can switch to 'Wide Spectrum'. In addition, FaceTime will introduce a portrait mode that blurs the background and focuses only on the user, inspired by the portrait mode available on the iPhone camera.

In addition, these new features will be available not only in FaceTime, but also in third-party video calling apps such as Webex, Zoom and WhatsApp. However, 'Spatial Audio', 'Separate Voice', 'Wide Spectrum', and 'Portrait Mode' are only compatible with iPhone XS, iPhone XS Max, and iPhone XR or later.

In addition, it also supports a grid view display that evenly arranges participants' images on the screen during FaceTime group video calls.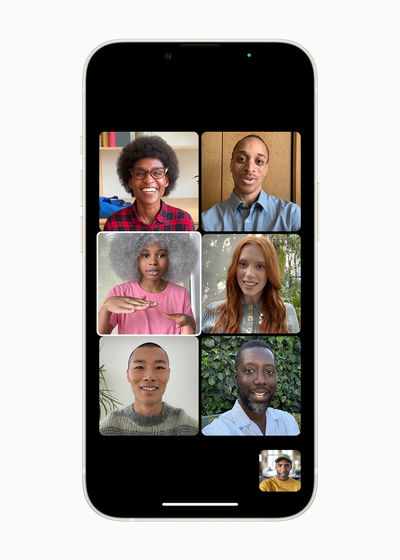 In addition, FaceTime is now available not only on Apple devices but also on Android and Windows devices. To use FaceTime from other than Apple devices, you need to use a web browser, and the web version of FaceTime supports end-to-end encryption, so you don't have to worry about your privacy being compromised. To use the web version of FaceTime, you need
to create a link for calling on the Apple device side.
It also supports 'SharePlay' as a new way to share music and video content with friends and family during Facetime. This allows you to watch TV shows and movies together, complete workouts together, and share your screen. SharePlay supports genuine Apple services such as Apple Music, Apple TV +, and Apple Fitness +, as well as third-party apps such as Disney +, ESPN +, HBO Max, Hulu, MasterClass, Paramount +, Pluto TV, SoundCloud, TikTok, and Twitch. To use SharePlay with Facetime, you need to use it from iPhone, iPad, or Mac, but anyone participating in the call can manage the playback / pause of the SharePlay session.
◆ Shared with You
'Share with you' is a new way to share photos, articles, music, videos, etc. via messages with friends and family, available in apps such as Photos, Safari, Apple News, Music, Podcasts, and Apple TV. The shared content is added to the corresponding app, for example, if you share a photo, it will be added to the photo app, and if you share a news article, it will be added to the Apple News app. The shared content is automatically added to the sharing section of each app, so you can easily check who shared the content.
For example, in the case of the photo app, a new item 'Share with you' has been added to the 'For You' tab, and you can check the content shared by other users.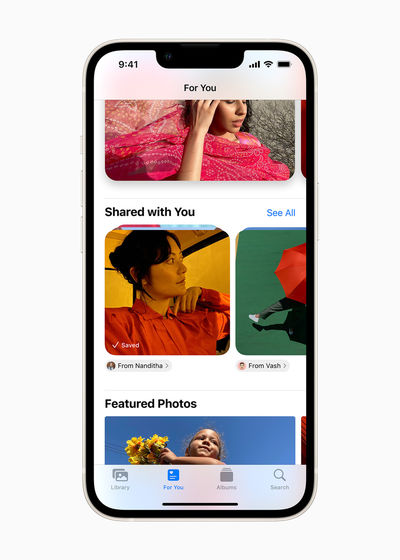 ◆ Focus (concentrated mode)
New in iOS 15, 'Intensive Mode' is a feature that helps users focus on things by filtering notifications based on what they want to focus on. For example, during working hours, we allow only notifications from apps used for work and hide notifications from unnecessary apps to help you focus on your work.

Intensive mode has four filters, 'Good night mode', 'Sleep', 'Personal', and 'Work', which can be used for each scene in advance, but you can also customize which app you want to allow notifications. In addition, the centralized mode is newly added in the setting application, and it will be used in the form of specifying the time zone such as XX hours to XX hours.

In addition, users can set to display only some apps and widgets on the home screen when using centralized mode. This makes it impossible to access unnecessary apps not only from notifications but also from the home screen. If you use centralized mode on one Apple device, other devices linked to the same Apple ID will automatically switch to centralized mode.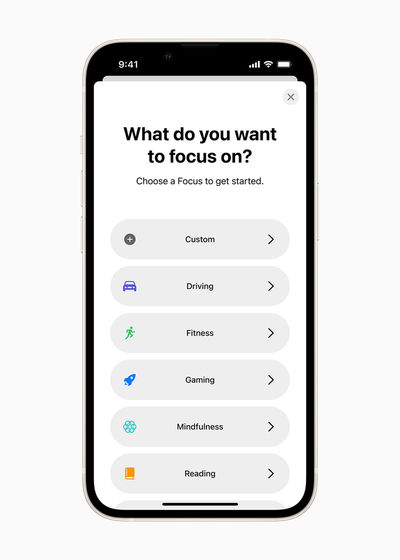 ◆ Notification
The notification area has also been redesigned to show photos of people registered as contacts and larger app icons. In addition, the new function 'Notification Summary' makes it possible to deliver notifications at a convenient time every day based on the set schedule. You can now mute notifications from any app or message thread on an hourly or daily basis.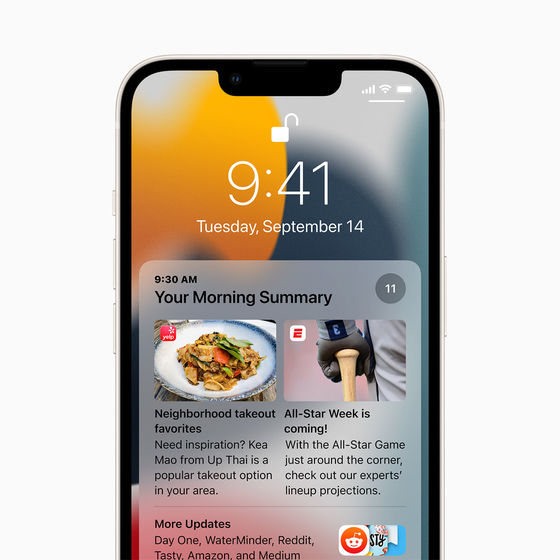 ◆ Text recognition display
A 'text recognition display' function has also been implemented that allows you to convert characters and sentences contained in photos into text data and copy and paste them. This makes it possible to tap the photo with the phone number to make a call, or tap the image with the web address to open the corresponding page.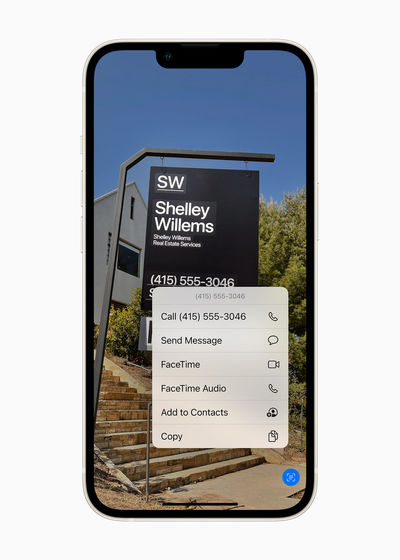 ◆ Safari
In Safari, the search box and tab management that used to be at the top of the screen are now fixed as a 'tab bar' at the bottom of the screen, making web browsing with one hand easier. In addition, the arrangement of this tab bar can be changed to the shape fixed at the top of the screen as before.



Other new features are as follows.

Message and Memoji
-Contents sent by friends in 'Message' conversations are displayed in 'Share with you' of each app such as Photos, Safari, Apple Music, Apple Podcasts, and Apple TV.
-It is possible to pin the selected shared content and display it at the top in 'Share with you', search for 'Message', and display 'Details' of the conversation to make it stand out.
-Display multiple photos sent in 'Message' as a collage or swipeable stack that you can see at a glance
・ You can customize the clothing and hats of the Memoji sticker by choosing up to 3 different colors from over 40 clothes for Memoji.

map
3D display that guides altitudes, trees, buildings, landmarks, crosswalks, left and right turn lanes, and complex interchanges in cities such as the San Francisco Bay Area, Los Angeles, New York City, and London (more cities planned in the future) In detail on the city map (iPhone XS, iPhone XS Max, iPhone XR or later)
-Added new drive functions such as a new map for drivers that highlights details such as traffic information and accidents, and a route planner that allows you to select a future departure time or arrival time and check the travel route.
・ Augmented reality display of step-by-step route guidance with immersive walking route guidance (iPhone XS, iPhone XS Max, iPhone XR or later)
・ The transportation experience has been updated so that you can access the departure time of the nearest transportation with one tap, easily display / operate the route with one hand, and notify you when you approach the getting-off station.
-Display expanded detailed information on mountainous areas, deserts, forests, oceans, etc. on an interactive 3D globe (iPhone XS, iPhone XS Max, iPhone XR or later)
-The redesigned location card makes it easier to check and operate the location in detail, a new guide is displayed, and recommended tourist spots carefully selected by the editor according to your preference are displayed.

Safari
-The tab bar below makes it easier to access tabs, and you can swipe left or right to move between tabs.
· Tag groups help you save and organize your tabs and are easily accessible from all your devices
-Grid display of open tabs in tab overview
-Customize background images and add new sections to the start page, such as 'Privacy Report', 'Siri Suggestions', and 'Share with You'
・ You can download iOS web extensions from the App Store to help you personalize your browsing operations.
・ By voice search, you can search the Web with your own voice.

Wallet
-Add a home key and tap the key on the door of a compatible home or apartment to unlock (iPhone XS, iPhone XS Max, iPhone XR or later)
・ You can unlock by tapping the door of the hotel room by adding the room key of the participating hotel.
・ You can unlock by tapping the office door by adding the office key of the participating company.
-Car keys and ultra-wideband allow you to unlock, lock, and start the engine of your corresponding car without removing your iPhone from your bag or pocket (iPhone 11 and iPhone) 12 models)
-Using the remote keyless entry function of the car key, it is possible to lock and unlock the car, honking the horn, pre-warming, and opening the trunk on compatible vehicles.

Spotlight
· Display all the information about the contact, actor, musician, movie, TV show, etc. you are looking for in the search results in detail.
・ You can search for photos by specifying the location, people, scenes, texts in the photos and other things (dogs, cars, etc.) from your photo library.
・ Web image search allows you to search for people, animals, monuments, etc.

Photo
Redesigned memory with interactive interface, animated cards with titles that change smartly with content, animation and transition styles, and new collages of multiple images
If you have an Apple Music subscription, you can add Apple Music to your memory and combine expert recommendations and your music preferences with what you see in your photos and videos to create personalized songs. suggestion
・ In Memory Mix, you can select from various songs and set the atmosphere that suits your memory.
New memory types include new holidays around the world, child-centric memory, time-honored trends, and improved pet memory
-Display detailed information about the photo such as the camera and lens used, shutter speed, file size, etc. on the information panel.

health care
· Share allows you to select and share healthcare data, notifications, and trends to share with your loved ones and caregivers.
· Use Trends to see how a particular healthcare metric is progressing over time and be notified when new trends are detected
・ With the new index 'Walking stability', it is possible to evaluate the risk of falls and notify when walking stability deteriorates (iPhone 8 or later).
・ Proveable health care records allow vaccination of new coronavirus infection (COVID-19) and download and storage of test result certificates

weather
-New design that displays the most important weather information in each region and adds a new map module
・ The weather map can be displayed in full screen, and precipitation, temperature, and air quality can be seen in the corresponding areas.
· In Ireland, the United Kingdom, and the United States, you can be notified when it starts to rain or snow, or when it stops, with a 'precipitation intensity for the next hour' notification.
-New animated background that can more accurately represent the position of the sun, clouds, and precipitation (iPhone XS, iPhone XS Max, iPhone XR and later)

Siri
-Since the voice of the request to Siri is processed on the device, this data does not go out of the device without any special settings, and it is possible to process many requests with Siri even offline (iPhone XS) , IPhone XS Max, iPhone XR or later)
・ By sharing items with Siri, you can send on-screen items such as photos, web pages, and location information of 'maps' to any contact.
・ Siri can send messages and make phone calls to the contacts displayed on the screen according to the context on the screen.
・ Personalization on the device improves Siri's voice recognition and comprehension ability for each user (iPhone XS, iPhone XS Max, iPhone XR or later)

privacy
-Email privacy protection function that protects privacy by preventing the sender of the email from knowing the user activity in 'Email', the IP address, or whether the email was opened.
-Intelligent tracking prevention function that can now protect from profiling using IP addresses by known trackers in Safari

iCloud +
A cloud-based subscription service that provides special features and additional iCloud storage
· ICloud Private Relay (Beta) uses two different internet relays to send requests and encrypt internet traffic originating from your device to protect your security and privacy when browsing websites in Safari. Strengthen
-A 'private email' function that allows you to send and receive emails without sharing the actual email address by creating a unique random email address and forwarding it to your personal inbox.
HomeKit Secure Video allows you to connect more security cameras than ever before without consuming the space of your iCloud storage plan
· Personalize your iCloud email address with a custom email domain and invite your family to use that domain

Accessibility
・ Use VoiceOver to inspect images to get a better understanding of people and objects in your photos, and to understand text and table data.
-Using the Markup VoiceOver image description, you can create and add your own description of the image that VoiceOver can read aloud.
・ In the settings for each application, it is possible to customize the screen display and text size settings only with the target application.
-Background sound that can continuously play balanced noise, bright noise, dark noise, ocean, rain, and stream sounds in the background and hide unnecessary noise from the outside.
・ Switch control sound action allows you to control your iPhone with a simple sound.
・ If you load the audiogram in 'Settings', you can customize the headphone adjustment according to the result of the hearing test.
-Added Chinese (Mainland China), Cantonese (Hong Kong), French (France), and German (Germany) as voice control languages.
-Added options such as cochlear implants, oxygen tubes, and soft helmets to Memoji

others
-In 'Notes' and 'Reminders', you can use tags to quickly classify items to make them easier to find, or use your own smart folders and smart lists to automatically collect notes and reminders based on defined rules. Possible
· 'Memo'-'Name Mention' to let others know about important updates in your shared notes, or to show all recent changes made in your notes in a new activity view in one list. Is possible
-Apple Music supports spatial audio with dynamic head tracking, enabling a more powerful Dolby Atmos experience with AirPods Pro and AirPods Max
-The system-wide translation function allows you to select and tap text anywhere in the system, including the text in the photo, to translate.
-Added new widgets such as 'Search', 'Contacts', 'App Store', 'Sleep', 'Game Center', and 'Email'.
・ Drag and drop function between apps allows you to select images, documents, and files from one app and drag them to another.
-The magnifying loupe on the keyboard allows you to magnify the text when you move the cursor.
You can choose one or more trusted contacts to recover your Apple ID account and have them help you reset your password and restore access to your account.
· If you buy a new device, use temporary iCloud storage and get the storage capacity you need to create a temporary backup of your data for up to 3 weeks, free of charge
・ With the notification function when you move away from 'Search', you can search the route to your belongings by 'Search' when the corresponding device or belongings are away from you.
· Save gameplay highlights up to the last 15 seconds using a game controller such as the Xbox Series X | S Wireless Controller or Sony PS5 DualSense Wireless Controller
・ In-app events on the App Store allow you to find timely events in the app or in-game, such as game competitions, premier screenings of new movies, and live streaming experiences.