What is the reason for the strange phenomenon that processed cheese prices fall in response to soaring timber prices?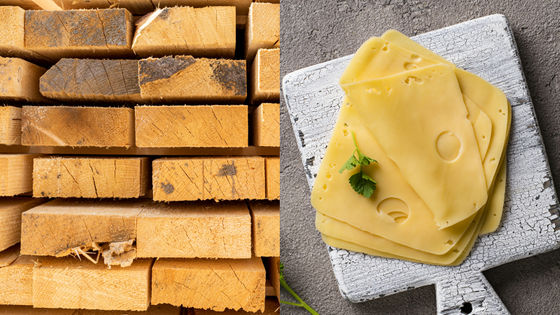 In the United States, the epidemic of the new coronavirus infection (COVID-19) has caused an increase in demand for new homes and a decrease in the supply of timber at the same time, resulting in a 'wood shock', which is a phenomenon of soaring timber prices. increase. The wood shock has led to an increase in the cost of wooden construction, but it has also led to a seemingly unrelated "decrease in the price of processed cheese".

High Lumber Prices Lead to Unexpected Surplus of Cheese --Bloomberg

https://www.bloomberg.com/news/articles/2021-08-12/the-latest-victim-of-soaring-lumber-markets-is-processed-cheese
Soaring lumber costs bring cheese prices to 15-month low
https://thetakeout.com/high-lumber-prices-cheap-processed-cheese-barrels-housi-1847509944
While some industries continue to be in a difficult situation due to the expansion of COVID-19, there are also industries such as 'housing construction' where demand has recovered rapidly. In the United States, there is a trend of building new construction and remodeling in the suburbs against the background of huge fiscal mobilization, low interest rate policy and expansion of remote work, and in the latter half of 2020, housing that greatly exceeds the level of the usual year There was an increase in construction demand.
However, on the other hand, not only was the forest damaged by insect damage and wildfires, but the sawmill was forced to close due to the COVID-19 epidemic, and as a result, the supply of timber fell. As mentioned above, timber prices are skyrocketing due to the simultaneous increase in demand and decrease in supply.
Supply constraints brought about by the new corona; Impact of wood shock | Other research and analysis reports | Ministry of Economy, Trade and Industry
https://www.meti.go.jp/statistics/toppage/report/minikaisetsu/hitokoto_kako/20210719hitokoto.html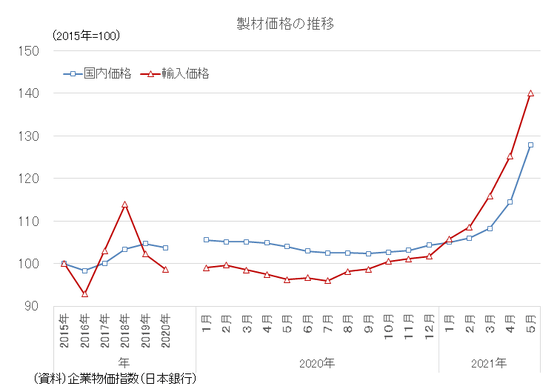 Even in the aftermath of this soaring lumber price, the 'decrease in the price of processed cheese' has become a hot topic. Cheese and lumber seem unrelated at first glance, but in the United States, cheese other than processed cheese is basically shipped in 'wooden boxes.' As a result, the cost of transporting cheese other than processed cheese has risen across the board due to the rise in timber prices.
On the other hand, processed cheese uses a production process in which a thick plastic bag is laid in a large cardboard box, liquid processed cheese is poured into it with a pump, and then vacuum-sealed, which has nothing to do with lumber. As a result, the cheese industry is shifting to the production of processed cheese, and as a result, processed cheese costs $ 500 per pound (0.45 kg) on the
Chicago Mercantile Exchange, or $ 1.31 per pound.
It has dropped to about 320 yen per kg. It has hit a new low for the first time in 15 months since May 2020.