British Library announces online publication of 5 million pages of newspaper articles for free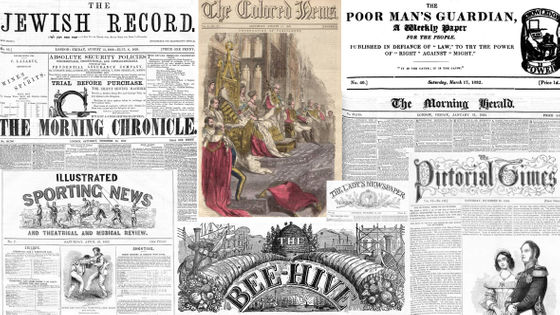 The British Newspaper Archive (BNA), a project to digitize newspapers held by the British Library, announced on August 9, 2021 that some of the digitized archives will be released for free. The target of this free release is 1 million pages published by 1880, and over the next four years, 1 million pages will be available each year, for a total of 5 million pages to be viewed free of charge.

Introducing Free to View Pages | The British Newspaper Archive Blog

https://blog.britishnewspaperarchive.co.uk/2021/08/09/introducing-free-to-view-pages-on-the-british-newspaper-archive/
British Library puts 1 million newspaper pages online for free
https://www.ianvisits.co.uk/blog/2021/08/11/british-library-puts-1-million-newspaper-pages-online-for-free/
BNA is a project aimed at widely disclosing the historical resources stored in the British Library, including national newspapers, weekly magazines, and sports, including
not only the United Kingdom but also the (former) Commonwealth Realms such as Jamaica, India, and New Zealand.
A total of about 44 million pages, including specialized magazines on fashion, fashion, and politics, have already been digitized. This is about 10% of the newspapers held by the British Library, and it seems that 500,000 pages are added to the archive every month even at the time of article creation.
An annual subscription fee of £ 80 is required to view all of this archive, but BNA has decided to publish some of it for free. About 1 million pages of 158 newspapers published from 1720 to 1880 were released for free this time. The publication date is set by 1880 because there is a deadline of '140 years from publication' for the copyright to expire completely in the United Kingdom.
The free archive can be searched from the following BNA site, and a
free account registration
is required to view it.
Home | Search the archive | British Newspaper Archive
https://www.britishnewspaperarchive.co.uk/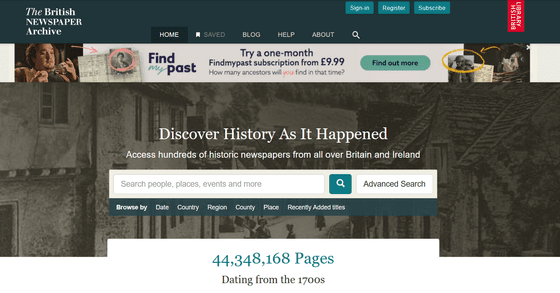 If you check 'Free To View' in the left column after searching, you can narrow down only the articles that are published for free.