It turns out that the personnel who livestream the crime are hired by the crime prevention application `` Citizen''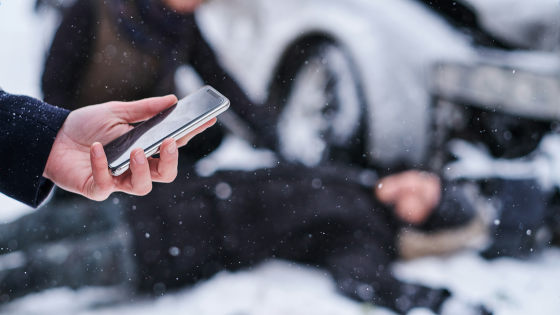 The crime prevention app 'Citizen ' that sends a warning when a dangerous situation such as an incident or crime occurs is operated in the form of an SNS platform, and the user 'posts information on the incident that happened to be encountered and posts information on the incident. It looks like it's informing the neighbors of it. ' However, it is reported that Citizen actually hires people who run around the city and livestream the situation of accidents and crimes for about $ 200 a day (about 22,000 yen).

Citizen pays New Yorkers $ 25 an hour to livestream crime scenes
https://nypost.com/2021/07/25/citizen-pays-new-yorkers-25-an-hour-to-livestream-crime-scenes/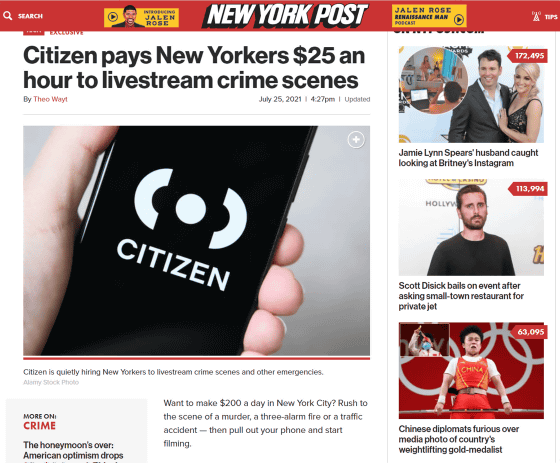 Citizen is now paying New Yorkers to livestream crimes
https://www.inputmag.com/culture/citizen-is-now-paying-new-yorkers-to-livestream-crimes

Citizen is distributed on the App Store and Google Play, and became popular as anti-discrimination demonstrations increased in the United States in 2020. At the time of writing, it is said that there are 7 million Citizen users in 30 cities in the United States.

The information that the app uses for warnings seems to have been reported by volunteers who happened to encounter a dangerous situation, but there are actually 'field team members' who run around the city chasing emergencies from recruitment sites. Was discovered. According to the New York Post, members of the field team working in New York are hired for an 8-hour shift per day for $ 200 a day, and members in Los Angeles are hired for a 10-hour shift per day for $ 250 a day. It is said that it is hired for 28,000 yen).

For example, Chris, who is registered in the app with an account called '@cgutter_', is one of the field members working in New York. Mr. Chris seems to run around six places in one day, such as a bus accident and shooting in New York. Chris has delivered 1,600 videos so far, with a total of 1.52 million views.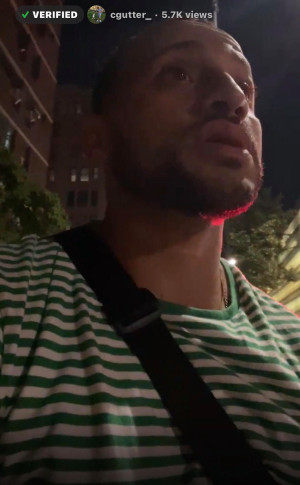 Citizen acknowledges that Chris is a field member. However, Chris is not specifically flagged as a field member within the Citizen app. A Citizen spokeswoman said the presence of field members was not a secret, saying, 'Citizen has teamed up in several cities where the app is available to demonstrate how the platform works and the incident happened. It models a real-time 'responsible way of broadcasting' in time. '

Please note that Citizen does not recruit field members on its website. On the other hand, on the recruitment site 'JournalismJobs.com', 'technology companies that handle user-generated content' are anonymously recruiting 'field team members'. This offer has already been removed, but the description of the job states: 'Livestream directly from your phone to the app and report what you see. There are witnesses, police stations, or other interviewers. If so, you need to take the lead in interviewing for your app's viewers. '