'AirPods battery cannot be replaced' The focus of the problem is 'right to repair' claim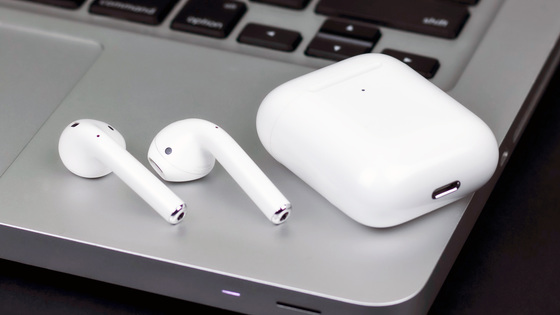 The battery built into Apple's wireless Bluetooth earphone 'AirPods' cannot be replaced even if the battery life is shortened due to aging. The economic media CNBC argues that users must be granted the 'right to repair' to freely repair the product in order for the AirPods to be able to replace the battery.

Apple AirPod battery life problem shows need for right-to-repair laws

https://www.cnbc.com/2021/07/10/apple-airpod-battery-life-problem-shows-need-for-right-to-repair-laws.html
Apple's 'business model centered on hardware sales' assumes that users will replace it with the latest model every few years. One example is the AirPods battery problem.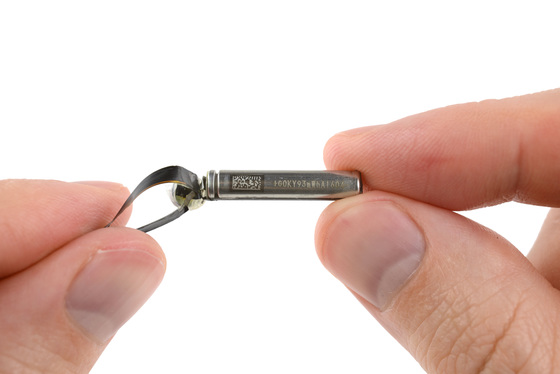 by
Arthur Shi
AirPods have a small battery built in, and once charged, they can play continuously for up to 5 hours. However, as the battery deteriorates over and over again, the maximum continuous playback time of AirPods is destined to become shorter and shorter.
If the battery deteriorates, it's okay to replace it, but Apple says, 'We design our products with durability in mind to minimize the need for repairs.'
(PDF file) Environmental Progress Report
As written in, AirPods basically do not assume that the user will replace the battery at the time of design, and parts including the battery are not sold to the general public.
IFixit
, which disassembles and repairs various digital gadgets, rated the repairability of 2nd generation AirPods as 0 out of 10 points, 'AirPods are not designed for Apple's service. Hmm. In order to access the hardware parts, it will damage the device. '' The sealed battery limits the lifespan of the AirPods. Therefore, this earphone is a consumable / disposable item. ' I have commented.
AirPods 2 Disassembly-iFixit
https://jp.ifixit.com/Guide/AirPods+2%E3%81%AE%E5%88%86%E8%A7%A3/121471
Apple's business model of forcing users to buy new products is detrimental to consumers, and AirPods battery replacement is one of the cases where a 'right to repair' should be applied, CNBC said. I have. Guarantee of the right to repair is being called for in various countries around the world, and it is reported that in July 2021, the Biden administration in the United States is also moving to guarantee the right to repair.
Is President Biden instructing the creation of a draft regulation that prohibits manufacturers from restricting 'rights to repair' --GIGAZINE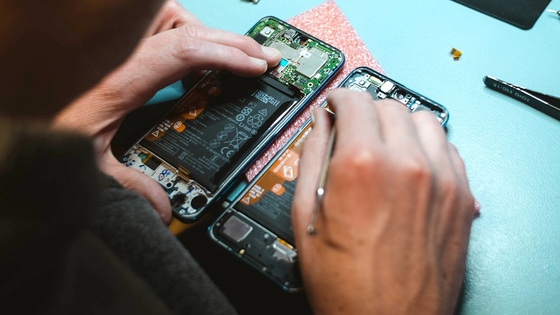 In order to guarantee the right of such users to repair, the startup 'PodSwap' that replaces the battery of AirPods has been launched in the United States.
Podswap | Keep AirPods Alive and out of the Landfill
https://www.thepodswap.com/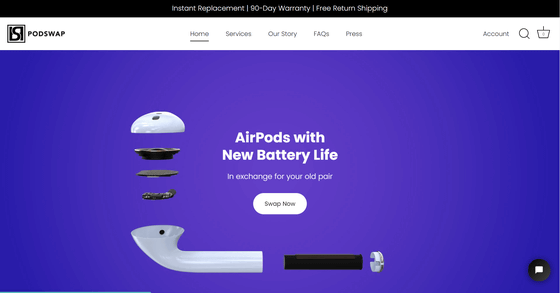 PodSwap disagreed with throwing away AirPods and developed a special device to make it easier to replace the AirPods battery. On the
official website
, PodSwap said, 'We think we should be able to fix ourselves. It's a shame to invest in a product that can't be repaired. ', And asserts the right to repair.
PodSwap's battery replacement service costs $ 59.99 (about 6600 yen, shipping not included), and it is a mechanism to replace old AirPods with refurbished AirPods that have been battery-replaced and cleaned. It's a lot cheaper than buying a new one, but you'll be able to receive your AirPods with a new battery just days after you sign up for a battery replacement.
Emily Alpert, co-founder of PodSwap, said, 'This process has been developed through trial and error, many AirPods have been sacrificed and eventually recycled. The big challenge we faced is AirPods. It was to overcome individual differences. Each AirPods has small differences, which creates complexity when disassembling. '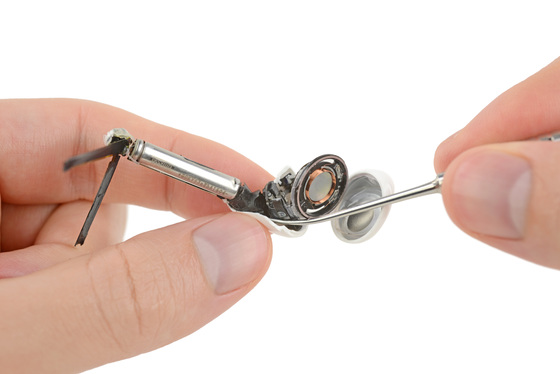 by Arthur Shi

In addition, at the time of article creation, PodSwap is only compatible with AirPods, but in the future it is planned to support AirPods Pro as well. According to PodSwap, the internal structure of AirPods Pro is more complicated than AirPods and it is more difficult to replace the battery.