Interview with director Takamitsu Hirakawa of the anime 'NIGHT HEAD 2041', how did you reproduce the unique atmosphere?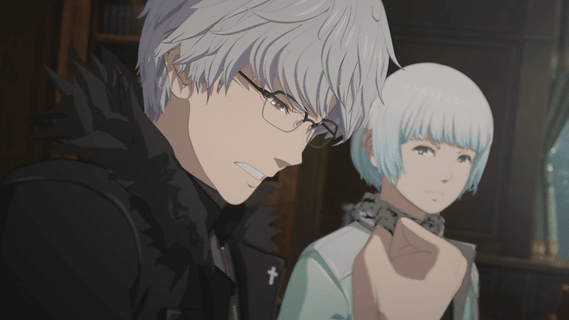 'NIGHT HEAD', which was broadcast as a late-night drama starring Etsushi Toyokawa & Shinji Takeda from 1992 to 1993, became popular, and the original author, George Iida, worked on the series composition and screenplay of the new animation 'NIGHT'. It will be revived as 'HEAD 2041'. The director of this work is Takamitsu Hirakawa, who was in charge of CG director of 'revisions revisions'. We asked him how he animated a work that was nearly 30 years old, counting from the drama, in 2021.

'NIGHT HEAD 2041' official website

https://nighthead2041.jp/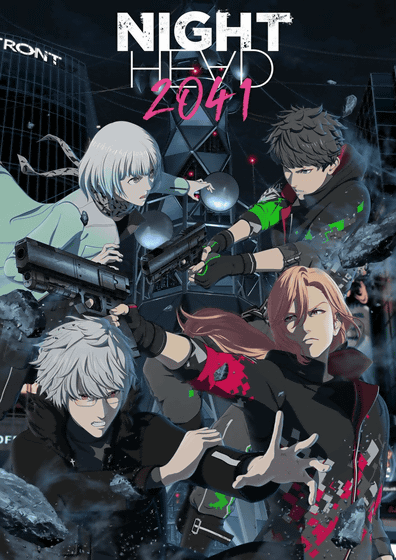 GIGAZINE (G):
When did you first come to Hirakawa to ask you to become the director of 'NIGHT HEAD 2041'?

Director Takamitsu Hirakawa (henceforth, Hirakawa):
Did you first talk about it about two years ago? It was the first time that there was a plan for 'NIGHT HEAD' and there was a talk about whether it would be possible to produce a video with Shirogumi.

G:
Did you know about 'NIGHT HEAD'?

Hirakawa:
The moment I heard the name, I thought, 'Is this' NIGHT HEAD '?', But since it was a live-action drama work nearly 30 years ago, I thought it was a different project, and the first reaction was. In fact, when I learned that it was a CG animation of 'NIGHT HEAD', I felt that 'this seems to be interesting', and at the same time I felt that there were parts that could be drawn effectively and parts that were difficult.

G:
Was it the story of directing Mr. Hirakawa from the beginning?

Hirakawa:
At first, I remember talking about 'creating an anime with Shirogumi.' After that, in order to balance various resources in 3DCG animation production and effectively visualize Mr. Iida's script, there was a judgment in the entire project that the quality level could be raised by centrally controlling it. I will do it as a director.

G:
Do you feel like you've embarked on 'I'll have to do this now'?

Hirakawa:
Maybe I was embarking on it (laughs), but personally I was honored to hear from you, and I decided to 'make something solid and good.'

G:
I think this is the first time that Mr. Hirakawa has been in charge of the position of director, but when you actually tried to direct, was there anything different from the director position you had imagined so far?

Hirakawa:
Up until now, as a CG director, I had a history of interacting with on-site staff and working with the director, so I didn't feel much difference in the image of the director. However, in reality, I felt that it was difficult to show the direction to all the staff and make efforts and ingenuity to improve the quality in all the processes, and it was a good experience. I feel it. I had a lot of time to interact directly with Mr. Iida, and I heard a lot of interesting stories, and I enjoyed being involved during the production.

G:
This time, the series composition and screenplay are handled by Mr. George Iida, who is also the original author. It is said that they are actually interacting with each other. What is your impression?

Hirakawa:
Until I met you, I had imagined that Mr. Iida himself had a serious and delicate atmosphere from the impression of the TV drama 'NIGHT HEAD' (laughs), so I can meet in person and talk loosely. I was a little worried about it, but he kindly called out to me. Occult stories and works are not interesting unless they are completely shaken! It was impressive that he said, and I enjoyed working with him every time.

G:
At what stage did Mr. Iida decide to write the script?

Hirakawa:
By the time I heard about this project, Mr. Iida had already written the scenario. It feels like I'm starting to participate there. Originally it was composed of 24 episodes, but this time it was 12 episodes per course, so there was a flow of brushing up the 24 episode composition to 12 episodes, or improving the accuracy and summarizing the story.

G:
In the 'Comments from the main staff' sent to the official website, the director said, 'I thought it was a sharp project that was difficult to express when it came to animation.' Which part did you find difficult?

Hirakawa:
It's the delicate interaction between the brothers Etsushi Toyokawa and Shinji Takeda in the TV drama, and the atmosphere unique to that soothing 'NIGHT HEAD'. I thought that such an atmosphere would be too beautiful with 3DCG, and it would be difficult to express it in a picture.

G:
When I actually looked at episodes 1 and 2, I found that the atmosphere was 'this is'NIGHT HEAD''.

Hirakawa:
I would be happy if you could say that. Thank you very much.

G:
I didn't replace the TV drama version with CG as it is, and the storyline has changed, so it's strange to see why it's so 'NIGHT HEAD' ... why?

Hirakawa:
I consciously added the dampness to the screen as a lens effect, and I was also conscious of the hazy cityscape. I think that one of the factors is that the situation is set darker to create a unique look. Also, I thought that 'NIGHT HEAD' was an important work, so I'm a little conscious of how to take the space between the TV drama versions.

G:
I was surprised that the ability activation scene was also a flashy production and the action was moving around. Was this flashy appearance the direction of the script from the beginning? Or was there a decision to do it flashy because it was made by the method of 3DCG?

Hirakawa:
If anything, it's closer to the latter. Of course, the action scene does not come first because what is in the script is expressed in the video. However, I think that some young people do not know the work 'NIGHT HEAD', so I thought that the destruction scene by supernatural powers would be indispensable as an element that such people can see. It was. On top of that, I tried to keep the balance of 'NIGHT HEAD' so that it wouldn't be a mere 'ability battle', and I was conscious of the anguish of my brothers and the connection with the absurd society as much as possible. ..

G:
The stage is 2041, as the title says '2041'. The world of 2041 20 years from now is, of course, something that no one has ever seen, but how did you create 'let's make it look like this'?

Hirakawa:
When I first received the script, I talked with Mr. Iida about 'What is the image of Tokyo in 2041?' In this work, the Kuroki brothers, who are opposed to the Kirihara brothers, appear, but since it is a work that clearly depicts the confrontation with that organization, what kind of thought the organization side is and what kind of society is formed. It is built by back calculation. It's not as extreme as dystopia, but it's a society where ideological control is the norm. However, it is a matter of course for the people who live there, so the world view is that not everyone is killing them. Also, this time, Mr. Tomiyasu of INEI was in charge of the concept art, and Shibuya in 2041 is not a world full of advanced science and technology, which is 'not too devastated, but not too future', although it is a future. While retaining the reality of a world that may be possible 20 years from now, we are constructing an unbalanced landscape that mixes elements of the previous era with high quality with 3DCG, so by all means as a background to support the story of the brothers. I hope you will pay attention to it.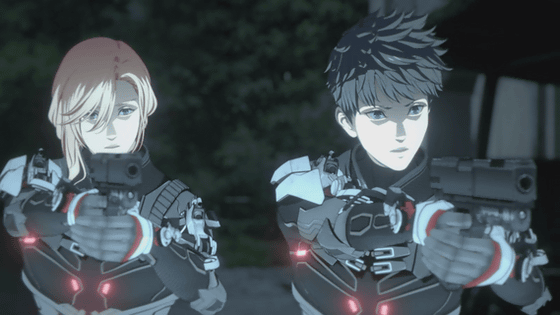 G:
Is the movement of the character hand-made or motion capture this time?

Hirakawa:
This time, I made it by hand so that the animator can control the details of the play.

G:
Previously, when I was interviewed during the broadcast of 'revisions revisions ,' Mr. Hirakawa mentioned 'play' as what he learned from director Goro Taniguchi. In the case of CG, what does 'play' mean?

Hirakawa:
'NIGHT HEAD 2041' has many relatively moving scenes, but there is always a reaction even when you are surprised or confused by the conversation scene or the paranormal phenomenon. In the case of conversation, the character's personality and the situation in which he / she is placed, such as whether he / she is looking at the other person, whether he / she is looking down, whether he / she speaks by blocking the other person's words, or whether he / she is prompted to open his / her mouth. It changes each time, so I feel like I'm working with animators on such points while thinking about better answers.

G:
I think that retakes that look like ordinary animation will occur in CG animation, but how do you release them? Is it mainly handwriting as well as drawing?

Hirakawa:
Basically, the director in charge checks the animation play and makes corrections. As in the case of drawing, we sometimes hand-write correction instructions, and sometimes we actually move and show the nuances. For example, you can shoot a pose and say 'please use this pose', or you can record a movement and say 'please do this from here to here'. After that, if you can use 3D tools, you may directly fine-tune camera work and motion.

G:
I see, you make full use of every method.

Hirakawa:
Well, I often give instructions in a way that is easy to convey according to the content.

G:
I think there will be time constraints on retakes and corrections. In such a case, what kind of standard do you set as a line that 'I can't give up here'?

Hirakawa:
First of all, it goes without saying that the movement of the character does not match the content of the production, but this character does not stand in this way, and we ask you to stick to the end of such character characteristics. Also, I am conscious of the tempo when the sound is added in action scenes.

G:
I missed the last interview, but how did Director Hirakawa decide to enter the CG field?

Hirakawa:
At first I was interested in movies and videos, but after learning that I could study CG at a vocational school. As a career, it is from moving the character, and from the CG animator. Was it around 2000 when I first touched it?

G:
I think CG has made considerable progress in the last 20 years, but did you find yourself in the process and feel that it was a major turning point? Or was it a seamless change?

Hirakawa:
Rather than talking only about the animation industry, I have the impression that there is now a lot of things, including the progress of CG in the game industry, VFX technology for live movies, the evolution of hardware, and the increase in the amount of information due to the spread of the Internet. There are waves, but I have the impression that they are progressing seamlessly.

G:
When you watch the making video of a CG movie, you can see that you are using your PC all the time. What kind of specifications does the PC use for this work?

Hirakawa:
In that respect, the specs do not mean 'you need something expensive anyway', but it depends on the person who handles it and the thing. For example, animators often go back and forth in the timeline to see what's going on, but they're dealing with lighter models to work efficiently, so you don't need a high-spec machine to that extent. .. On the other hand, for those who are in charge of destructive effects and large-scale explosions, the specifications are set higher because the physics simulation requires calculation time and the data to be handled becomes a large amount of data in the first place. I have.

G:
What is the main software?

Hirakawa:
Our team producing 'NIGHT HEAD 2041' is mainly 3ds Max , and Nuke is the main in composite. I also use After Effects.

G:
Is the software selection criteria such as 'because everyone is used to it'?

Hirakawa:
Well, our team has been using 3ds Max as their main tool for about 10 years, so it's relatively customized by creating scripts and tools to assist with the work. In addition, since the know-how and assets up to now are naturally accumulated, it is best to use the tools that have been used for many years in order to aim for the most efficient and high quality products. Of course, depending on the expression, you may choose another tool.

G:
It was a corona wreck, and it was produced under the influence of the state of emergency. What kind of influence did it have?

Hirakawa:
Most of the staff paid attention to the amount of communication when they moved to remote work. I think everyone is the same, but I talked with the section leader as much as possible, held regular meetings, checked the progress, and asked if there were any problems or problems. It feels like the individual staff should not be isolated.

G:
How big is the staff of 'NIGHT HEAD 2041'?

Hirakawa:
The staff involved in video production is about 70 to 80 people.

G:
In the case of such works, what part are most people involved in?

Hirakawa:
When it comes to moving characters with 3DCG, the percentage of animators is the highest.

G:
When it comes to CG, I sometimes hear people say, 'CG doesn't mean you can do anything.' In 'NIGHT HEAD 2041', it may seem like you're doing it lightly, but is there a scene where you're doing your best as a creator?

Hirakawa:
Is it still a destruction scene? I think that the place where things are broken or buildings are broken by activating psychic powers is more burdensome than other cuts. In addition to the effects, such as detailed plays of characters, action cuts, and backgrounds that create persuasive power with details, not only the effects but also other elements are made with the same level of spirit, so please take a look at various scenes. I would appreciate it if you could.

G:
Certainly, things are broken even when psychic powers are activated (laughs). Is the depiction around that done to some extent as an extension of the actual simulation?

Hirakawa:
Well, basically, physical phenomena are created by simulation, but most of the time, they cannot be used as they are. Because it's natural, it doesn't remain in my heart.

G:
So that's it…….

Hirakawa:
Therefore, by adding the intended movement as a production, we are aiming for a more memorable movement. In other words, after making a physical movement, it feels like moving it by hand to adjust it to the intended position and appearance. After that, I often ask them to add the effect of expanding or contracting the time, or accelerating or slowing it down, to bring out the tempo and keren taste.

G:
Does that mean that you are acting not only on the characters but also on the fragments?

Hirakawa:
I agree. In particular, the person in charge often moves the large debris on the front side of the camera by hand because he wants to put it in a good position (laugh).

G:
How much time has been spent making this 'NIGHT HEAD 2041' this time?

Hirakawa:
It's been about a year since the video production started. In the year before that, I was preparing the pre-production, model, and organizing the scenario, script, and content, so I think it will take about two years to complete the video for all the processes.

G:
If it is a hand-drawn animation, the storyboard will be made after the script, but in what order was this work made?

Hirakawa:
The script goes up and then the storyboard is the same, but after that, I made a V-conte that moves the storyboard like a picture-story show, and then started 3D work.

G:
I was thinking that the sound effects were amazing, but at what timing did I put them in?

Hirakawa:
It was expected that there would be quite a lot of sound elements to be added this time, so we ask that you schedule it so that you can add it as soon as the video is near completion. For example, even if it is called 'psychokinesis' with supernatural powers, it would be difficult to imagine the sound if it is only a pure white content.

G:
surely.

Hirakawa:
In that case, I thought that it would be better to see the picture that was actually destroyed and add sound to it, so I asked him to attach it to the almost completed picture. It is difficult to arrange the pictures, but as a result, you will be able to make good sounds, so the staff on the video production side are also doing their best.

G:
In addition to sound effects, there are gekitomo music elements in the sound of anime, but how did you decide on the gekitomo music?

Hirakawa:
For music, a while after the layout work for the first half of the episode started, when the video of one episode was almost in shape,
Mr. Yutaka Yamada
, who will be in charge of the music accompanying the play this time, gave a demo to match the flow of the scene. I had you put music in the form. It was so good that I consulted with Mr. Akedagawa, the sound director, and decided to ask him to make it like that throughout the whole story. I think music is an indispensable element in expressing this 'NIGHT HEAD 2041'.
G:
I was shown the opening video and ending video in a V-conte state, and various production instructions were written according to the song.
Hirakawa:
Regarding the opening and ending, I first told you the image of the song, listened to the demo I received and expanded the image, and made the production as if the flow of the video was like this. So, it feels like I made the details according to the song. I imagined how it would flow and how it would end, and at the end I felt that I fitted it in detail according to the actual song.
G:
Is there a part in this work that says 'Isn't this challenging?'
Hirakawa:
Is it the point that quality is pursued within the framework of TV animation? I think that a highly complete 3D work has been created, including the space including the background. Is it the shooting process after that? Since I can control the depth of field and bokeh by taking advantage of the 3D characteristics, I have the site make a lot of effort.
G:
This work is a convincing animation that 'This is' NIGHT HEAD '', but depending on the work, even if you look at it from an amateur's point of view, you may see CG movements such as 'This is really strange.' I can't point out exactly where and how to fix it, but what causes CG animation that doesn't feel natural?
Hirakawa:
I don't think 'this' is unconditional. Depending on the style, how to put it on and how to show it will change. For example, in the case of animation for children, it may be stopped in a pose that is easy for children to see. For works that are for adults and require natural movements, it is important to make them pose in a dark and exaggerated manner ... Of course, depending on the direction, whether or not the movements are appropriate is important. However, I think that any style has basic animator abilities. After that, the differences created by differences in production systems such as schedules and budgets are invisible to the viewer, but they certainly exist.
G:
In 2D drawing, 'skillfulness of painting' is relatively easy to understand, but can you understand 'skillfulness' in CG?
Hirakawa:
Basically, I think that the idea is not so different from 2D drawing animation. Regarding the quality of the pose, there is not much difference between hand-painted and 3D. The CG model can be drawn by moving the limbs, but it is the same as hand-painted, and it will not be a good picture unless the good and bad of the pose are thoroughly investigated.
G:
In the case of drawing, there are various guidelines such as drawing that 'practice this kind of thing will make you better', but in the case of CG, what kind of training will be done?
Hirakawa:
As an animator of our team, I regularly draw by hand, such as studying croquis and poses, at the request of the leader. I think that accuracy will improve by understanding and organizing what you see with your eyes when you output it by hand.
G:
That is, the results of training are actually appearing in work.
Hirakawa:
Well, I feel that the poses are getting better. It's the same as making it look natural, but I think that the number of attractive pictures with unique characters is increasing.
G:
Is there any advice that you should do something for those who want to make CG animation after seeing this work?
Hirakawa:
First of all, I think the important thing is 'what you want to do'. From people who want to do this kind of thing as an animator, want to go to this kind of level, want to be an artist who creates backgrounds, like gorigori's destructive effects, etc. It's difficult, but I think the ability to see what you feel good and what you don't, and where the difference lies, will be important in this industry. In other words, is it the 'eye to see'?
G:
So that's it.
Hirakawa:
I think that people who are trained in their 'eyes to see' will naturally grow. After that, if you like manufacturing and video production more than anything else, you will not feel the burden of learning, so you will grow naturally. I think that having fun is a pretty strong ability (laughs)
G:
Lastly, please tell us what you would like to see in 'NIGHT HEAD 2041', or what is worth seeing here.
Hirakawa:
We are looking forward to seeing the story of 'NIGHT HEAD 2041' newly created by Mr. George Iida as a video. What will happen to the story of the Kirihara brothers, and the story of the Kuroki brothers will be added to it, and it will become a bigger development. I would like you to take a look at the relationship between these two brothers. In addition, we are aiming for high quality in terms of video and sound, so I think that both those who know 'NIGHT HEAD' and those who do not can enjoy it, so please have a look. I think it's good.
G:
Thank you very much.
'NIGHT HEAD 2041' will start broadcasting on Fuji TV '+ Ultra' from 24:55 on July 14, 2021 (Wednesday). In addition, it will be broadcast on Kansai TV, Tokai TV, TV Nishinippon, Hokkaido Cultural Broadcasting, and BS Fuji. In addition, exclusive distribution has been decided on FOD.
TV Anime 'NIGHT HEAD 2041' Main PV --YouTube
We also interviewed Mr. George Iida, the original author who is in charge of the series composition and screenplay of this animation.
・ Continued
Interview with George Iida, the original author of 'NIGHT HEAD', and the feeling of answering the old work in the animation 'NIGHT HEAD 2041' --GIGAZINE