Former Opera CEO releases version 4.0 of high-performance browser 'Vivaldi', implementing translation function, email, calendar, RSS reader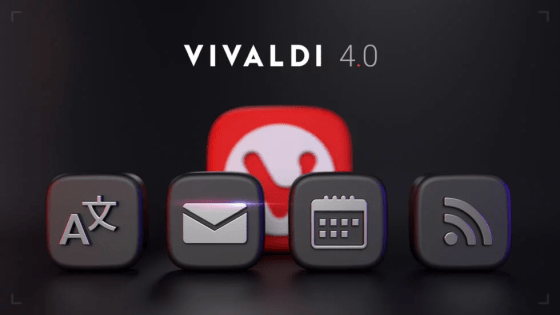 Version 4.0 of the web browser 'Vivaldi' developed by former Opera Software CEO and Opera developer
Jon Stephenson von Tetsner was released on June 9, 2021.
Version 4.0 includes
translation capabilities
and beta versions of email, calendars, and RSS feed readers.
Vivaldi 4.0 released: E-mail calendar feed reader released as beta with long-awaited translation function | Vivaldi Browser
https://vivaldi.com/ja/blog/vivaldi_4-0/
'More and more people around the world are looking for reliable, functional alternatives to the tools
Tech Giants provide. Vivaldi protects its data to meet those needs.
We have integrated a number of useful functions into the browser itself for ease of work. '
◆ Translation function
Translation capabilities have been added to Vivaldi's desktop and Android versions.
Lingvanex
's machine translation engine is hosted on Vivaldi's servers, so Tetsner appeals that it won't be captured by Google, Microsoft, and others.
You can use the translation function by clicking the 'A sentence' icon in the upper right. When I actually translate the
FBI page ...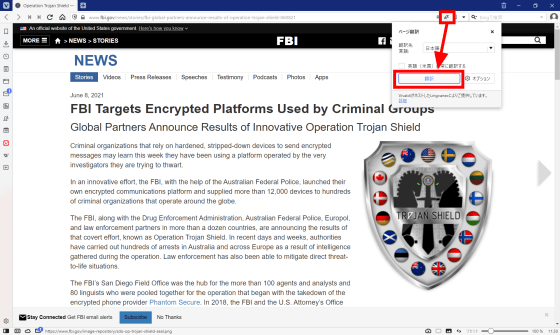 Like this.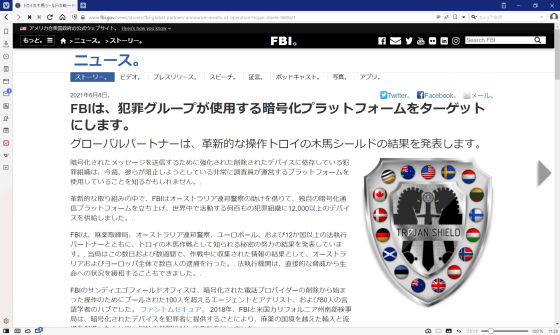 ◆ Email
The Email Calendar Feed Reader feature is in beta and you need to enable the Productivity feature from the menu to use it. Click the gear icon at the bottom left to open the setting screen, and check 'Enable mail, calendar, feed function' from 'General'.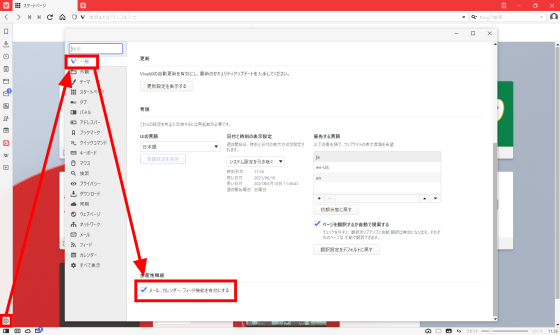 Click the email icon from the toolbar on the left and select Add Email Account.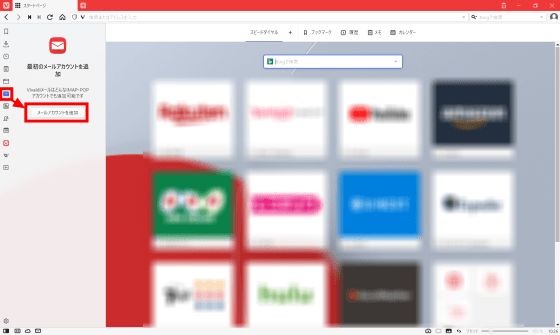 This time we will be able to manage Gmail with Vivaldi. Enter your Gmail address and click 'Continue'.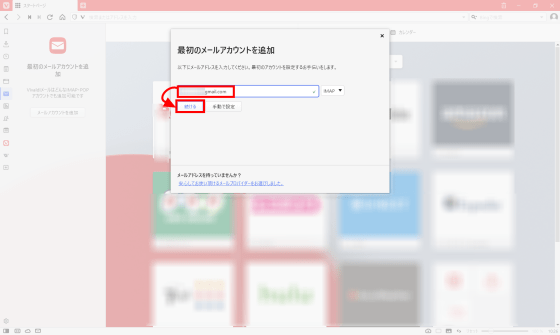 Gmail authentication will be launched. 'If you want to recognize only Gmail, you can authenticate with the application password', but when I actually tried it, it was recognized as 'a low security application' from the Gmail side, probably because it is a function that has just been released. It has been blocked. Therefore, this time, select 'Use OAuth'.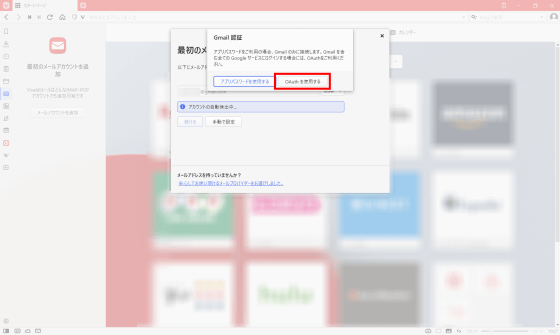 The Google account verification window will pop up. When you log in to your account, you will be asked to grant permissions to Vivaldi, so select 'Allow'.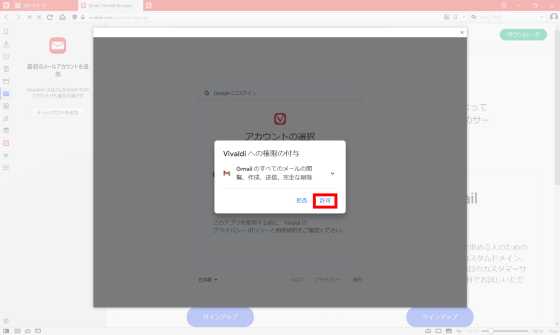 You will be asked to confirm the reliability of Vivaldi, so select 'Allow'.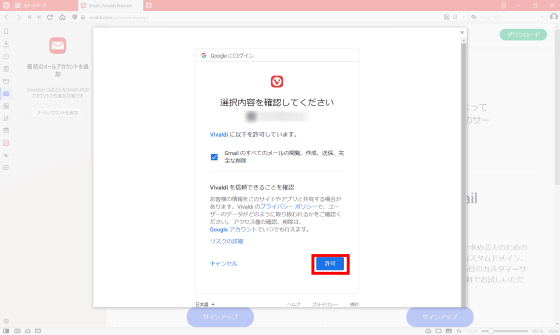 If the authentication is successful, you will be prompted to enter the name and signature of your email account. Click 'Continue'.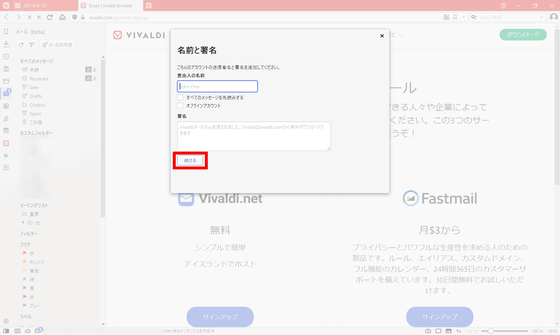 You can now manage Gmail from Vivaldi.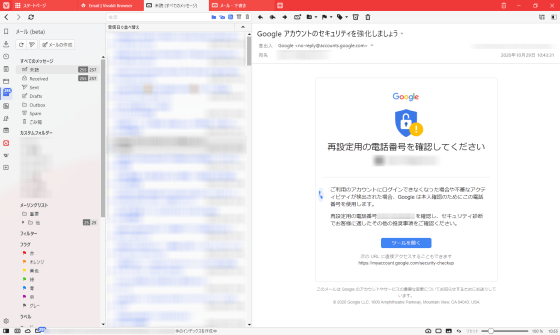 Since it has basic mailer functions, you can manage provider mail etc. by setting the server and port. Even if you don't have an email address, you can create one for free by creating a Vivaldi account.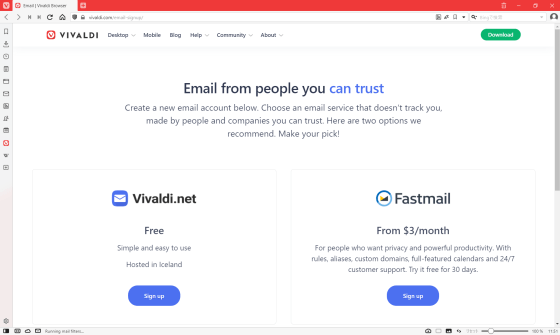 ◆ Calendar
The calendar has a UI like this. However, when I actually tried to add an appointment in the calendar, the appointment was not added even if I clicked 'Finish', probably because it was in beta. Also, it was said that it can be linked with Google Calendar, but even if you refresh by linking your account, the events registered in Google Calendar were not reflected.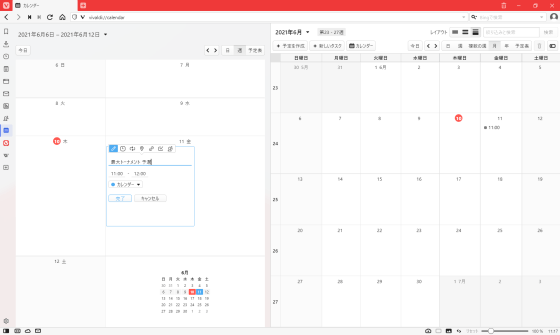 ◆ RSS reader
To display the RSS reader, click the RSS icon from the toolbar on the left. Click the + icon to display the add window. To register GIGAZINE this time, enter the title and URL of the feed (
https://gigazine.net/news/rss_2.0/
) and click 'Add feed'. The acquisition frequency is every 5 minutes, every 15 minutes, every 30 minutes, every hour, every 2 hours, every 6 hours, every 12 hours, every day, and every week.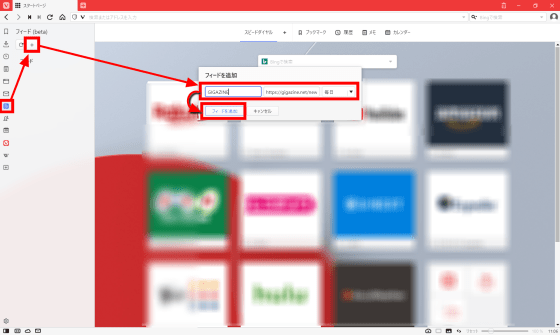 It gets RSS like this.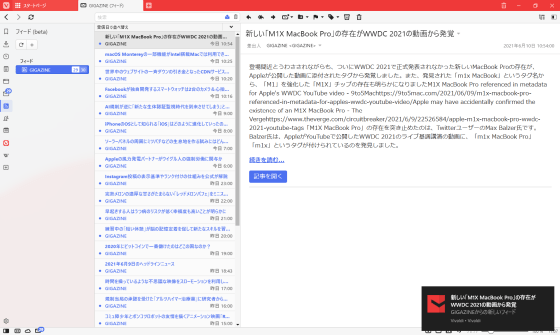 By acquiring RSS, you can check for updates on GIGAZINE without sticking to SNS such as Twitter and Facebook, which is useful.