Eating together with the family benefits not only children but also parents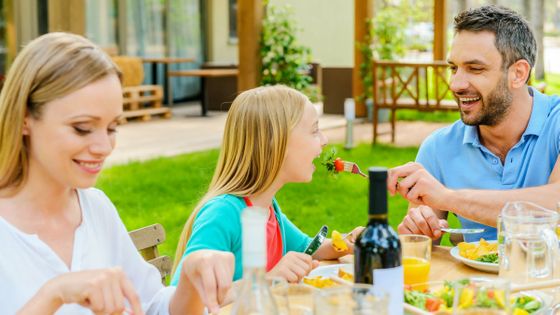 Previous studies have shown that eating together with the family can help children
prevent obesity,
reduce the risk of cardiovascular metabolism
, improve performance, and improve
mental health.
Anne Fishel, an associate professor of psychology at Harvard Medical School, explains that the benefits of having a family eat together extend not only to children, but to parents as well.
Family meals are good for the grown-ups, too, not just the kids
https://theconversation.com/family-meals-are-good-for-the-grown-ups-too-not-just-the-kids-158739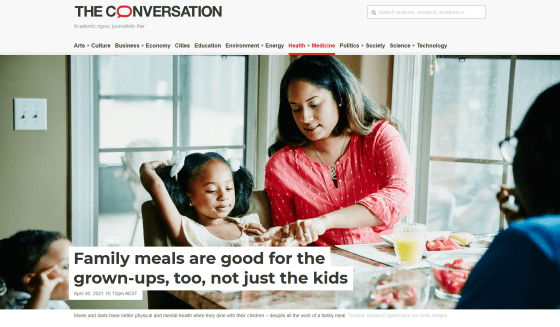 It is widely known that eating with multiple people is better than eating alone, and a
study
published in 2012 found that even couples without children eat together. It has been shown that the higher the frequency, the more fruits and vegetables you eat and the lower your fast food intake. A
study
of firefighters also reported that teams that interact while eating together performed better.
In addition to this, Fishel points out that parents who eat with their children have additional benefits. A 2018
study
found that parents who often eat with their children consume more fruits and vegetables. The reason for this is that it is possible that parents' diets have become healthy by trying to feed their children with nutritious foods.
We also found that parents who frequently eat with their children have higher self-esteem and lower levels of depressive symptoms and stress. This tendency was seen not only by fathers but also by mothers who tend to spend a lot of time and effort in cooking, and it was confirmed that take-out and cooked foods also have benefits for mental health.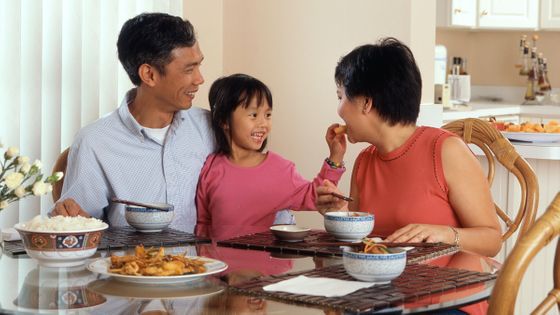 A study
of parents of infants found that couples who emphasized eating together with their families were more satisfied with their partner relationships than those who did not. From this, Mr. Fishel pointed out that it may be possible to maintain a couple's relationship by establishing 'time to eat together with the family' in the early stage of child rearing, 'Supper with the family is an adult. Is the most reliable time to talk slowly with others. Stay away from video calls, emails and to-do lists and connect face-to-face. '
In addition, Fishel points out that eating together with the family has cross-generational implications. Children who had a habit of eating with their family during adolescence
are more likely to eat with
their family as they grow up and become parents, which is a good habit for their health and spirit. It seems that it tends to be passed down from generation to generation.
However, not all households have the habit of eating together, and family meals are common in households with higher education and higher household income.
A study
investigating 'Family Eating Together' in the United States found that the frequency of family eating together decreased from 47% to 39% in 1999-2010, while in high-income households. We know that it has increased from 57% to 61%. This gap is believed to be due to the fact that parents of low-income jobs have difficulty controlling their schedules and are sometimes forced to do multiple jobs.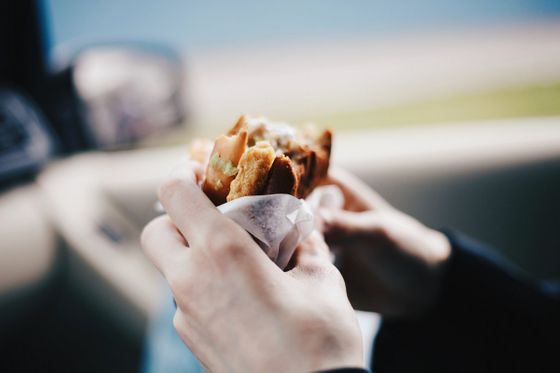 The pandemic of the new coronavirus infection (COVID-19) has changed people's lives significantly, including the change that ' family meals have increased '. Many people will want to go to their favorite restaurant once the pandemic has settled down, but Fishel says he will continue to eat with his family because the benefits of having a family meal are great. Is recommended.