Various services such as PlayStation Store and PlayStation Now cannot be used due to a server failure on the PlayStation Network.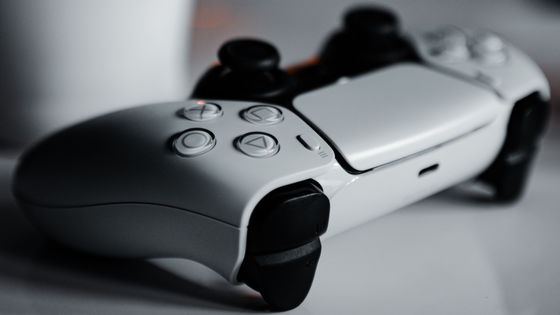 The PlayStation Network
(PSN) required to enjoy online play on PlayStation has been suspended due to a server failure. This temporarily made all PSN-related services unavailable.
PlayStation Server Outage: PSN Is Down --Game Informer
https://www.gameinformer.com/2021/04/27/playstation-server-outage-psn-is-down
[Information on PSN ™ failure]
PSN ™ (including PlayStation®Store) may not be available at this time. We apologize for any inconvenience caused to our customers. We are conducting an investigation and restoration work, so please wait for a while. pic.twitter.com/jUGduCp45Y

— Ask PlayStation JP (@AskPS_JP) April 27, 2021


According to the official PlayStation PSN service status page, due to a PSN server failure, all services such as account management, games and social, PlayStation Now, PlayStation Video, and PlayStation Store have become unavailable. PSN server failure affects not only PS5 but also PS4, PS3 and PS Vita.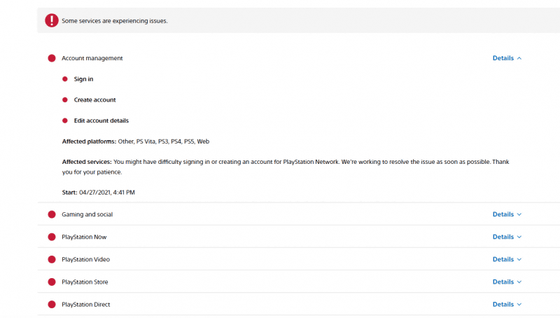 According to 'Downdetector, ' which monitors Internet service failure information in real time, the PSN failure occurred around 6 o'clock on April 28, 2021. The number of trouble reports from users peaks around 7 o'clock, and even at the time of writing the article, a few troubles have been reported.

Playstation Network connection / system failure? Real-time notification of issues such as service interruptions | Downdetector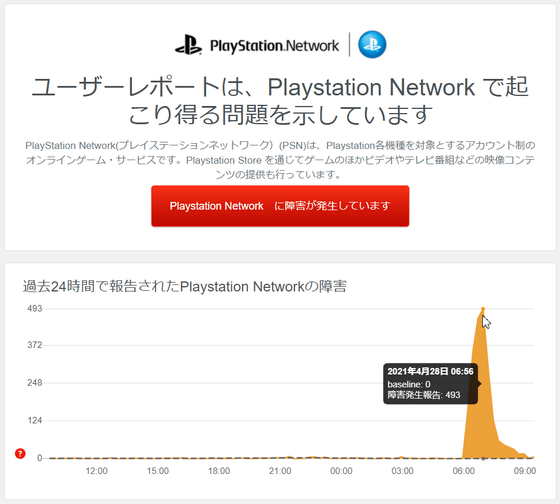 In addition, PlayStation official reports that the server failure of PSN recovered one hour after the occurrence.

[Information on PSN ™ disaster recovery]
This failure has been recovered.
We sincerely apologize for the inconvenience caused to our customers. pic.twitter.com/FE9CyOu3Tq

— Ask PlayStation JP (@AskPS_JP) April 27, 2021