Update summary not revealed at Apple events such as Mac mini with 10 Gigabit Ethernet and Apple TV 4K's new remote control 'Siri Remote'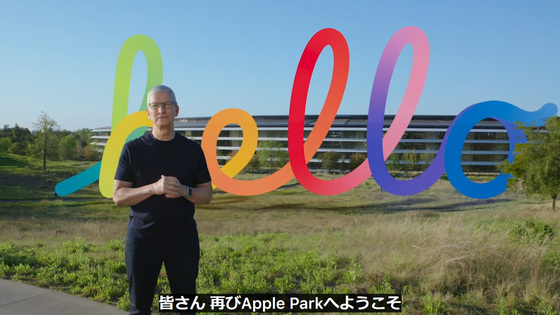 At Apple's new product launch event
on April 21, 2021, the
24-inch M1 equipped iMac
, the
new iPad Pro
, the
lost item tracker 'AirTag'
,
and the new 'Apple TV 4K' for the first time
in four years were announced. I did. IT news site Ars Technica has compiled updates that were not mentioned in this event.
Here are the updates that didn't make it in Apple's livestream yesterday | Ars Technica
https://arstechnica.com/gadgets/2021/04/here-are-the-updates-that-didnt-make-it-in-apples-livestream-yesterday/
◆ Is the update of iOS, iPad OS, etc. coming soon?
On April 21, 2021, RC versions of iOS 14.5, iPadOS 14.5, tvOS 14.5, macOS Big Sur 11.3, and watchOS 7.4 were delivered to developers and public beta testers. The period from the release of the RC version to the release of the official version varies, but in most cases the official version will be released within a few days of the release of the RC version. Pre-orders for AirTag will begin on April 23, so it's expected that the official iOS 14.5 version will be released accordingly.
◆ IMac with Intel CPU can still be purchased
You can purchase an iMac with an Intel Core processor from the Apple Online Store. The top page shows two types, the new 24-inch and the 27-inch version with Intel Core processor, but if you go to the purchase page, you can purchase 21.5 inches as well.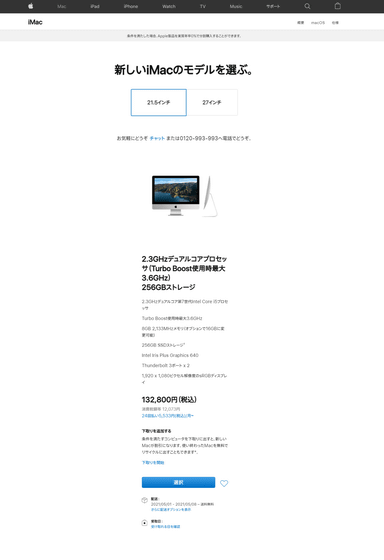 In addition, Apple CEO Tim Cook said when announcing Apple Silicon including M1, that Intel version Mac will continue to be sold in the future.


Apple announces 'Apple Silicon' to move to proprietary processor on Mac, iPhone & iPad application available on Mac-GIGAZINE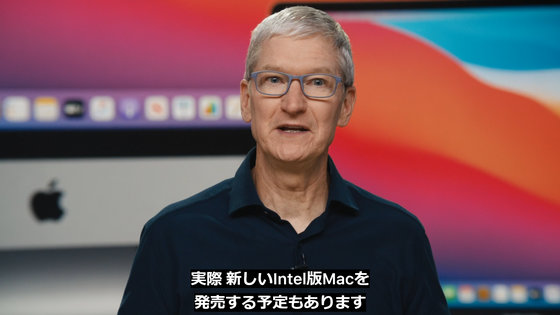 ◆ '10 Gigabit Ethernet' option added to Mac mini
The M1 version of Mac mini comes standard with Gigabit Ethernet. It is possible to change to '10 Gigabit Ethernet' by adding 11,000 yen including tax to this Mac mini.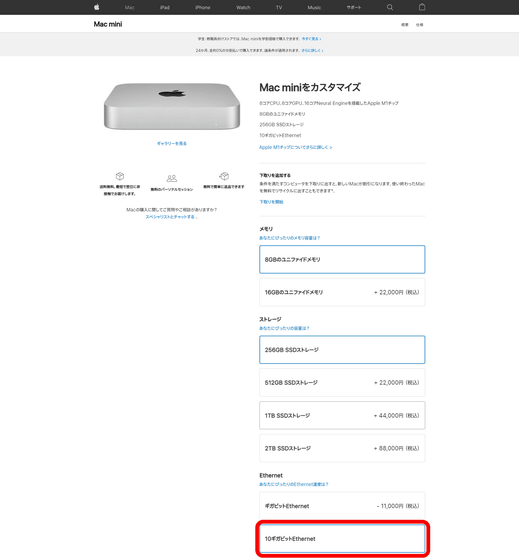 ◆ Magic Keyboard works on devices other than the new iMac
At the same time as the 24-inch iMac with the M1 chip, the new Magic Keyboard, Magic Mouse, and Magic Trackpad were announced as peripherals. These peripherals can be used with anything other than the new 24-inch iMac.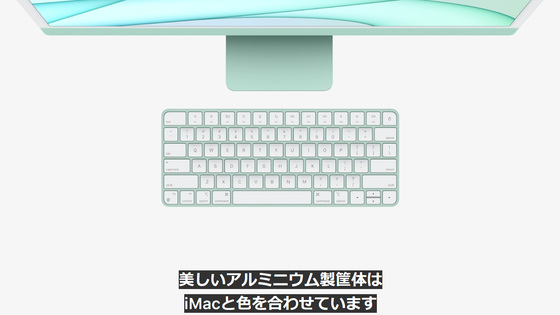 ◆ The RAM capacity of iPad Pro will be released
Two types of iPad Pro equipped with M1 were announced, 11 inches and 12.9 inches. On-board storage is available in 128GB, 256GB, 512GB, 1TB, and the first 2TB, respectively.

Furthermore, it became clear that the RAM built into the iPad Pro is 8GB for 128GB, 256GB, 512GB, and 16GB for 1TB and 2TB. It wasn't explicitly mentioned at the event, but it's revealed on the specs page of the official website.

◆ New Apple TV 4K remote control can be purchased individually, works with existing Apple TV
It was revealed that Apple TV 4K is equipped with an A12 chip, and it is now possible to change the display settings of the TV using the iPhone. It is also expected to support a refresh rate of 120Hz due to its HDMI 2.1 port, but this has not been revealed.

At the same time, the remote control has been redesigned with an integrated aluminum design. This new Apple TV 4K remote is sold separately under the name 'Siri Remote' and can be purchased separately. Siri Remote is also compatible with conventional Apple TV.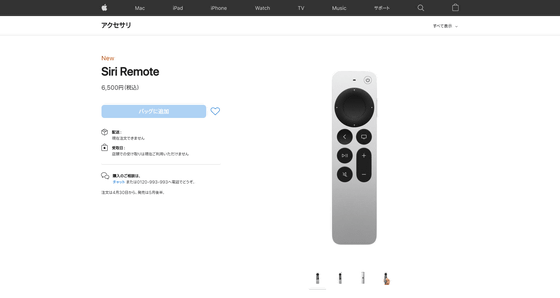 ◆ Apple Care + can be purchased out or extended
You can also add 3 years of Apple Care + to Apple TV 4K for 3400 yen including tax. This Apple Care + is a 3-year warranty service from the date of purchase. Until now, it was possible to apply by paying monthly on a regular basis, but if you pay for 3 years in a lump sum, you will be able to purchase an additional Apple Care + plan in the month when the warranty ends.

◆ Apple Card Family
The Apple Card Family was mentioned at the beginning of the event, and it is a plan that allows two people to share the Apple Card, which was previously only for individuals, with family and partners. It can also be set to be used by 5 people over the age of 13.

◆ Podcast subscription service
Podcast subscription services were also briefly mentioned at the beginning of the event. This subscription service will launch in May 2021 in 170 countries. Creators can deliver paid podcasts with a subscription plan of at least 49 cents (about 53 yen) per month. The commission paid by creators to Apple will be 30% for the first year and 15% thereafter.