Authorities approve new ADHD treatment 'Qelbree' for the first time in 10 years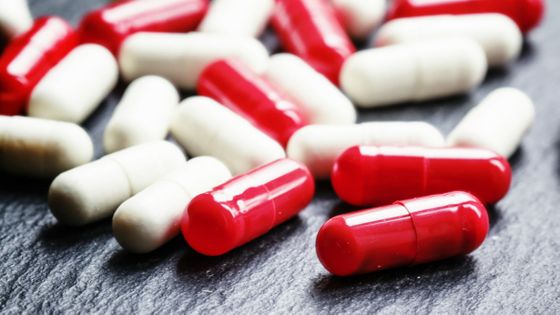 On April 2, 2021, local time, the US Food and Drug Administration (FDA) approved Qelbree as a treatment
for attention deficit hyperactivity disorder (ADHD) for children aged 6 to 17 years.
It is the first time in more than 10 years that the FDA has approved a new treatment for ADHD.
Supernus Announces FDA Approval of Qelbree ™ (SPN-812) for the Treatment of ADHD --Supernus Pharmaceuticals
https://ir.supernus.com/news-releases/news-release-details/supernus-announces-fda-approval-qelbreetm-spn-812-treatment-adhd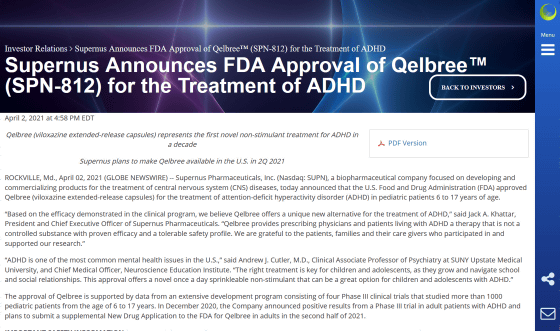 FDA OKs first new ADHD drug in over a decade for children
https://apnews.com/article/attention-deficit-hyperactivity-disorder-cafc56c871b014b60521737a0f246276
Supernus ADHD drug is FDA approved; first new'non-stimulant' med in a decade --MedCity News
https://medcitynews.com/2021/04/supernus-adhd-drug-is-fda-approved-first-new-non-stimulant-med-in-a-decade/
ADHD is a developmental disorder defined by symptoms such as hyperactivity, impulsivity, and inattention, and various drugs are used for treatment in addition to psychotherapy.
A new drug, Qelbree, manufactured by Supernus Pharmaceuticals
, headquartered in Maryland, USA, has been approved by the FDA for the treatment of children aged 6 to 17 with ADHD.
Qelbree is a type of drug that is taken once
daily as a capsule and
is based on viloxazine, which was marketed in Europe as an antidepressant decades ago. European manufacturers have already discontinued production of viloxazine, but Supernus Pharmaceuticals is manufacturing viloxazine as a treatment for ADHD. In addition, Qelbree has a lower dose than viloxazine that was distributed in the past, and according to the FDA definition, Qelbree is treated as a new drug.
Supernus Pharmaceuticals evaluated the efficacy and safety of Qelbree in four phase III clinical trials involving more than 1000 children aged 6 to 17 years. As a result of the subjects taking Qelbree for 6 weeks, the symptoms of inattention and hyperactivity were reduced by about 50% in the experimental group taking Qelbree compared to the control group taking the placebo. In addition, common side effects include drowsiness, lethargy, loss of appetite, and headache, and Supernus Pharmaceuticals warns that less than 1% of subjects had suicidal ideation or attempted suicide.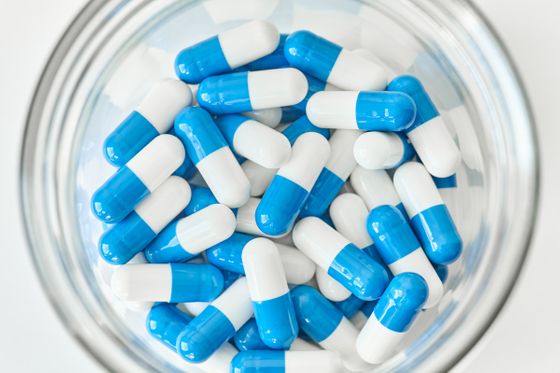 Many existing ADHD treatments contain stimulant ingredients and controlled drugs, such as methylphenidate, a first-class psychotropic drug , and amphetamine , which is designated as a stimulant by Japanese law, and addiction and abuse are problems. There are cases where On the other hand, Qelbree does not contain controlled drugs and is unlikely to develop into abuse.

Qelbree is expected to be more expensive than many generic ADHD treatments, but Qelbree could be an attractive alternative for parents who don't want to give their children stimulant ingredients or for children with substance abuse problems. There is sex. 'Based on the proven efficacy of our clinical programs, we believe Qelbree offers a unique and new alternative to the treatment of ADHD,' said Jack A. Khattar, CEO of Supernus Pharmaceuticals.

Supernus Pharmaceuticals is already conducting clinical trials of Qelbree in adults over the age of 18, and plans to ask the FDA to approve Qelbree's prescription for adults in late 2021.