Professional desktop 'iMac Pro' with standard price of 550,000 yen will be discontinued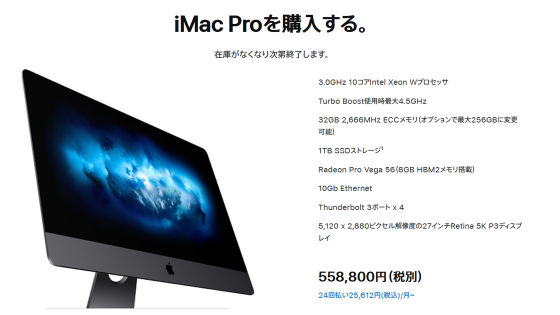 It has become clear that the iMac Pro,
a monster machine with a standard selling price of 550,000 yen, which appeared in December 2017, has been discontinued and will end in about three years of history. The official sales site says, 'It will end as soon as it is out of stock.'
Buy iMac Pro-Apple (Japan)
https://www.apple.com/jp/shop/buy-mac/imac-pro
Apple discontinues iMac Pro, Apple Store says buy'while supplies last' --9to5Mac
https://9to5mac.com/2021/03/06/apple-discontinues-imac-pro-apple-store-says-buy-while-supplies-last/
Apple updated the iMac Pro sales page on March 5, 2021 to remove non-standard model sales pages. Revised the description as 'finished as soon as the stock runs out'.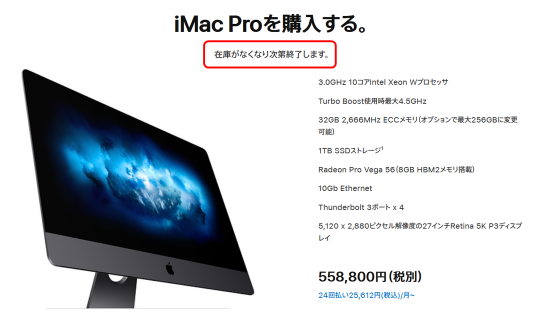 The iMac Pro, with a standard model of 550,000 yen and a maximum spec model of 1.46 million yen, was announced and sold in 2017 as a desktop for professionals that greatly exceeds the specifications of past products. You can find out what the iMac Pro has by reading the following article.


Apple's strongest desktop 'iMac Pro' with a selling price of 550,000 yen has appeared, a monster machine equipped with a maximum 18 core Xeon processor & Radeon Vega --GIGAZINE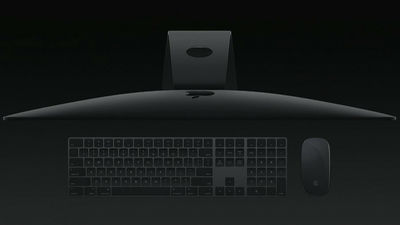 According to Apple's specialized news site '
9to5mac
' that reported this case, Apple is expected to soon announce a completely new iMac with a next-generation CPU and GPU.
It is expected
that this model will also be equipped with 'M1X', which is said to be the successor model of Apple's original
SoC
'
M1
', and it is thought that there is also an aim to unify the production line by ending the production of old products. I am.
In addition, on February 2, 2021,
it was revealed that the 512GB and 1TB internal storage models of the 21.5-inch iMac
were discontinued, suggesting the introduction of a new iMac, 9to5mac said. I will.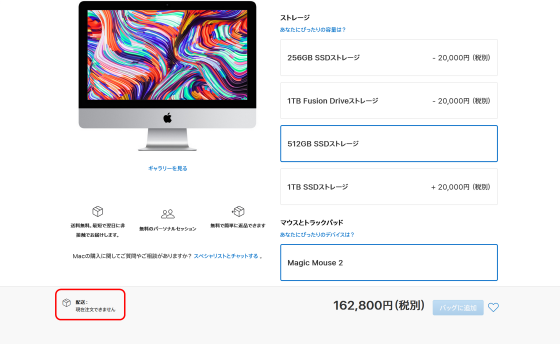 According to some reports , the new iMac is expected to appear by the summer of 2021, but 9to5mac says, 'The sudden discontinuation of the iMac Pro may mean that new products will come out sooner than expected. I don't know. '