Sales of the major crypto asset exchange 'Coinbase' in 2020 will be over 130 billion yen, revealed by materials for direct listing on NASDAQ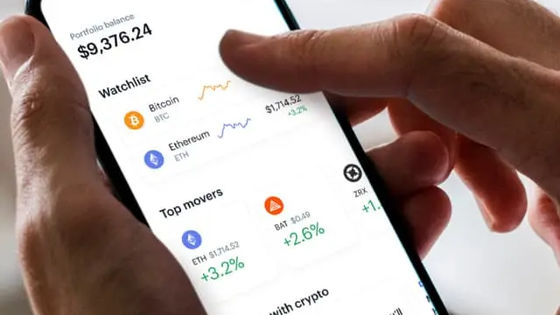 In December 2020, the crypto asset (virtual currency) exchange 'Coinbase', which announced its intention to list its shares, submitted the documents called 'Form S1' required for listing to the US Securities and Exchange Commission. Coinbase's business performance is also strong, as Bitcoin, which is a representative of cryptocurrency assets,
has been active in transactions such as hitting the first $ 50,000 (about 5.3 million yen) mark in February 2021.
According to the materials, sales in 2020 amounted to 1.27 billion dollars (about 134.6 billion yen).
Document
https://www.sec.gov/Archives/edgar/data/1679788/000162828021003168/coinbaseglobalincs-1.htm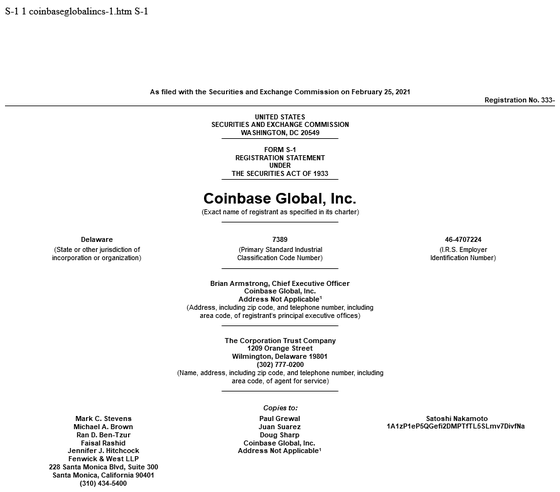 Coinbase Reveals $ 322M in Profit For 2020 Ahead of Landmark Public Debut --Decrypt

https://decrypt.co/59347/coinbase-big-profit-for-2020-ahead-of-milestone-ipo-direct-listing
Coinbase has filed to go public on the NASDAQ --The Verge
https://www.theverge.com/2021/2/25/22300835/coinbase-s1-bitcoin-going-public-profit-revenue-invest-crypto
Coinbase was founded in 2012 by Brian Armstrong, an engineer of the private lodging service Airbnb, who developed it as a mechanism to purchase crypto assets online. If you read the following article, you can understand how it was founded and how it went around as crypto assets became major.
Coinbase's Brian Armstrong aims to 'create a world where 1 billion people use cryptocurrencies within 5 years' --GIGAZINE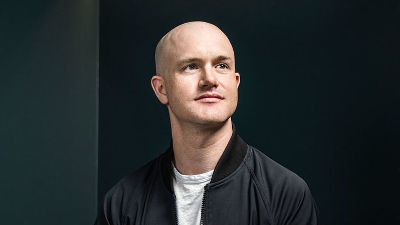 Coinbase's main revenue comes from transaction fees, and it was not clear until now how much it was, but since the documents required for stock listing were submitted, it is concrete Amount has been revealed.

According to the materials, the total transaction value on the platform is 456 billion dollars (about 48.3 trillion yen), and sales in 2020 alone will be 1.27 billion dollars (about 134.6 billion yen). The profit was 322 million dollars (about 34.1 billion yen).

Companies originating in Silicon Valley often go public (IPO) when they go public, but Coinbase chose to go public directly. Until now, direct listing was a method of listing only existing shares, and if new shares were to be issued, IPO was to be conducted, but in December 2020, the Securities and Exchange Commission will issue new shares even if it is directly listed. It seems that he chose this method because he made it possible.

The existing Coinbase shares are owned by venture capital firm Andreessen Horowitz co-founder Marc Andreessen more than 5.5 million shares and CEO Brian Armstrong more than 2.7 million shares. Armstrong CEO has 21.8% of the voting rights, co-founder Fred Elsam has 9%, Andreessen has 14.2%, and Fred Wilson, who has invested from the beginning, holds 8.2%, 11 people. The management team consisting of and the board of directors will exercise 54%.

As CEO Armstrong had a hard time at the beginning, crypto assets have long been like 'underground servants' and have been seen by investors and the financial industry as such, but electric car maker Tesla is 1577. The position has changed significantly, such as purchasing 100 million yen worth of Bitcoin. The listing of Coinbase is also expected to be a big step for crypto assets.