Amazing ice cream 'biting butter ice' tasting review that you can experience fermented butter whole biting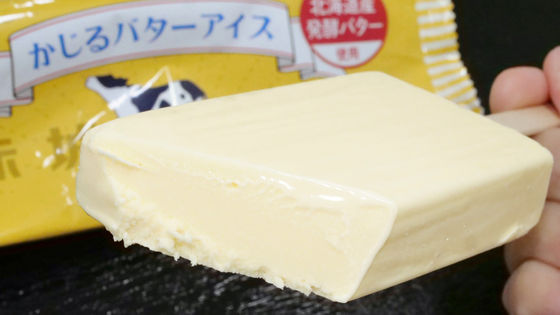 ' Gripping butter ice cream ' has appeared from Akagi Nyugyo, which is familiar with
'Gari-gari-kun'.
Fermented butter from Hokkaido is used, and as the name suggests, it tastes like biting butter, so I actually tried it.
Gnawing Butter Ice (Stick) | Product Information | Akagi Nyugyo Co., Ltd.
https://www.akagi.com/products/kajiru_butter_ice/index.html
Akagi Nyugyo's 'Kajiru Butter Ice' is a package with a dark yellow base color and cow illustrations reminiscent of butter, and the company name written in gold letters gives a retro impression. The phrase 'using fermented butter from Hokkaido' is also written.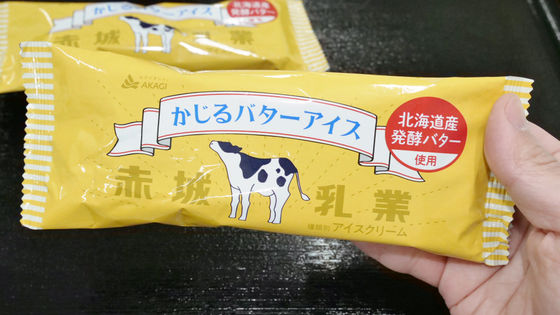 Looking at the ingredient display, the milk fat content is 12.2%, and the
type
is ice cream. Raw materials are dairy products (manufactured in Japan), sugar, processed butter products, processed fructose products, salt, liqueur, etc.



The calorie is 140kcal per 75ml, which is a low impression for 'biting butter'. Gari-gari-
kun ginger ale
that appeared in January 2021
is 68kcal, and Fondi
with plenty of chocolate is 266kcal, so it is in the middle point.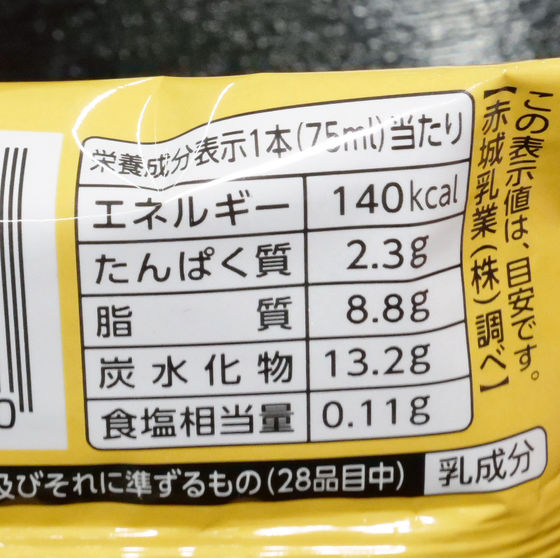 Opened. The light yellow color looks like butter, but when you bring your face closer, it smells like cream cheese.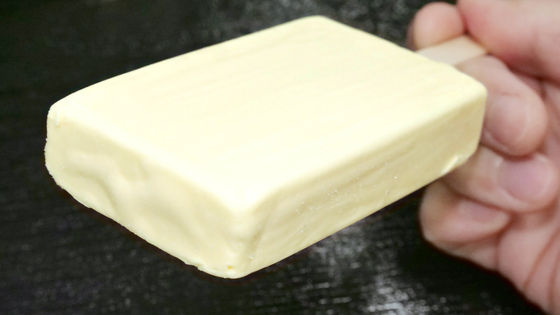 When multiple people ate it, they said, 'The moment you put it in your mouth, the unique flavor of fermented butter spreads in your mouth' and 'It tastes like higher butter.' While there were some impressions that could be said, there were also comments such as 'somewhat margarine-like' and 'cheesecake-like', and 'like ordinary milk ice cream' because the initial impact diminishes as it melts. As a whole, the taste was rich but not stale, and the flavor of fermented butter and the milky taste were well-balanced.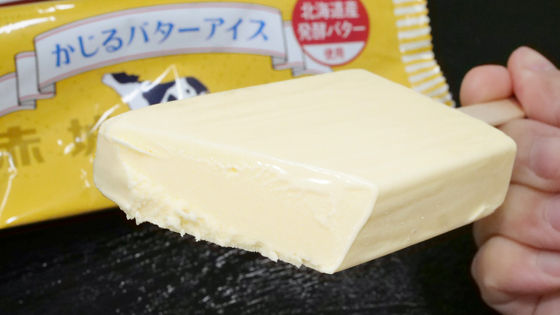 Akagi Nyugyo 'Kajuru Butter Ice' can be purchased at convenience stores nationwide from February 23, 2021 (Tuesday). The manufacturer's suggested retail price is 140 yen excluding tax.