Is Twitch worried about copyright infringement by replacing the official live of the popular heavy metal band with a free sound source during distribution?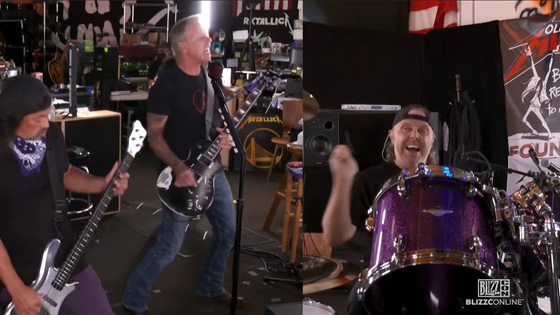 2021 February 20, the game maker Blizzard Entertainment is, 'the online version of the annual event' BlizzCon ' BlizzConline was held'. At the opening ceremony of Blizz Conline, which was distributed simultaneously on YouTube and Twitch, the world-famous heavy metal band ' Metallica ' performed. However, Twitch has become a hot topic because it has taken copyright measures for some reason even though it is an official program.

Twitch censors Metallica BlizzCon concert with dorkiest music imaginable
https://music.avclub.com/twitch-censors-live-metallica-concert-with-dorkiest-mus-1846314134

Some viewers of Metallica's BlizzCon performance heard the least metal music imaginable --The Verge
https://www.theverge.com/2021/2/20/22292790/metallica-blizzcon-2021-performance-dmca-for-whom-the-bell-tolls

You can see how Metallica started playing on Twitch in the following movie. In addition, the relevant part has already been deleted from the Twitch archive movie at the time of article creation.

Twitch Is Afraid Of Getting DMCA'd On Their Platform -Cuts Off Metallica .. --YouTube


Metallica started playing for about 10 seconds, but the sound suddenly disappeared, and instead, music with a simple and cute atmosphere that was completely different from heavy metal began to play. The members who play the guitar while riding the rhythm and the light bell sound do not match at all, creating a surreal atmosphere.

the current state of Twitch: the official Twitch Gaming channel cut off the live Metallica concert to play 8bit folk music to avoid DMCA pic.twitter.com/sCn56So8Ee

— Rod Breslau (@Slasher) February 19, 2021


This surrealistic phenomenon is believed to have been caused by Twitch's avoidance of proceedings under the Digital Millennium Copyright Act (DMCA). AV Club, a pop culture news site, said, 'Instead of broadcasting Metallica's copyrighted music, Twitch broadcast'the most crappy, flowing fucking song in The Legend of Zelda's Forest.'' I am expressing.

Metallica is a band that once protested that the music file sharing software ' Napster ' infringed copyright, and is also known as the driving force behind the enforcement of the DMCA in the United States. 'Metallica is partly responsible for the DMCA's strict restrictions on the law, so this phenomenon is very interesting in that sense as well,' said the AV Club.

In addition, the state of Metallica's live performance at the Blizz Conline opening ceremony remains in the archive as it is on YouTube, and you can see it from around 1 hour 25 minutes of the following movie.

BlizzConline Opening Ceremony-YouTube


in Video, Posted by log1i_yk