Elon Musk mentions Shiba Inu's virtual currency 'Dogecoin' made with jokes, the price rises at a stretch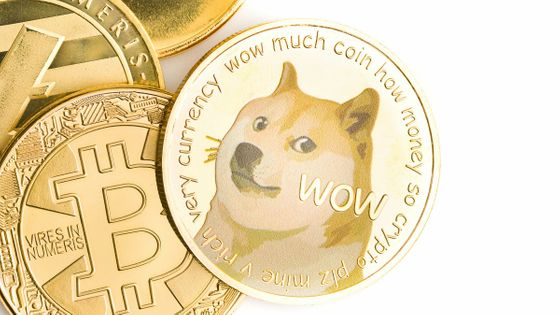 Dogecoin,
which was released in December 2013, is a virtual currency whose mascot is the Shiba Inu '
Doge', which has become an internet meme.
Most major virtual currency,
Bitcoin (Bitcoin)
It was Dojikoin that have been created as a parody of, of Tesla
Elon Musk
is entered in the 2021 CEO mentioned in the Twitter for Dojikoin, the price of Dojikoin each time is jumped It is reported that there is.
Elon Musk tweeted. Dogecoin surged more than 50% --CNN
https://edition.cnn.com/2021/02/04/investing/elon-musk-dogecoin/index.html
Elon Musk's Dogecoin Tweeting Has Believers Barking for More --WSJ
https://www.wsj.com/articles/elon-musks-dogecoin-tweeting-has-believers-barking-for-more-11612607401
Elon Musk and Gene Simmons Just Pumped Dogecoin's Price. Here's How --Decrypt
https://decrypt.co/56867/elon-musk-and-gene-simmons-just-pumped-dogecoins-price-heres-how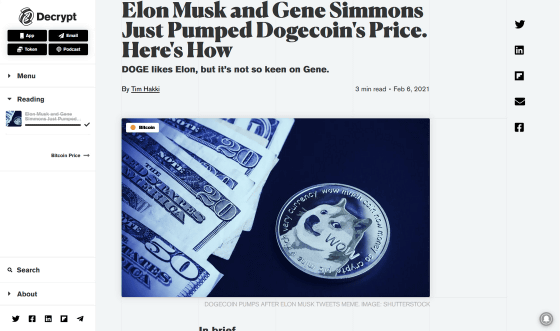 In 2013, when Bitcoin was growing in popularity, American software developer Billy Marcus decided to make a joke and easy-going cryptocurrency with his own hands. Initially, the cryptocurrency developed by Marcus
was named 'Bell' after 'Animal Crossing
', but because this name was unpopular in the online community, Jackson Palmer, who was developing it together, It seems that the name was changed to 'Dogecoin' after incorporating the opinions.
Dogecoin, which uses the Shiba Inu internet meme as a mascot, was made as a joke, but it has been receiving a certain amount of attention for a while after it was released. At the 2014
Sochi Olympics
, the Dogecoin community donated $ 36,000 worth of
Dogecoin to help the Jamaican Bobsleigh team, who didn't have the money to get to the venue. However, after that, the fever for Dogecoin diminished, and the number of active transactions decreased.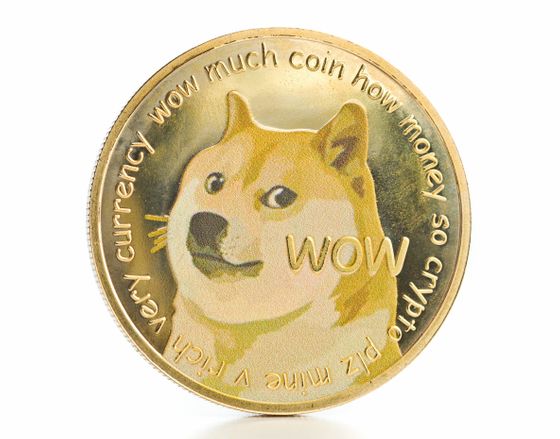 However, in late January 2021, Reddit's stock trading community 'r / Wall Street Bets', which became a hot topic due to the sharp rise in the stock price of the game retail chain GameStop, paid attention to Dogecoin. As a result of many users purchasing Dogecoin, the price of 0.5 cents (about 0.5 yen) per Dogecoin in early January has soared to 7 cents (about 7 yen).

Looking at the Dogecoin chart of CoinGecko, which provides cryptocurrency data, you can see that the Dogecoin chart, which had almost no price movement, rose sharply from around January 28, and rose to nearly 7 cents at a stretch.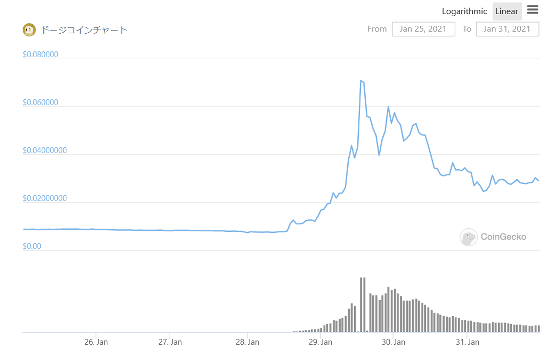 After that, the price of Dogecoin settled down, but in February 2021, Mask CEO began to mention Dogecoin and the price began to rise again.

Doge

— Elon Musk (@elonmusk) February 4, 2021
Dogecoin is the people's crypto

— Elon Musk (@elonmusk) February 4, 2021


Looking at the chart below, you can see that the price of Dogecoin has risen since February 4, when Mask CEO started tweeting about Dogecoin.



In addition, on February 5, rock band Kiss bassist and vocalist Gene Simmons tweeted that he 'purchased more than $ 100,000 Dogecoin', but the price of Dogecoin began to fall 15 minutes later. The price, which was 4.7 cents, has dropped to 4.5 cents.

I bought Dogecoin ... six figures

— Gene Simmons (@genesimmons) February 5, 2021


Dogecoin has a market capitalization of billions of dollars, but developer Marcus said that the code he wrote in just a few hours was so priced, 'This is very. I'm ridiculous. '


in Note, Posted by log1h_ik