The creator of Ethereum donated 'meme coins' totaling more than 100 billion yen to the new Corona Relief Fund, etc., and panic sales also occurred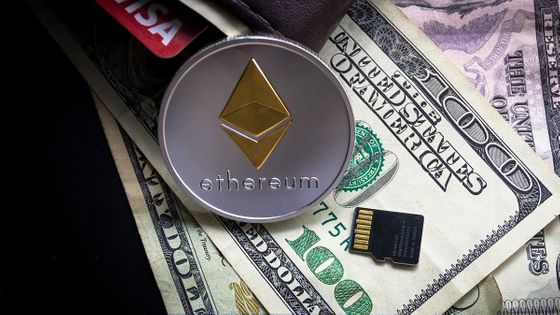 It has been revealed that Vitalik Buterin, who is known as the inventor of the crypto asset ' Ethereum (ETH) ', donated 'meme coins' totaling more than 100 billion yen at the time of transaction. Mr. Buterin, who is influential in the field of cryptocurrency, gave up a large amount of coins at once, and it is said that panic selling has occurred in multiple meme coins and the price has plummeted.

Ethereum Creator, Vitalik Buterin, Donates Over $ 1B to India COVID Relief --The Street Crypto: Bitcoin and cryptocurrency news, advice, analysis and more
https://www.thestreet.com/crypto/ethereum/vitalik-buterin-gives-1-billion-to-india-covid-relief-after-memecoin-selloff

Vitalik Buterin donates more than $ 60M to charity after selling meme tokens including Shiba Inu
https://www.theblockcrypto.com/post/104676/vitalik-buterin-donates-more-than-60m-to-charity-after-selling-meme-tokens-including-shiba-inu

Meme coins created based on memes originating from the Internet are actually traded as crypto assets, although they contain the nature of mere jokes. In 2021, the price of 'Dogecoin ', which was born from the net meme 'Doge ' based on the picture of Shiba Inu, soared, and in the second week of April 2021, the market capitalization exceeded 4,6000 yen. ..

The market capitalization of the crypto asset 'Dogecoin' from the net meme exceeds about 4.6 trillion yen, soaring about 6 times in just 4 days --GIGAZINE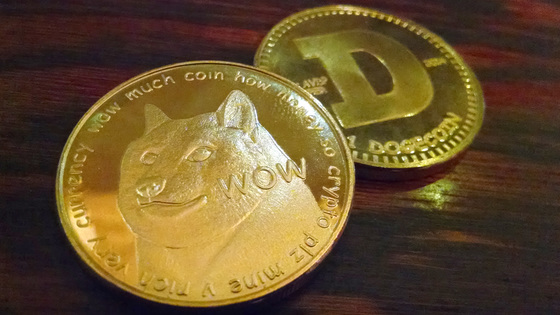 by Aranami

Many emerging meecoins inspired by the success of Dogecoin have also been released, ' SHIBA INU (SHIB) ' which uses the name of Shiba Inu, which is also the symbol of Dogecoin, and ' Dogelon Mars' who played with Mr. Musk who mentions Dogecoin. '(ELON) ' and 'Akita Inu (AKITA) ' using Akita Inu as their name are appearing one after another.

However, meme coins are known for their extremely volatile prices, and Dogecoin prices have fluctuated significantly just as Tesla CEO Elon Musk mentions on Twitter. As a way to solve the problem of 'low reliability as a crypto asset', developers are sending meme coins to people who have a strong influence in the crypto asset community.

Developers can claim that 'this person has a lot of coins' by sending meme coins to a celebrity's public address. On May 10, 2021, it was reported that more than hundreds of billions of dollars of SHIB, AKITA, ELON, etc. were sent under Mr. Buterin.

Vitalik Buterin's Ethereum wallet holds $ 8 billion in Shiba Inu coin (SHIB)
https://cryptoslate.com/vitalik-buterins-ethereum-wallet-holds-8-billion-in-shiba-inu-coin-shib/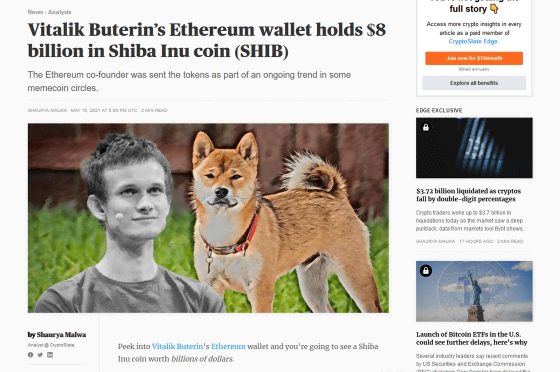 The developers of meme coins should have aimed for Mr. Buterin to keep holding a large amount of coins, but Mr. Buterin donated a large amount of coins including Ethereum to charities and projects around the world. I know there is.

Mr. Buterin donated 13,292 ETH ($ 54 million at the time of trading / equivalent to about 5.9 billion yen) to the American non-profit charity GiveWell , as well as 1000 ETH and 430 billion ELON ($ 336 million at the time of trading). Approximately 37 billion yen) was transferred to the Methuselah Foundation , a non-profit organization that conducts research on longevity. In addition, 1050 ETH ($ 4.2 million at the time of transaction / equivalent to about 460 million yen) was sent to the Machine Intelligence Research Institute , which studies the sound use of AI, with 500 ETH and 50 trillion SHIB ($ 1.14 billion / about at the time of transaction). (Equivalent to 125 billion yen) to India Covid-Crypto Relief Fund , India's Coronavirus Disease Control Fund (COVID-19) , and Gitcoin , a grant program focusing on Ethereum, 49 trillion AKITA (444,300 at the time of transaction) We are donating 10,000 dollars (equivalent to about 48 billion yen). In addition, it is difficult to convert meme coins into cash immediately because the price of meme coins fluctuates greatly and the liquidity as a currency is low.

Sandeep Nailwal, founder of the India Covid-Crypto Relief Fund, thanked Buterin for his donation on Twitter and said the organization would take responsibility for handling SHIB to curb sharp price drops. It was.

Thanks @VitalikButerin

One thing we have learnt from Ethereum and @VitalikButerin is importance of community

We will not do anything which hurts any community specially the retail community involved with $ SHIB

We will act responsibly!

Plz dont worry $ SHIB holders. Https://t.co/M4GxTR0JAn

— Sandeep --Polygon (prev Matic Network) (@sandeepnailwal) May 12, 2021


Mr. Buterin simply donated meme coins, but the fact that 'Mr. Buterin gave up the coins' is causing panic selling. According to Coinmarketcap , which publishes the price movements of cryptocurrencies, SHIB's donation caused a plunge of 38% or more, ELON's 70% or more, and AKITA's 50% or more. People have been hit hard.

On the other hand, some speculate that Buterin donated a large amount of meme coins to protect the Ethereum platform. Many meme coins, including SHIB, use the Ethereum blockchain to create tokens and issue them to investors, and as the use of the platform expands due to increased demand for meme coins, Ethereum transaction fees Has been pointed out to be pushed up. In order to solve this problem, there is a view that Mr. Buterin made a donation to a charity and at the same time caused a meme coin crash and removed the liquidity of the hype.


in Note, Posted by log1h_ik