I tried using 'Songwhip' which can generate links to all streaming services that distribute your favorite music for free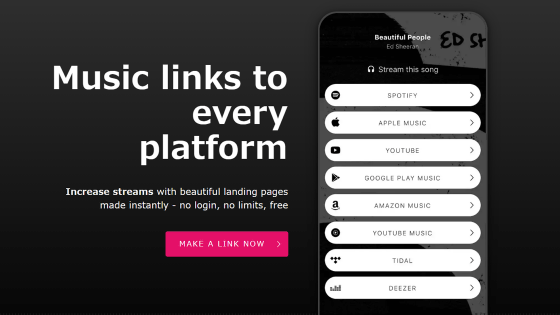 There are a wide variety of music streaming services out there, but even if you like music, it's difficult to subscribe to all of them. Therefore, even if someone shares the link of the streaming service on SNS etc., it may be said that 'I can not follow the link and listen because it is not the service I subscribe to'. ' Songwhip ' is a web service that can generate links to pages that cover all music streaming services that deliver specific songs, and is perfect for sharing songs with a large number of people.

Songwhip | Music links to every platform | Free

https://songwhip.com/
Link generation is free and easy. First, access Songwhip's official website and click 'MAKE A LINK NOW' ...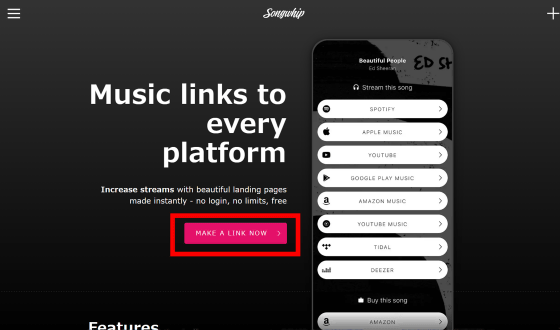 Click 'Search or paste a link'.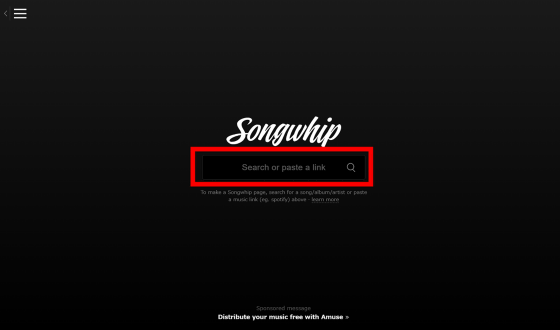 When you enter the song you want to search for or the word contained in the album, the candidate songs are displayed in a list. It seems that candidates are displayed by prediction even if you do not necessarily enter all the song names, and the songs predicted from the album name may be displayed.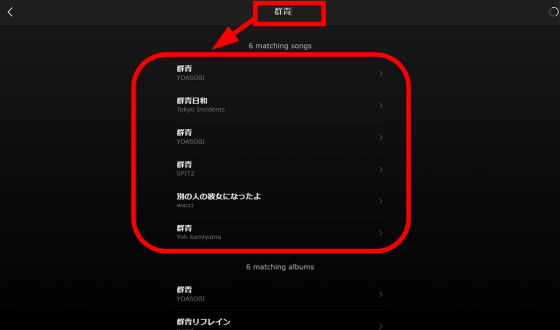 If you scroll to the bottom of the screen, you can see the album link that contains the corresponding word ...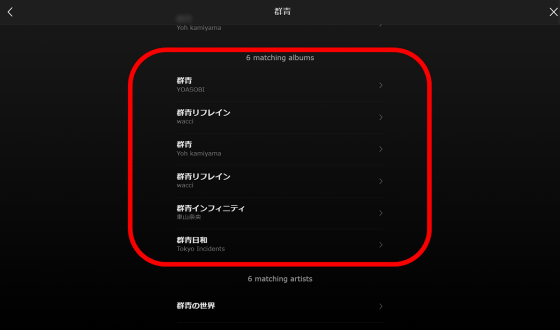 Artists with matching names are also displayed.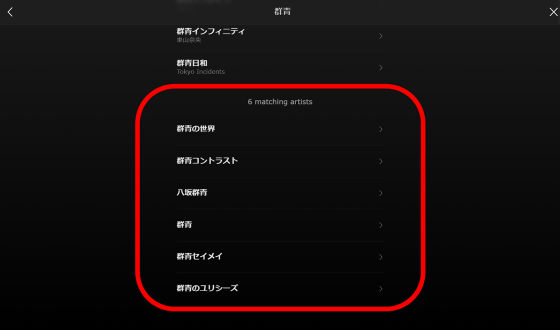 Click the song name to generate a link to a streaming service that delivers the song.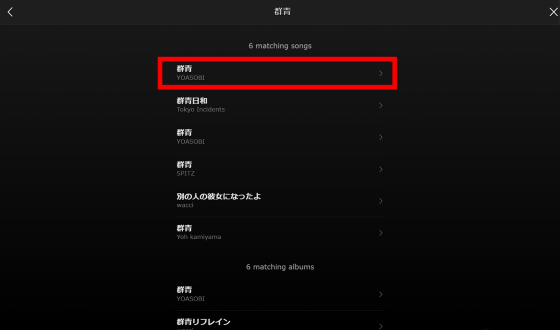 Then, a page with links to each streaming service was displayed. Music streaming services supported by Songwhip are
Spotify
,
Apple Music
,
YouTube
,
YouTube Music
,
Bandcamp
,
TIDAL
,
Pandora
,
Napster
,
Yandex Music
,
Amazon
,
Deezer
,
Saavn
,
Audius
,
Gaana,
and
SoundCloud
. In addition, if you paste a link to a song acquired by the distribution service you subscribe to in 'Search or paste a link', a page covering other distribution services will be generated directly.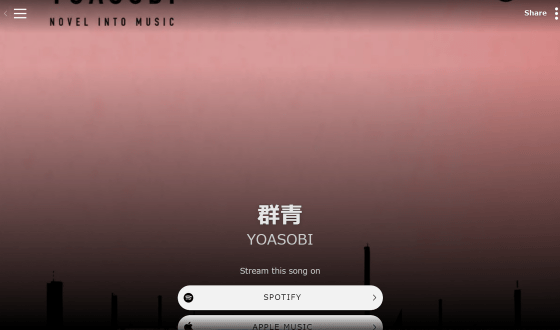 You can jump to the music distribution page by selecting and clicking the service you have subscribed to from the links lined up in a row. When I click on 'YouTube' ...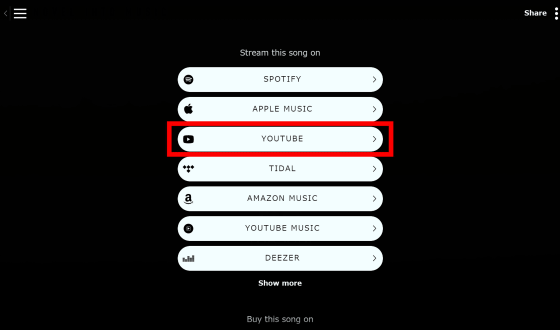 The official YouTube distribution page has opened.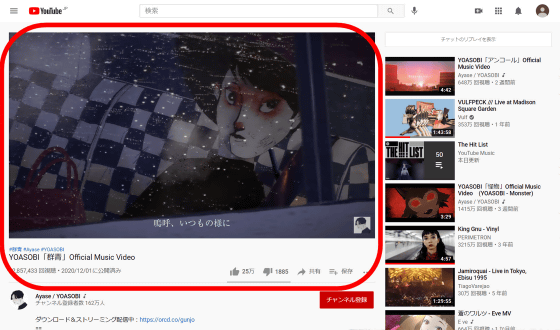 To share a page that lists streaming services that deliver songs, copy the URL of the page directly ...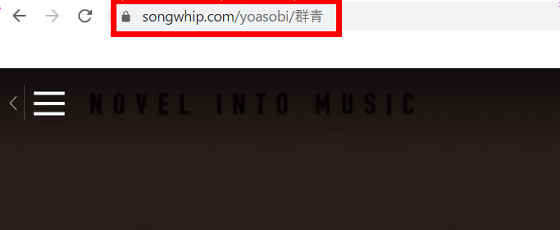 Click the 'Share' button at the top right of the screen.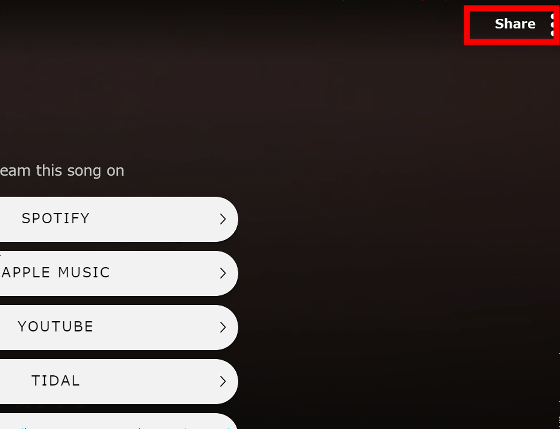 Then, you will see options such as 'Copy link', 'Facebook (Share on Facebook)', 'Twitter (Share on Twitter)', 'Whatsapp (Share on Whatsapp)', and 'Email (Share by Email)'. When I click on 'Twitter' ...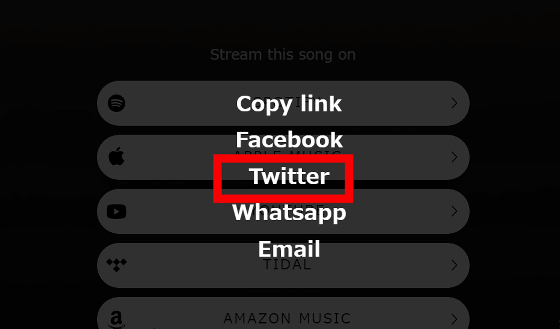 You can share the link on Twitter as it is.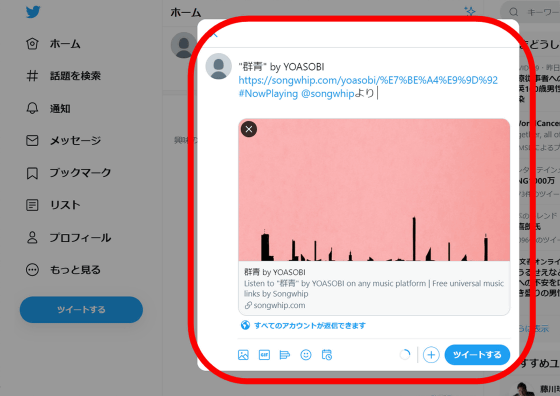 Songwhip can also be used on smartphones and tablets. Access Songwhip with your smartphone browser and tap 'MAKE A NEW LINK' ...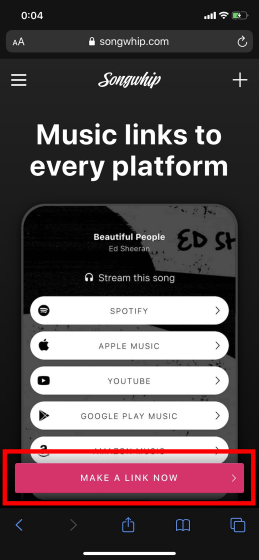 Tap 'Search or paste a link'.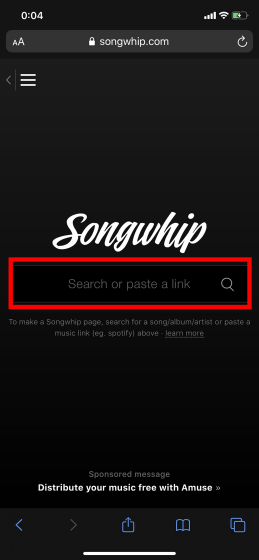 Enter a word just like when accessing from a PC, and tap the song you are looking for ...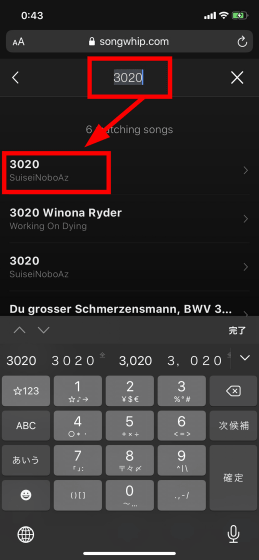 You can generate a page that displays a list of links to the streaming service that distributes the song.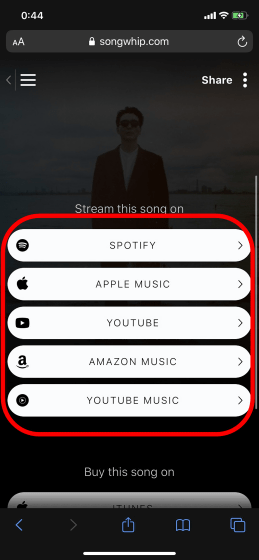 Also, if you tap 'Share' at the top right of the screen ...



It is possible to share the link on SNS etc.