Microsoft announces new in-house system 'Viva' for remote work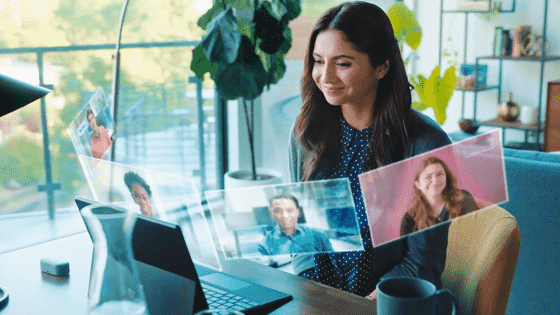 On February 4, 2021, Microsoft announced ' Microsoft Viva ', a groupware that supports communication and training of employees. The company positions Viva as 'the first EXP (Employee Experience Platform) to integrate employee
engagement
, learning,
well-being
, and
knowledge discovery
directly into the workflow,' and integrates with
Microsoft Teams
2021. It will be launched sequentially throughout the year.
Employee Experience & Engagement | Microsoft Viva
https://www.microsoft.com/en-us/microsoft-viva
Microsoft Viva: Empowering every employee for the new digital age --Microsoft 365 Blog
https://www.microsoft.com/en-us/microsoft-365/blog/2021/02/04/microsoft-viva-empowering-every-employee-for-the-new-digital-age/
Microsoft unveils new Employee Experience Platform — Microsoft Viva — to help people thrive at work --Stories
https://news.microsoft.com/2021/02/04/microsoft-unveils-new-employee-experience-platform-microsoft-viva-to-help-people-thrive-at-work/
Microsoft Viva: a new platform designed for the future of remote work --The Verge
https://www.theverge.com/2021/2/4/22265954/microsoft-viva-platform-features-remote-work
As a pandemic countermeasure for the new coronavirus infection that occurred in 2020, many companies have introduced remote work, and the demand for Microsoft Teams has expanded rapidly. Regarding the impact of these changes on working styles, Microsoft has stated that 'even if the pandemic converges, it will not be undone.'
Microsoft's view that the new coronavirus has permanently changed the way we work and learn, 'I can't go back anymore.'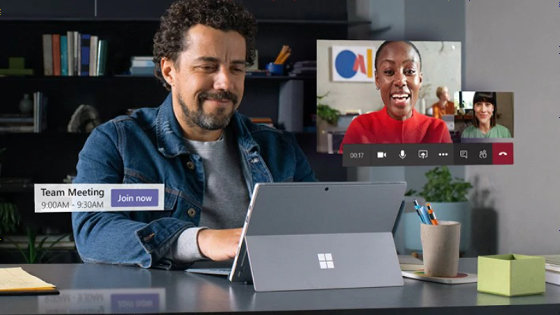 As a new platform to respond to these changes, Microsoft announced Microsoft Viva on February 4th. About Viva, Microsoft CEO Satya Nadella explains, 'It's a new EXP that brings everything employees need to succeed from day one, no matter when, where, or how they work.' ..
Announcing Microsoft Viva, a new employee experience platform bringing together everything an employee needs to be successful from day one – no matter when, where, or how they work. Https://t.co/WzRIJShlGP

— Satya Nadella (@satyanadella) February 4, 2021


Specifically, Viva consists of the following four modules.

◆ Viva Connections
Viva Connections is a tool that extends the content of SharePoint , Microsoft's document and information sharing service, to Microsoft Teams and acts as an employee portal accessible from PC and smartphone apps. Employees can access company news, policies, benefits and other work-related information through Viva Connections, as well as participate in the internal community. The desktop version of Viva Connections will be released in the first half of 2021 and the app version will be released in the second half of 2021.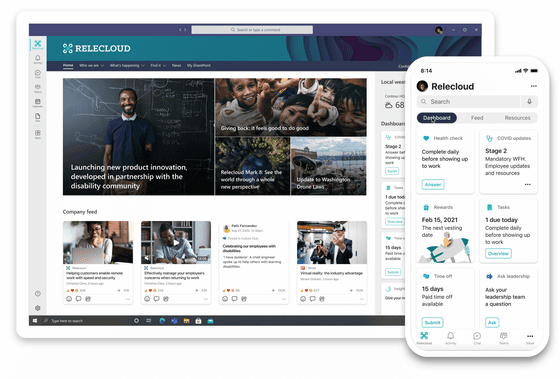 ◆ Viva Insights
Viva Insights is a personalized analysis tool for a variety of positions, including individual employees, managers and leaders. Viva Insights contains a variety of data to manage worker efficiency and work trends, but by default it is anonymized to ensure privacy. The IT news site The Verge described this feature as 'it feels like the next step in the controversial
productivity scoring feature
as an employee monitoring tool.'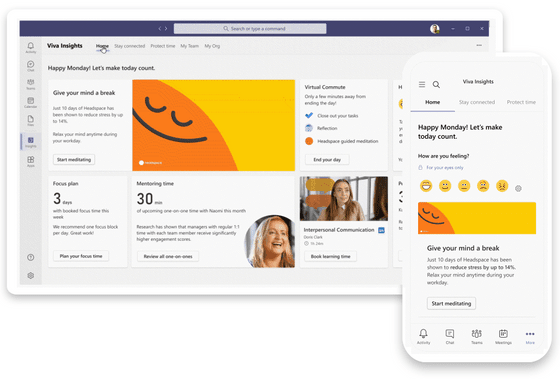 ◆ Viva Learning
Viva Learning is a training tool that centrally integrates various learning services such as
LinkedIn Learning
and
Microsoft Learn
provided by
LinkedIn
, a business-specific SNS, and company-specific custom contents.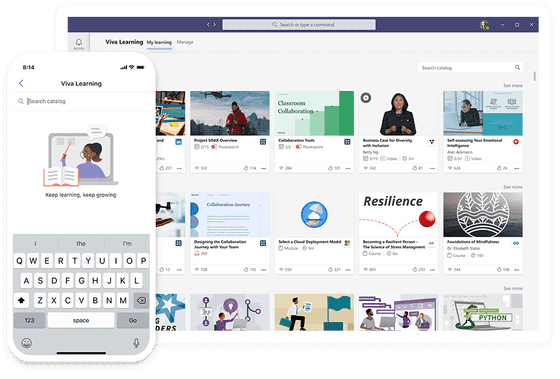 ◆ Viva Topics
Viva Topics is a knowledge base that uses AI to automatically organize content and knowledge within the enterprise, and Microsoft 365 Vice President Jared Spataro thinks this feature is 'Wikipedia with AI power.' Please. '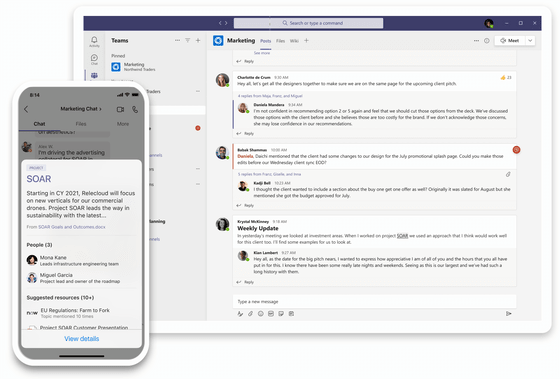 Microsoft officially launched Viva Topics at the same time as Viva was announced, as well as preview versions of Viva Insights and Viva Learning. In addition, we plan to release information on Viva in the future.