Google's parent company Alphabet announces fourth quarter 2020 & full year financial results, big increase in profits with the momentum of YouTube and Google Cloud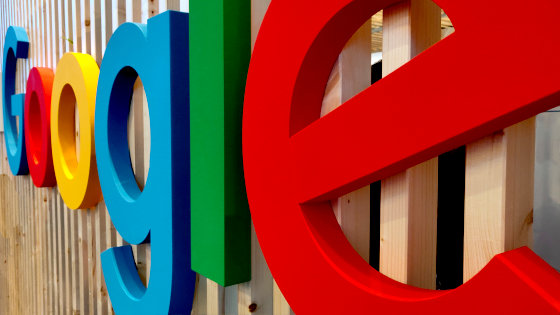 Google's parent company Alphabet has released its fourth-quarter and full-year financial results for 2020. In 2020, the global economy stagnated due to the pandemic of the new coronavirus infection (COVID-19), but Google's earnings increased year-on-year in both the fourth quarter and the full year. Most of this revenue comes from Google search advertising revenue, but YouTube advertising revenue also jumped 46% year-on-year, boosting overall revenue.

Alphabet Announces Fourth Quarter and Fiscal Year 2020 Results

https://abc.xyz/investor/static/pdf/2020Q4_alphabet_earnings_release.pdf
Alphabet reports Q4 2020 revenue of $ 56.9 billion --9to5Google
https://9to5google.com/2021/02/02/alphabet-q4-2020-earnings/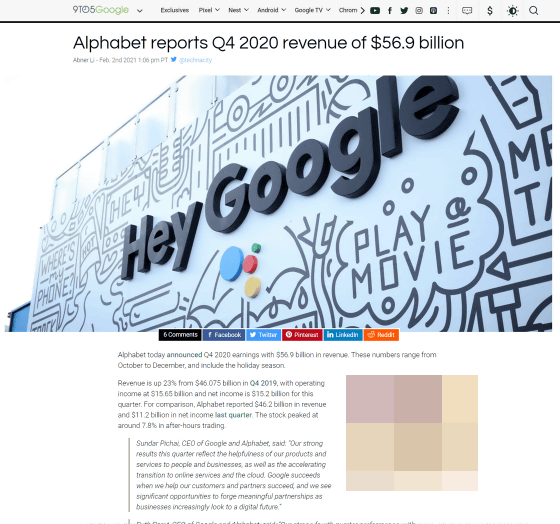 YouTube Ad Revenue Pops 46% to $ 6.89 Billion, Fueling Alphabet Q4 --Varietyhttps://variety.com/2021/tv/news/youtube-revenue-alphabet-q4-2020-earnings-1234898583/
According to Alphabet's announcement, revenue for the fourth quarter to December 31, 2020 will be $ 56.9 billion and net income will be $ 15.65 billion. That thing. Revenue for the fourth quarter of 2019 was $ 46,075 million and net income was $ 10,671 million, compared to the same period last year. Revenues were up 23% and net income was up 46%.
Below is a table showing revenue, operating income and net income for the fourth quarter.



For the full year of 2020, Alphabet reported revenue of $ 182.5 billion and net income of $ 41.2 billion.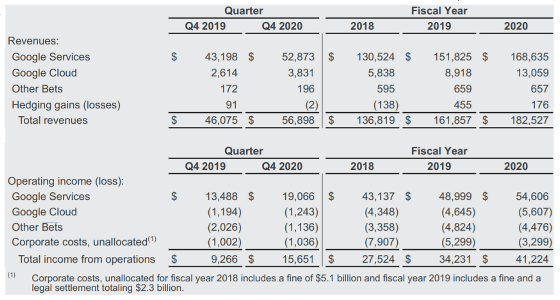 Analysts predicted Alphabet's fourth-quarter earnings of $ 15.90 per share, but actually surpassed it by $ 22.30. ..

Regarding YouTube, which recorded advertising revenue of 6.89 billion dollars (about 720 billion yen), which increased by 46% in the same period of the previous year, Google and Alphabet CFO Ruth Porat said that the fourth quarter results are not only Google search but also YouTube Also mentioned that it was towed. YouTube was hit hard in the early spring of 2020, the early pandemic of COVID-19, but through TrueView Discovery ads it doubled the number of advertisers and recovered in the third quarter. Revenue growth is also linked to consumer and business activity recovering in late 2020, as well as an increasing platform replay time.

Google Cloud has also grown significantly, recording $ 3.83 billion (about 400 billion yen), up 46% from the same period of the previous year.

Google and Alphabet CEO Sundar Pichai said, 'The strong results this quarter show that our products and services are useful to people's lives and businesses, and that the move to online services and the cloud is accelerating. That means. Google's success means the success of our customers and partners, and now that our business is heading for the digital future, we're looking to strengthen our meaningful partnerships. ' It was.

On the other hand, "Other Bet", which develops new businesses, continues to be sluggish, and Verily Life Sciences , which aims to eradicate mosquitoes, and Google Fiber, a project to build broadband Internet, earned $ 196 million (about 20 billion) this term. In yen), it is only a slight increase from 178 million dollars (about 18 billion yen) in the same period of the previous year. Google's revenue still comes from the advertising business, with advertising revenue accounting for 81.2% of the total.