Federal District Court Orders Temporary Injunction Against TikTok Ban by Trump Administration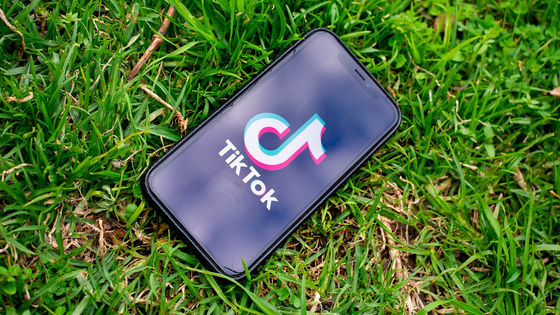 The Pennsylvania Federal District Court has issued an order to temporarily suspend the ban on the use of TikTok, which was scheduled to come into effect on Thursday, November 12, 2020, due to a series of problems surrounding the video distribution and sharing application 'TikTok' business in the United States. I put it out.

Federal Judge Temporarily Blocks Trump's TikTok Ban

https://www.forbes.com/sites/joewalsh/2020/10/30/federal-judge-temporarily-blocks-trumps-tiktok-ban/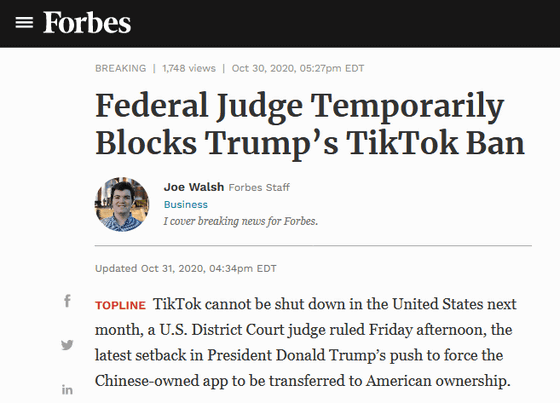 TikTok ban once again blocked by judge, thanks to three influencers --The Verge

https://www.theverge.com/2020/10/30/21542641/tiktok-ban-commerce-department-blocked-november-12-influencers
Since the video distribution application 'TikTok' is operated by ByteDance, which is a Chinese company, the US government considers it a 'privacy concern'. As a result of asking to sell its business in the United States to an American company, it has 'partnered' with Oracle and Wal-Mart.
Even if Oracle succeeds in acquiring TikTok, is the Trump administration reluctant to 'maintain management rights on the Chinese side' --GIGAZINE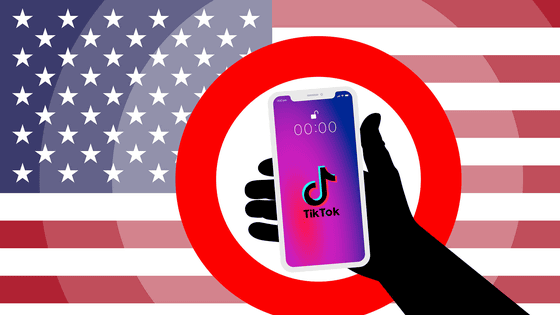 The content of the alliance plan is to establish a new company to operate the TikTok business with ByteDance, Oracle, and Wal-Mart, and President Trump approved this content. However, the deadline for the new app download ban was only postponed for a week to September 27, 2020.

ByteDance has filed a lawsuit to suspend this ban. The federal district court in Washington issued a provisional injunction for the ban on September 27, 2020, the deadline for action.

The injunction issued this time is different from the new download ban at that time, and it suspends the use ban on TikTok, which was scheduled to come into effect on November 12, 2020. Federal Judge Wendy Beetlestone of Pennsylvania 'uses' a trial filed by TikTok content creators, separate from the proceedings filed by ByteDance. The plaintiff's claim that 'the movie of TikTok is an' information material 'that is explicitly protected by the International Emergency Economic Powers Act' has been suspended, and the measures to ban TikTok have been suspended.

In addition, although ByteDance should need the approval of the Chinese government to let go of the TikTok business, it has not been confirmed whether the establishment of a new company to operate the TikTok business will proceed without the approval of the Chinese government.