In Haagen-Dazs' melting 'Hanamochi', 'Chestnut sauce' with rich chestnut sauce and this fragrant 'Ginko Kinako black honey' appeared, and I actually tried it.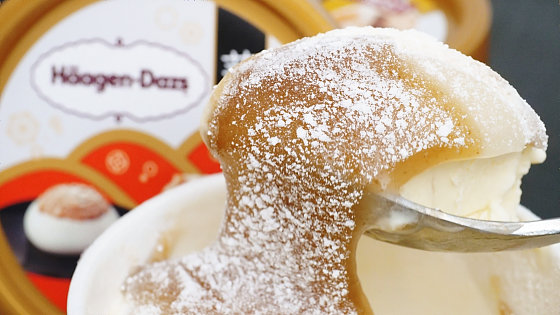 And 'Hana has Kurian,' 'Hana has Ginsen flour black honey' has emerged from the September 29, 2020 (Tuesday) to Haagen-Dazs. The new 'Kuri-an' in the Hanamochi series, which uses soft mochi that stretches smoothly, is said to be an ice cream that looks like an elegant Japanese confectionery that combines chestnut and white bean paste, so try it. I did.

Hanamochi | Product Information | Haagen-Dazs

https://www.haagen-dazs.co.jp/_2020/
The left is the new 'Kurian' from the Haagen-Dazs 'Hanamochi' series, and the right is the popular 'Ginsen Kinako Black Mitsu' released in 2019.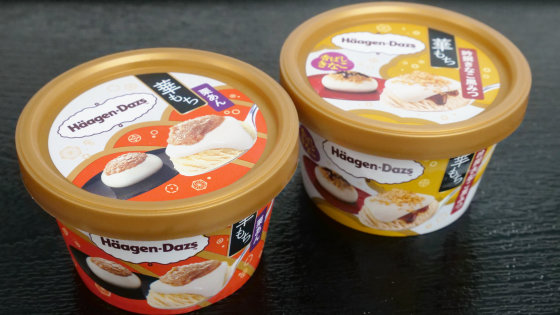 Let's start with the new chestnut sauce.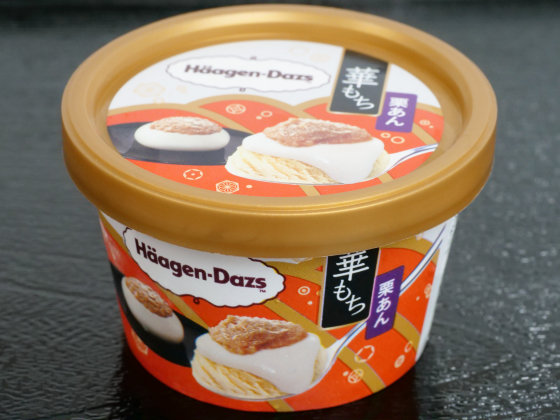 Chestnut bean paste has a milk fat content of 13.5% and the type is 'ice cream'. The names of the ingredients are cream, followed by chestnut sauce, rice cakes, and white bean paste. Each calorie is 239kcal and carbohydrate is 35.1g.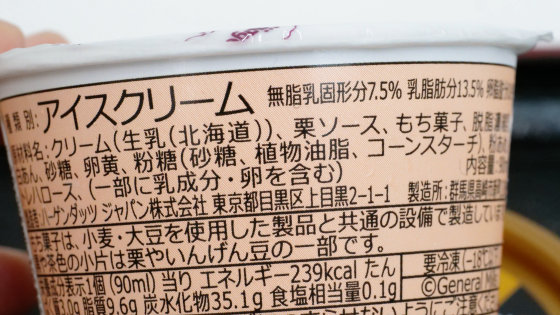 When you open the lid, it looks like this. Mochi, chestnut sauce, and powdered sugar are on top of the ice cream.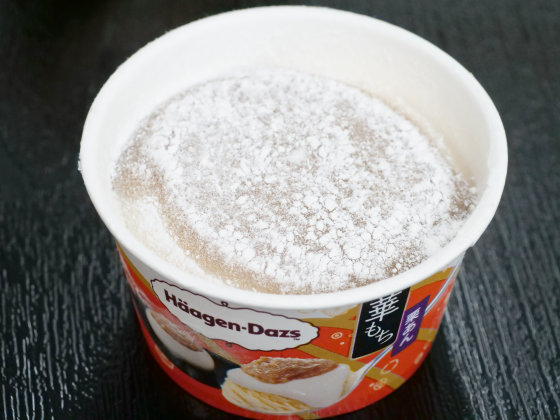 If you just took it out of the freezer, it's ticking, so it's difficult to scoop it with a spoon, but after a while, the spoon will come in quickly.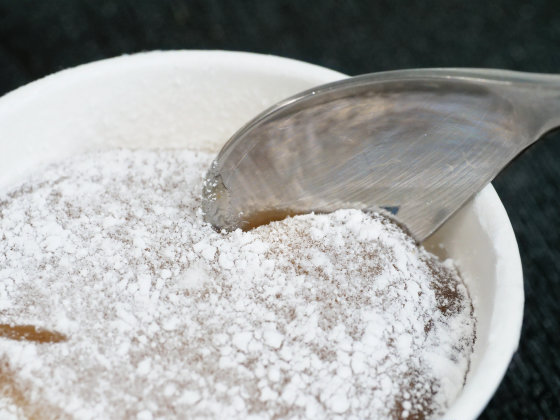 When you scoop up the ice cream, the mochi will grow.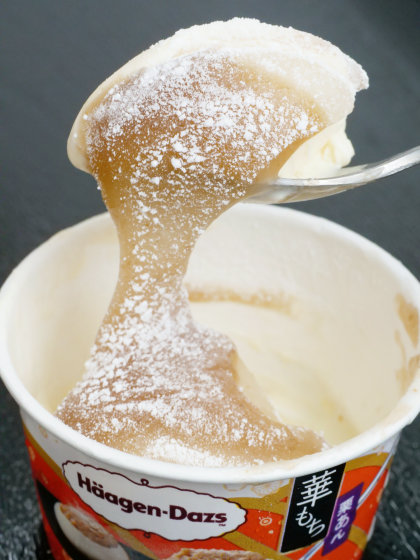 When you put it in your mouth, you can feel the rich sweetness and flavor of chestnut sauce. Chestnuts do not have a marron-like taste like Mont Blanc, but have a Japanese chestnut-like scent. Chestnut sauce has a smooth texture and feels like it melts in your mouth with a softened stick.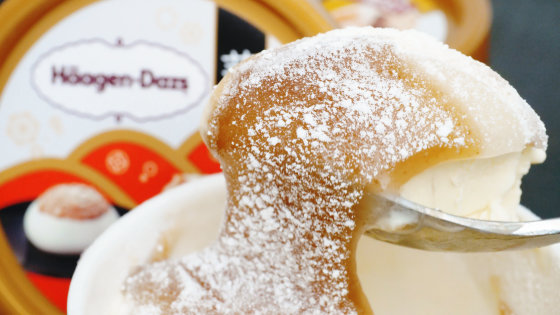 It is said that white bean paste is used as the base ice cream, but I felt the flavor of milk was rather strong. Chestnut sauce is also included in the ice cream, but it is not a strong claim, so the overall sweetness of chestnuts and the mellow yet light sweetness of the ice cream are well-balanced, making it easy to eat. is.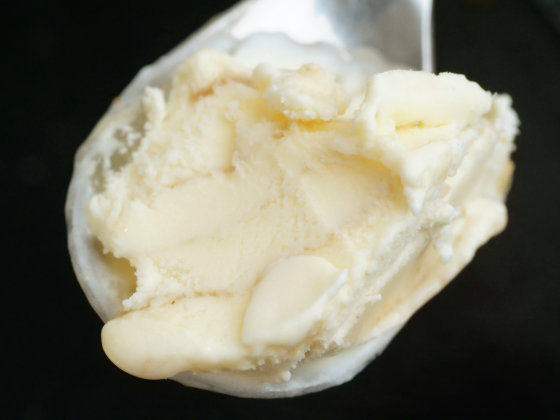 Next is Kinako Black Mitsu.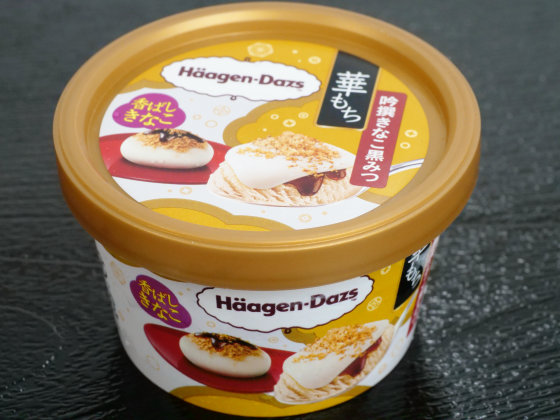 The milk fat content is 13% 'ice cream', and the raw material names include cream, rice cakes, kinako paste, and black honey sauce. Each calorie is 234 kcal.



This is a mochi topped with plenty of soybean flour.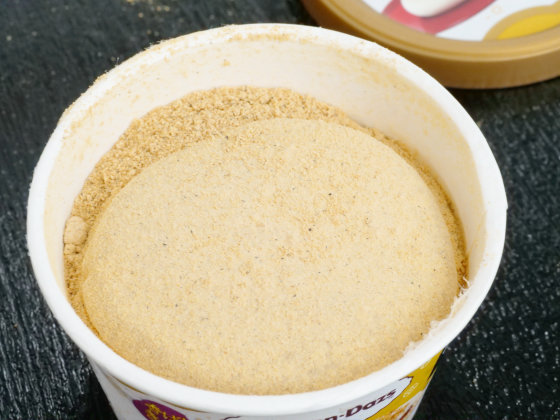 If you scoop this with a spoon, the mochi will grow considerably.



Contrary to Kuri-an, which had multiple elements in a balanced manner, this is a completely kinako-pushed dish. Since black honey is used, the sweetness of black honey overlaps with the richness of soybean flour, and I felt that it had a much more assertive taste than chestnut sauce. It tastes much better than Japanese sweets, so I want Japanese tea.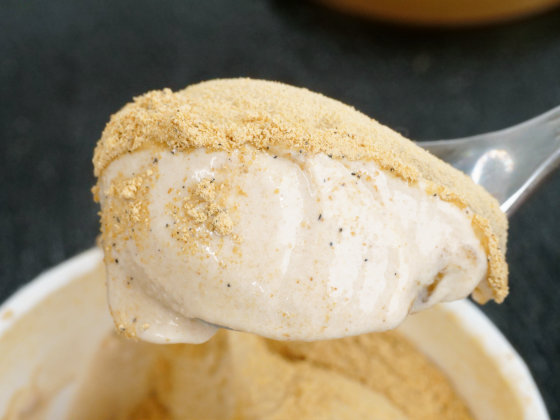 Both chestnut ann and ginko kinako black honey are 295 yen excluding tax and are on sale at convenience stores and supermarkets nationwide for a limited time from September 29, 2020.