[Obsolete] Chadwick Bozeman, who played the Avengers Black Panther, died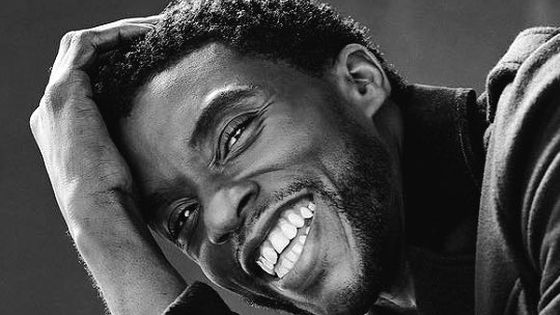 Chadwick Bozeman, who played the black panther Ti Chara at the Marvel Cinematic Universe (MCU), died of colon cancer on Friday, August 28, 2020. I was 43 years old.

Chadwick Boseman,'Black Panther' star, has died-CNN
https://edition.cnn.com/2020/08/28/entertainment/chadwick-boseman-dies/index.html

'Black Panther' Star Chadwick Boseman Dies Of Cancer At Age 43 :NPR
https://www.npr.org/2020/08/28/907341857/black-panther-star-chadwick-boseman-dies-of-cancer-at-age-43

Bozeman's official Twitter account was updated at 11:11 on August 29, 2020, Japan time, to inform him of his death. In a tweet, 'I will tell you about the death of Chadwick Bozeman along with 'immeasurable sadness.' Chadwick was diagnosed with stage 3 colorectal cancer in 2016 and progressed to stage 4 A true fighter, Chadwick has endured everything and has brought you many of the movies you love: the man who changed the Marshall Court , Da 5 Bloods , and August Wilson. He has been involved in countless films, including Ma Rainey's Black Bottom , all of which were shot with countless surgeries and chemotherapy, and played the black panther Ti Chara. It was the highest honor for his career, and Chadwick died at home, being watched over by his wife and family.The Chadwick family is deeply grateful for your love and prayers and will continue this difficult time. We would appreciate your respect and privacy.'

August 29, 2020


The one who made Bozeman a breakthrough was 'Black Panther', one of the MCU works released in 2018. The Black Panther played by Bozeman first appeared on the MCU in 'Civil War/Captain America'. In 2018, the movie ``Black Panther'' bearing the hero name was released as the 10th anniversary work of the MCU birth, and it is said that the work was nominated for the first superhero movie award at the 91st Academy Awards 2019 Not only that, but the world's cumulative box office revenue was a huge hit with $1,346,931,161 (about 142 billion yen). It was announced in October 2014 that Bozeman will play Black Panther, 2016 was diagnosed with stage 3 colorectal cancer, and shooting of the movie started in January 2017. It's 21st, so you can see that Black Panther was shooting while continuing to fight disease.

Black Panther Movie NEX Trailer-YouTube


In response to Bozeman's obituary, Mark LaFaro , an actor who plays Hulk and MCU on Hulk, updated Twitter and said, ``The tragedy of 2020 has become deeper with the passing of Chadwick Bozeman I can't say, Chadwick is a man of amazing talent. Brothers, you are a great man forever, and your feat was just beginning. Peacefully, Majesty.' ..

All I have to say is the tragedies amassing this year have only been made more profound by the loss of #ChadwickBoseman .What a man, and what an immense talent. Brother, you were one of the all time greats and your greatness was only beginning .Love love ya. Rest in power, King.

— Mark Ruffalo (@MarkRuffalo) August 29, 2020


Chris Hemsworth , who plays Mighty Thor on the MCU, updated his Instagram and said, 'I miss you. I'm absolutely hurt. It was one of the most kind and innocent people I've ever met. The whole family. Love and support to.'



Chris Evans , who plays Captain America on the MCU, said on his Twitter: 'It's really blown away. It's a pain. Chadwick was a special, true original. He was deep, devoted, always He was a curious artist, and he had a lot of great work to do. I am so thankful for our friendship. Please sleep peacefully, His Majesty.' I will.

I'm absolutely devastated. This is beyond heartbreaking.

Chadwick was special. A true original. He was a deeply committed and constantly curious artist. He had so much amazing work still left to create.I'm endlessly grateful for our friendship. Rest in power, King???? pic.twitter.com .com/oBERXlw66Z

— Chris Evans (@ChrisEvans) August 29, 2020


Chris Pratt , who plays Star Lord on the MCU, said on his Instagram: "My prayers are dedicated to Chadwick's family and loved ones. The world will lose his brilliant talent. Post God's Fortune to the Soul.'



Samuel L. Jackson, who played SHIELD's agent Nick Fury on MCU, said on Twitter: 'Thank you for everything Chadwick Bozeman gave us. I've always needed and always valued it! I was a very talented artist who gave me a lot of different things, and my brother. It will be missed by everyone. And tweet.

THANK YOU @chadwickboseman for all you gave us. We needed it & will always cherish it! A talented & giving artist & brother who will be sorely missed???????? RIP

— Samuel L. Jackson (@SamuelLJackson) August 29, 2020


'We are all defeated by Chadwick's tragic death, Disney's chairman Bob Eiger said he has extraordinary talent and is one of the most gentle and forgiving people I've ever met. Chadwick is a hero that millions of people around the world have been waiting for, bringing strength, dignity, and depth to Black Panther, which was a groundbreaking role for MCUs, breaking the stereotypes He gave us all a big dream and inspired us to demand more than the present. We were destined for what he was and for him I mourn all that.'

becoming a long-awaited hero to millions around the world, and inspiring us all to dream bigger and demand more than the status quo. We mourn all that he was, as well as everything he was destined to become.

— Robert Iger (@RobertIger) August 29, 2020