Production of new series 'Chapter of Great Bloom' of anime 'Yuna Yuki is a Brave' decided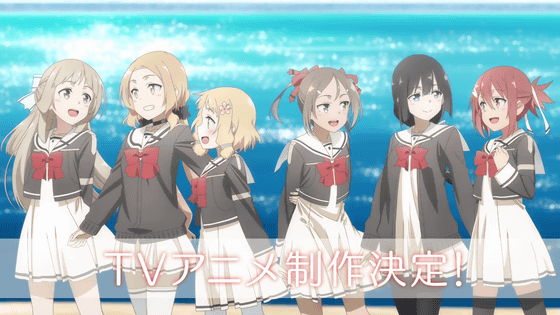 As a substitute for the event, the production of a new series ' Chapter of Great Bloom ' was announced in 'Nakayuki Yuki is a Brave' Brave Club Activity Report Thanksgiving Chapter ' distributed on Nico Nico Live Broadcasting.

``Yuki Yuna is a brave person'' Brave club activity student report Thanksgiving chapter-2020/08/01 (Sat) 13:00 start-Nico Nico Live Broadcasting
https://live2.nicovideo.jp/watch/lv327140322

' Yuki Yuna is a hero ' is a TV anime that was broadcast in October 2014. Takahiro, who is known as a game creator, designed and drafted an original work that depicts female junior high school students with qualities gathered in the 'Braves Club' and fighting an enemy called a vertex. Transforming heroine of everyday life It has a hard setting while giving a feeling of being like a heroine, and knocked down the alert viewer to the bottom of despair.

In 2017, 'Yuna Yuki is a Brave-Chapter of Washio Sumi -' was produced, and after the event was screened at the movie theater, it was combined with 'Yuna Yuki is a Brave-Chapter of the Brave-'. It was broadcast on TV from October 2017.

This work, which celebrated its 5th anniversary in 2019, will be

A new chapter for smartphone game 'Yuna Yuki is the brave, Hana Yui no Kirameki' has started!
The second best album 'Song of Courage' is released!
Third, 'Yuki Yuna is a Brave Thanksgiving' event will be held!
4. New series 'Hinata Uesato is a shrine maiden' started!
5. Short animation 'Yuna Yuki is a hero Chult! ] Production!

Was announced.

These 5 Articles

Six? ? ? ? ? ? ?

Was added to become '6 Clauses', and the content was 'to be announced in the future', but it is now clear that the content is 'decision to produce a new series of anime 'The chapter of Daimankai'!' It was.

[Yuna Yuki is a brave man] Brave club Rokukajo PV [A new TV animation 'Chapter of Great Bloom' will be produced! ]-YouTube


'Great bloom' is a very unpleasant name, but in this work 'Full bloom' refers to 'opening up the ability as a hero', and sniff the unrest as to what kind of situation is waiting Some viewers are