Revealed that "Syuki! Euphonium" the second edition of the movie released on September 30, 2017 & two completely new movies will be released in 2018


On Sunday, June 4, 2017, a special talk event of TV animation "Eikyu! Euphonium 2" was held at the Uji City Cultural Center, and the second film of the movie "Sound in theatrical version! Euphonium ~ Melody I Want to Deliver ~It is announced that it is open on Saturday, September 30, and two completely new movies are planned to be released in 2018.

"Theatrical version echo! Euphonium ~ melody you want to deliver ~ 」September 30 open decision! & Completely new movie 2 pieces released!
http://anime-eupho.com/news/?id=201

"Eikyu! Euphonium" is a TV anime based on Ayano Takeda's novel "Eiko! Euphonium North Uji High School Wind and Bass Welcome" that was awarded the "8th Japan Love Story Award" from April 20 to June 2015 Broadcasting was done. Later, in October 2015, the full version of theatrical version and the production of the TV animation sequel was announced, the theatrical version was broadcast in April 2016, and the sequel "Eikyu! Euphonium 2" was broadcasted from October to December 2016 .

Theatrical version & sequel production of TV animation "Eikyu! Euphonium" is decided - GIGAZINE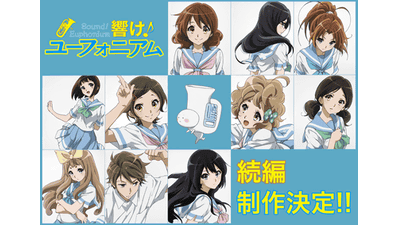 This time released "Epiphone Euphonium! Euphonium ~ Melody to Deliver" is a compilation of this "Echo! Euphonium 2", the contents reconstructed by the main character, Huang front Kumiko and Asuka Tanaka, senior in charge of Euphonium . Director Taichi Ogawa who will be his first director's work.

"Theatrical version echo! Euphonium ~ Melody to Deliver ~ 」Special News - YouTube


And, the only oboe player who is the only oboe player in the brass band, the story of Kimiko who was once departing from the flute and the story of Kimiko who was a second grader and the story of Kumiko who became the second graders as a completely new movie It also produced and announced that it will be released in 2018. This is a director Takuya Ishihara who directed Yamada Naoko, director of Yamada Naoko of "Movie Kioni!", "Tamako Love Story" "Shape of the Voice", and Kumiko's story as a series, I will be in charge.

"Sound! Euphonium "Movie version special announcement - YouTube

Ⓒ Ayano Takeda · Takarajima / / "Sound! Production Committee

Advance tickets for "Epiphone Echo! Euphonium ~ Melody to Deliver ~" started selling at each theater from Saturday, June 10, 2017. "Self-shooting" clear file "(1 kind random from all three types) which character creator Mr. Akida Akiko drew as a bonus will come with it. The price is 1500 yen for the general tax, 900 yen for the dwarf.

Incidentally, as for the original novel, it is announced that Kumiko second grader edition begins, as it is also in the special announcement, "North Uji's performance will still resonate!"

Sound! Euphonium, Kumiko second grader edition begins. Kumiko who became the second grade students, and the stories that depicted the new three years. A new first year student will also join. Because Kita Uji High School Brass band department which became a new system will aim at the whole country and will do its best, everyone will continue to support you!

- Ayano Takeda (@ayanotakeda)June 4, 2017
Whether or not to write the sequel of the Eupho series, I really suffered from trouble. However, I had the chance to think about various things about having responsibility for my work, so I decided to write like this. Today, I thought it was good to see the reaction of everyone when the video of the announcement flowed, I decided to write a continuation. Thank you very much.

- Ayano Takeda (@ayanotakeda)June 4, 2017