TikTok steals what the user is typing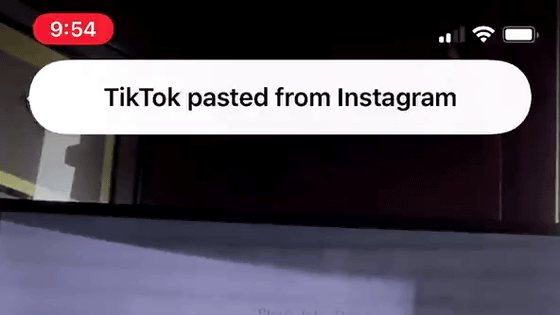 It has been pointed out that TikTok is reading what the user is typing in another app. This was revealed by 'iOS 14' announced on June 23, 2020, which was equipped with a function to be notified when the application reads the contents of the clipboard. Apple responded 'no problem' to an expert who pointed out that the contents of the clipboard could be read.

In the movie posted by Jeremy Burge (@jeremyburge), a message 'TikTok pasted from Instragram' is displayed every time one to three characters are input, and TikTok reads the content input by Burge on Instagram. You can see that

Okay so TikTok is grabbing the contents of my clipboard every 1-3 keystrokes.iOS 14 is snitching on it with the new paste notification pic.twitter.com/OSXP43t5SZ

— Jeremy Burge (@jeremyburge) June 24, 2020


Mr. Burge also posted a movie in which TikTok is reading the contents of the universal clipboard that can perform operations such as 'paste contents entered on Mac with iPhone'.

iOS 14 beta has a banner to confirm when you paste from another device (eg copy on a Mac and paste on iPhone)

Seems to be bugging out and showing with every keystroke in TikTok pic.twitter.com/aFKNfZnpyb

— Jeremy Burge (@jeremyburge) June 24, 2020


In the first place, the matter that 'multiple applications are reading the content copied to the clipboard without the user's permission' was pointed out before the developer preview version of iOS 14 was released. According to Talal Haj Bakry and Tommy Mysk who conducted the survey, this operation has been confirmed in many applications such as news apps and weather apps in addition to TikTok, but contacted Apple on January 2, 2020 When I did, I heard that there was a reply that it was a problem-free operation.

Precise Location Information Leaking Through System Pasteboard | Mysk
https://www.mysk.blog/2020/02/24/precise-location-information-leaking-through-system-pasteboard/

Even if it is expected behavior for Apple, it is a creepy behavior that was first visualized in iOS 14 from the user's point of view, ``In iOS 14, the application is spying on the contents of the clipboard I understand,' a movie is posted on YouTube where multiple applications read information.

iOS14 Catches Apps Spying on Your Clipboard-YouTube


As expected, it seems that it is not the 'specification' that the contents being input are read by opening another application.