A survey of popular genres in erotic manga reveals that 'Americans are addicted to super-special habits.'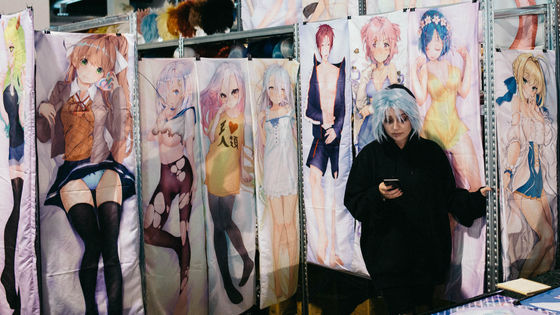 by
Silvision
FAKKU,
an online distribution service for adult manga boasting 100 million page views per month and 500,000 subscribers, has announced the most popular adult manga work genre in each state of the United States. The surprising result is that a peculiarity takes first place in many parts of the United States.
The @FAKKU 2019 Year in Review! ????????

Check out the most popular tags in the USA!

What's the most popular where you live? ???? pic.twitter.com/1dsDERPGoz

— FAKKU Games (@fakkugames) April 6, 2020


FAKKU is the largest adult manga company in the English-speaking world, and distributes translated books of Japanese adult manga in partnership with Japanese adult manga publishers such as Wani Magazine and Akane Shinsha. The image released by FAKKU is below, and the 'most popular genre' in each state is written on the map.



'Futanari ' is the most popular in most parts of the United States. In Montana, Nebraska, Kansas, Kentucky, Tennessee, Alabama, Pennsylvania, Delaware 8 states 'Monster Girls ( evildoer daughter )', in California 'Netorare ( cuckold )', New Hampshire Then, 'Cheating' is the most popular.

Internet users have responded in various ways to this shocking result. Someone who commented, 'It was just a big' hole 'that the futanari would win ... Oh, it's not a pun.'

WOW, futanari wins by a long shot ... not pun intended.

— Michael Steve (@Saga_Darklight) April 6, 2020


Some say that 'this is a futanari United States,' and that the name 'America' will be removed.

The United States of Futa

— Bigmeatyclaws21 (@ bigmeatyclaws22) April 6, 2020


'What's happening in California (the number one cuckold)?' 'Oh, they've been weird for a long time.' 'I'm disappointed in California.' Some people gave their opinions.

They haven't been okay in a long while.

— NN (@Doze_Tree) April 6, 2020


In addition, Komiflo, a Japanese all-you-can-read erotic manga service that released popular genres of erotic manga by prefecture, will publish an article that discusses 'popular trends of erotic manga genres around the world' with Mr. Jacob, the representative of FAKKU. Therefore, it seems that not only the difference in tastes and tastes between Japan and the United States, but also what kind of genre is loved all over the world will be revealed in the near future.

[FAKKU! × Komiflo] A complete article that discusses the popularity trends of erotic manga genres around the world with FAKKU representative Jacob will be released soon! Please wait for the follow-up report? Https://t.co/bcWLqF2EzL https://t.co/dLpxEBFD9P

— Komiflo (@komiflo) April 7, 2020