New coronavirus infection confirmed in zoo tigers, asymptomatic keeper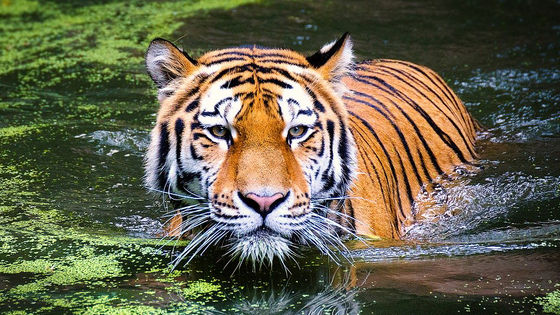 On March 27, 2020, `` A case where the virus was transmitted to a domestic cat from a person infected with the new coronavirus ''
has been confirmed in Belgium,
but at a zoo in the United States a tiger is determined to be positive by a new coronavirus test I knew it had been done.
A Tiger at Bronx Zoo Tests Positive for COVID-19; The Tiger and the Zoo's Other Cats Are Doing Well at This Time> Newsroom
https://newsroom.wcs.org/News-Releases/articleType/ArticleView/articleId/14010.aspx
Tiger tests positive for coronavirus at Bronx Zoo, first known case in the world
https://www.nationalgeographic.com/animals/2020/04/tiger-coronavirus-covid19-positive-test-bronx-zoo/
The
Bronx Zoo
in
Bronx,
New York, one of the world's largest
zoos,
announced on April 5, 2020 that tigers raised in the zoo were tested positive for the new coronavirus test . The infection with the new coronavirus was confirmed in a 4-year-old female Malatela 'Nadia', which had been tested since late March due to dry coughing and loss of appetite.
According to the announcement of the
Wildlife Conservation Society (WCS)
, which operates the Bronx Zoo, large cats require general anesthesia to be tested, so only Nadia was tested. A total of seven large felines, including their sister 'Azul', two malatela, and three lions, have reported symptoms such as coughs.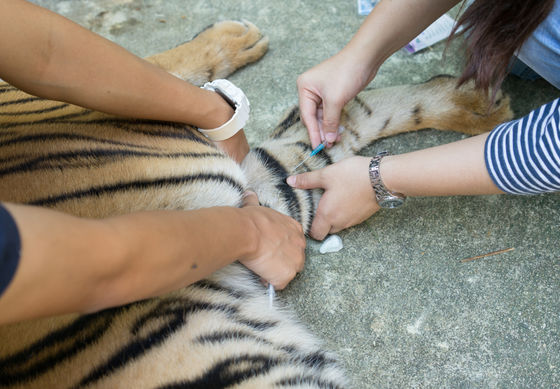 The WCS described the seven animals as saying, 'Despite the loss of appetite, they are cheerful, cheerful, agile and actively interacting with their keeper under the care of a veterinarian. It is unclear what symptoms the new coronavirus may cause in large cats, but we will continue to monitor it carefully and hope that it will recover completely. '

All four tigers with symptoms this time were raised at the `` Tiger Mountain Exhibition Hall '' in the park, but male
Amur tigers
raised in the same place have no clinical symptoms. Maletra and Amur tiger, which were exhibited elsewhere, have no symptoms. In addition, there are tigers and lions at the Bronx Zoo, as well as snow leopards, cheetahs,
clouded
leopards
,
amur leopards
, puma and
servants
, but none of them have symptoms.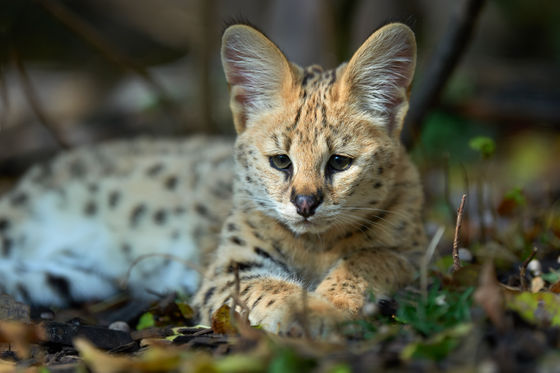 The Bronx Zoo was closed from March 16 to prevent the transmission of the new coronavirus, and no visitors were allowed. For this reason, WCS says that the route of infection is `` asymptomatic or breeding staff before the onset of symptoms '', and that all zoos operated by WCS have already taken preventive measures against breeding staff and cats. .

'As far as we know, this is the first case in which wild animals that are not pets have been infected by humans with the new coronavirus,' said Paul Cal, chief veterinarian at the Bronx Zoo. In addition, he said he plans to share the diagnostic information obtained this time with other gardens, saying, 'I suspect that there are other cases, so if I share the information, other case reports will go up It may come, 'said Cal.

The U.S. Department of Agriculture also said in a report that, 'People infected with the new coronavirus must restrict contact with animals, including pets, as well as humans during the onset of symptoms. No reports have been made in the U.S. that pets have been transmitted by humans to the new coronavirus, but it is recommended that infected individuals avoid contact with animals until details of the new coronavirus are known. are you. infected or if a person must take care of the pets are, if you are in the vicinity of the animal, between the hand you need to wash the 'before and after contact with animals statement announced.