Van Gogh's painting over 100 million yen is stolen from a closed museum due to the spread of the new coronavirus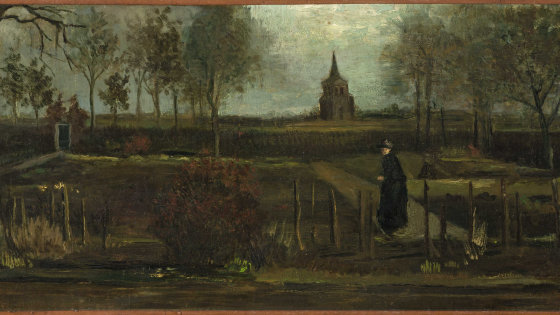 A painting by Vincent van Gogh was stolen from a closed Dutch museum,
Singer Laren
, following the epidemic of the new coronavirus infection (COVID-19). The estimated value of the paintings is estimated to be between 1 million and 6 million euros (about 120-700 million yen).
Schilderij van Van Gogh-Lentetuin, de pastorietuin te Nuenen in het voorjaar-gestolen | Groninger Museum
https://www.groningermuseum.nl/kunst/tentoonstellingen/gesloten
Persverklaring maandag 30 maart om 15.00 uur | Nieuws | Singer Laren
https://www.singerlaren.nl/nl/nieuws/458/Persverklaring_maandag_30_maart_om_15_00_uur/
Opportunistic Thieves Just Stole a Prized Van Gogh Landscape From a Locked-Down Dutch Museum Under Cover of Night
https://news.artnet.com/art-world/thieves-stolen-van-gogh-masterpiece-dutch-museum-1819743
Van Gogh's 'The Parsonage Garden at Nuenen in Spring' painting stolen from museum-CNN Style
https://edition.cnn.com/style/article/van-gogh-stolen-covid-19-intl-scli/index.html
Van Gogh painting stolen from Dutch museum during virus shutdown
https://news.yahoo.com/van-gogh-painting-stolen-dutch-museum-during-virus-161727101.html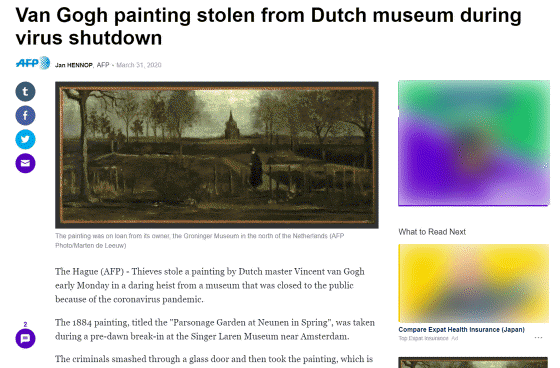 Singer Laren is located in the city of Laren, southeast of the Dutch capital, Amsterdam, and exhibits a collection of American artists
William Henry Singer
and his wife Anna.
Around 3:15 am on March 30, 2020, strangely the 167th anniversary of Van Gogh's birth, the robber broke through a giant glass window at the entrance to the museum and stole the painting. Later, when the police received an emergency alarm, the thief and the painting had disappeared.
What was stolen was the 1884 work '
The Parsonage Garden at Nuenen in Spring
'. This painting was drawn while Van Gogh was staying in the town of Neuinen, where his father is a pastor, and is based on the ruins of a church seen from his father's house. According to artistic researcher Arthur Brandt, the estimated value of the paintings is between 1 and 6 million euros (about 120 to 700 million yen).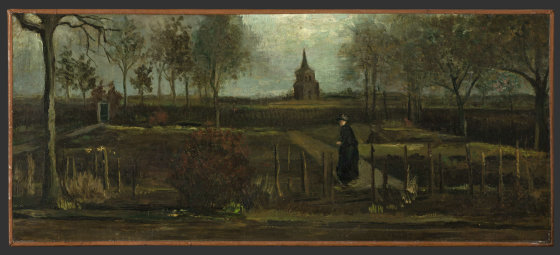 The painting has been owned by the Groningen Museum in the Netherlands since 1962, and Singer Laren has rented a 'spring garden in Nuenen in the spring' for exhibitions.

Singer Laren's director Jan Rudolph de Lorm was stolen and said, 'I'm shocked and at the same time incredibly angry. It's a terrible event, art is shared throughout our society and gives people pleasure, inspiration and comfort, especially when it comes to such difficulties. '

The Groningen Museum has said it was 'shocked' about the theft, but declined to comment further due to police investigations.

Police said they had begun investigating by checking the images from the surveillance cameras and asking local residents questions. It is unknown at the time of article creation whether there is any other work stolen from Singer Laren.

in Art, Posted by logq_fa