It is confirmed that `` social distance expansion strategy '' of new coronavirus measures is also suppressing other infectious diseases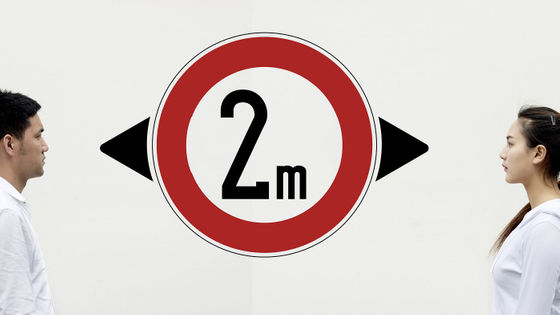 With the spread of the new coronavirus infection, a '
social distance expansion strategy
' is being implemented around the world to stop unnecessary and urgent outings and to stop events and gatherings where people gather. Investigations using large-scale data have shown that this is likely to reduce influenza and other infectious diseases.
Social distancing slowing not only Covid-19, but other diseases too — Quartz
https://qz.com/1824020/social-distancing-slowing-not-only-covid-19-but-other-diseases-too/
Kinsa Health, based in California, USA, is a medical device manufacturer that sells more than one million smart thermometers nationwide. The company accumulates a large number of anonymized temperature measurement data via a smartphone app that works with a smart thermometer. This data has also been used in past
studies to predict the spread of influenza,
confirming that it is possible to predict the spread of infectious diseases with high accuracy.
Due to the effects of the new coronavirus, body temperature data delivered to Kinsa Health by March 2020 is expected to be two to three times higher than the average influenza season. Kinsa Health looked at how the symptoms of new coronavirus infections, such as fever, resemble those of influenza, and examined how control of the new coronavirus affects the spread of infectious diseases.
The result is the graph below. The "predicted percentage of Americans with flu-like symptoms", shown in light pink, has gone from 4% to 3.7% from March 19 to March 23. On the other hand, the actual measured value in 2020 shown in dark brown was 4.9% on March 19, but dropped sharply to 3.3% on March 23, which is a reversal phenomenon that it is lower than usual. You.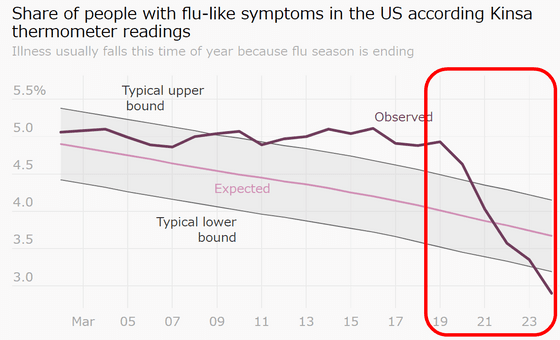 Benjamin D'Argil, a researcher of infectious diseases at Oregon State University, said about this result that `` even if the temperature measurement data surges, the prediction data will not be inaccurate '', and this result is just statistical He pointed out that it was not a major change.

Insa Singh, CEO of Kinsa Health, said influenza-like symptoms were reduced by 1.6 percentage points in just four days: `` This type of broad social distance expansion strategy is unprecedented in recent years. `` No, '' he said, `` this extreme drop in the number of cases is in excellent agreement with the results we are expecting for our current efforts. '' Did.

In addition, it is known that thermometric data predicted this before the new coronavirus test surfaced large-scale spread in some areas. Florida has
reported
a surge in cases of new coronavirus infection since late March, but Kinsa Health's thermometric data suggests that Florida's most populous Miami-Dade county was in March. It can be seen that the number of people already having fever had been increasing rapidly in the middle of.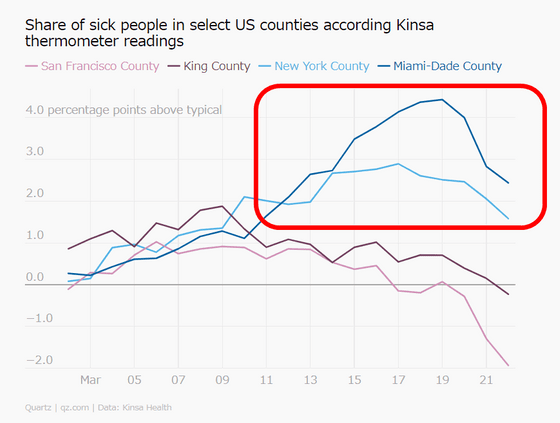 While it was found that the `` expansion of social distance strategy '' carried out extensively in the United States has shown a certain effect in preventing infectious diseases including the new coronavirus, Darjil said, `` The benefits of this strategy are the most Even in the affected areas, once the epidemic spreads, the number of people with fever may soar, '' he said, saying that although we can delay the spread of the disease, we cannot completely stop it. He emphasized that carelessness was forbidden.

in Note, Posted by log1l_ks