The world's largest porn site Pornhub offers paid services to all users for free, renamed to 'Stay homehub'
Pornhub
, the world's largest porn video distribution site with more than 120 million daily visitors, waits at home for Pornhub users around the world following the spread of the new coronavirus infection (COVID-19) In order to do so, we announced that we will offer '
free release of paid premium services
' to all users for a limited time, which was done in some areas.
Help Flatten the Curve
https://jp.pornhub.com/stayhome
Pornhub COVID-19 Announcement Blog --Free Porn Videos & Sex Movies --Porno, XXX, Porn Tube and Pussy Porn
https://jp.pornhub.com/blog/9821
At Pornhub, you can subscribe to a premium service that offers benefits such as video downloads, ad display off, and playlist functionality by paying $ 9.99 a month (about 1100 yen) and $ 95.88 (about 10700 yen) a year. .. This premium service has been provided free of charge since mid-March 2020 to users in Italy, France, and Spain, where the scale of COVID-19 infection is particularly large.
Popular porn site Pornhub offers 'premium service' for free in Italy, which is being blocked nationwide due to the epidemic of the new coronavirus --GIGAZINE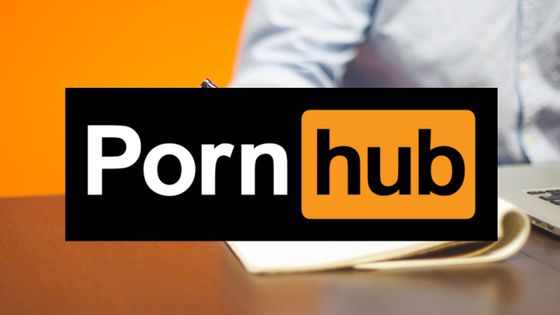 However, on March 12, 2020, the World Health Organization (WHO)
recognized the
spread of COVID-19 as a pandemic, and people all over the world, not only Italy and France, are forced to wait at home. increase. In response to this, Pornhub declared that 'premium services will be provided free of charge around the world until Thursday, April 23, 2020.'
To use Pornhub's free premium service, you need to create an account on Pornhub. Also, on a dedicated site, 'I agree to self-quarantine and agree to enjoy premium videos for free' or 'I can't self-quarantine, but wash my hands regularly and keep a social distance. You need to check and agree to either 'I promise'.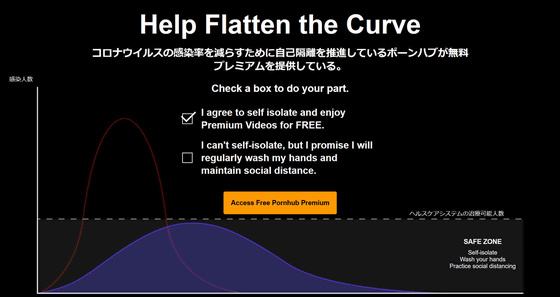 In addition, Pornhub has changed the site name to 'Stay homehub' in line with the free provision of this premium service.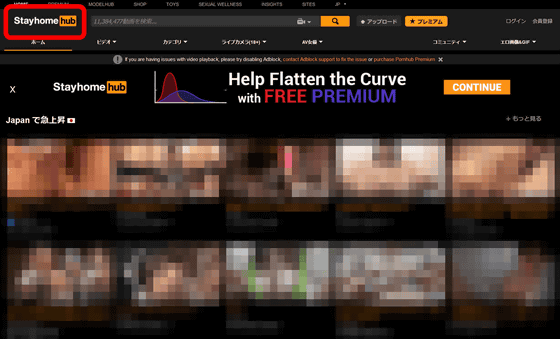 In addition, many porn models and creators make movies on Pornhub, and publish and sell them. To support such models and creators, Pornhub said, 'We responded to the fact that many people are financially affected by COVID-19, and removed processing fees from the video sales delivered in April 2020. I will pay everything to the model. '

In addition, Pornhub offers a variety
of image materials
for models and creators to share the message 'Stay Home & Enjoy My Content' on social media.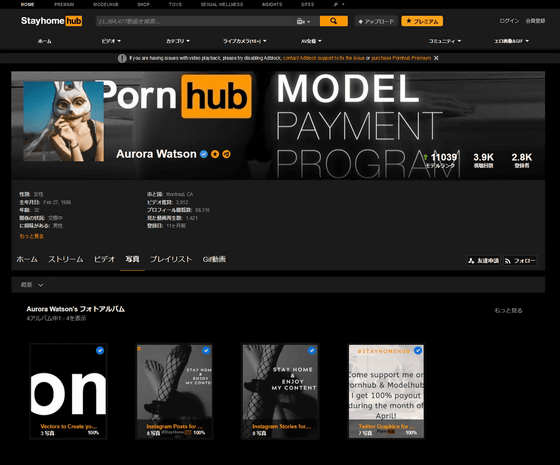 Pornhub commented, 'Stay at home, stay safe, connect on social media, and reach out to help.'