Comparing the specifications of PlayStation 5, Xbox Series X and Nintendo Switch, it looks like this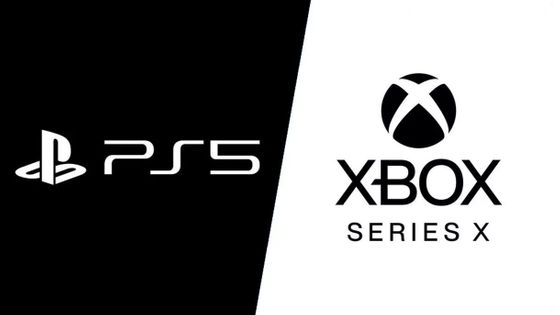 Following the release of detailed specifications of the latest game machine ``
Xbox Series X
'' on March 16, 2020 by Microsoft, Sony detailed information on the next-generation machine ``
PlayStation 5
(PS5) '' on March 19, 2020 Was announced. With this, the details of the next-generation machines of Microsoft and Sony were available, so I compared the specifications with Nintendo's stationary game machine '
Nintendo Switch
' released on March 3, 2017.
PS5: release date, price, specs and news for the PlayStation 5 | What Hi-Fi?
https://www.whathifi.com/advice/ps5-release-date-price-specs-and-news-for-the-playstation-5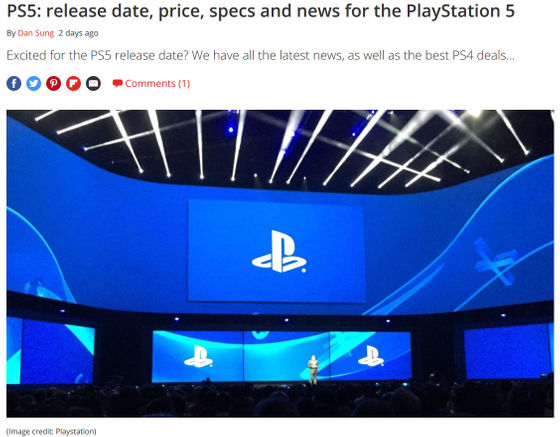 Xbox Series X price – how much the new console might cost and what pre-order deals to expect | GamesRadar +
https://www.gamesradar.com/xbox-series-x-price-bundle-deals/

PS5 vs. Xbox Series X: a complicated battle of SSD and GPU speeds-The Verge
https://www.theverge.com/2020/3/18/21185141/ps5-playstation-5-xbox-series-x-comparison-specs-features-release-date

PlayStation 5 vs. Xbox Series X: Comparing the specs | VentureBeat
https://venturebeat.com/2020/03/18/playstation-5-vs-xbox-series-x-comparing-the-specs/

PlayStation 5 Versus Xbox Series X: The Tech Specs | Kotaku Australia
https://www.kotaku.com.au/2020/03/playstation-5-versus-xbox-series-x-the-tech-specs/

The following table compares the basic specifications of PlayStation 5 (PS5), Xbox Series X, and Nintendo Switch.


PlayStation 5
Xbox Series X
Nintendo Switch
CPU
x86-64-AMD Ryzen Zen 2 (variable up to 3.5GHz)
Custom Zen 2 CPU (with 3.8 GHz / 3.6 GHz SMT function)
NVIDIA customized Tegra processor
8 cores / 16 threads
8 core
ARM Cortex-A57 4 cores + ARM Cortex-A53 4 cores
GPU
2.23GHz AMD Radeon RDNA 2-based graphics engine
1.825GHz Custom RDNA 2 GPU
CUDA core with 2nd generation Maxwell architecture
10.3 TFLOPS 36 CU
12 TFLOPS 52 CU
0.5 TFLOPS
memory
16GB GDDR6
16GB GDDR6
4GB LPDDR4
Memory bandwidth
448GB / s
10GB 560GB / s (GPU optimal memory) ・ 6GB 336GB / s (Standard memory)
-
storage
825GB NVME SSD (Reading speed: 5.5GB / s)
1TB NVME SSD (read speed: 2.4GB / s)
32GB eMMC
media
4K Ultra HD Blu-ray
4K Ultra HD Blu-ray
Game card
price
Approximately 54,000 yen (forecast)
Approximately 54,000 yen (forecast)
Suggested retail price: 29,980 yen (excluding tax)
In particular, much attention has been focused on the differences between the latest models, the PS5 and the Xbox Series X, which are expected to be launched during the holiday season at the end of 2020.
◆ CPU
The PS5 and Xbox Series X both use the
Zen 2
AMD
microarchitecture
, and the Xbox Series X runs at a slightly faster clock rate. On the other hand, the PS5 operates at a variable frequency to address power consumption and heat generation issues. In addition, Nintendo Switch only describes the CPU as `` NVIDIA customized Tegra processor '' and does not disclose details, but as a result of disassembling the main body, `` ARM Cortex-A57 4 core and ARM Cortex-A53 4 equipped with a core 'is, by the research analysis research firm Tekanarie of investigation of semiconductor
find
we are.
◆ GPU
There is a difference between
GPUs
, which play a central
role
in graphics. First of all, while the
floating point arithmetic
capability of PS5 is 10.3TFLOPS, it is 12TFLOPS in Xbox Series X. The number of Compute Units (CUs) also differed between PS5 36 and Xbox Series X 52. On the other hand, the number of clocks is 1.83 GHz for Xbox Series X and 2.23 GHz for PS5, which is higher than PS5. In addition, the GPU of Nintendo Switch is a CUDA core of the 2nd generation Maxwell architecture, and according to IT news site The Verge, processing capacity is 0.5 TFLOPS.
According to IT news site VentureBeat, 'Frankly, the Xbox Series X should work at a higher resolution and
frame rate
. However, this does not mean that the graphics of the PS5 are poor. Although small, the number of clocks is much higher on the PS5, so each unit on the PS5 can handle more than the Xbox Series X. ' Game blog Kotaku commented, 'GPU performance depends heavily on how it's used. Xbox Series X has more power, but PS5 may be capable of more subtle expressions.'
◆ Memory
Both memories are 16 GB, but the memory bandwidth is 448 GB / s for PS5, while the Xbox Series X has two 560 GB / s 'GPU optimal memory' and 336 GB / s 'standard memory' . Kotaku said, 'Slow standard memory is allocated for sound etc., GPU optimal memory is used for drawing beautiful graphics. This is an asymmetric memory system that provides developers with an interesting way of allocating resources.' Pointed out the superiority of Xbox Series X.
The memory of Nintendo Switch is not announced, but According to The Verge, it is equipped with a total of 4 GB LPDDR4.
◆ Storage
There is an even bigger difference in storage. While the capacity of the Xbox Series X was about 175GB, the reading speed was 2.4GB / s for the Xbox Series X and 5.5GB / s for the PS5, more than double the difference. Regarding this difference, The Verge points out that 'the fundamental difference between the two game consoles is storage. The loading time may be significantly different between PS5 and Xbox Series X.' VentureBeat also stated, 'PS5 means that we can read a lot more data per second than our rivals, which could lead to a game with almost no loading.'
In addition, the internal storage capacity of Nintendo Switch is 32GB, but you can use microSD memory card, microSDHC memory card, microSDXC memory card as external storage.
◆ Price
Regarding the price of PS5, the review site What Hi-Fi? Wrote, `` PlayStation and PlayStation 2 are $ 299 (about 32,000 yen), PlayStation 3 is $ 499 (about 54,000 yen), PlayStation 4 is $ 399 (about 4 Given that it was $ 3,000, the price of the PS5 would be around $ 499 (about 54,000 yen), just above PlayStation 4. However, this was unfolding between the United States and China It may not be accurate because it is affected by the trade wars that are taking place. '
According to GamesRadar, an entertainment information site about the price of Xbox Series X, 'The price of Xbox Series X may slightly exceed $ 499. Xbox One released in 2013 and Xbox One X in 2016 will be $ 299 each. The price was $ 399, but it's $ 399 and $ 499 respectively, given the effects of inflation, so $ 500 is the most likely price for the Xbox Series X. $ 499 It's hard to imagine being below that. '
◆ Summary
VentureBeat commented, 'It's fun to talk about specs, but it's not really important to the actual gamer. Whatever is better at specs, what matters is content.'
Kotaku, who compared the two game consoles to an RPG profession, rated the PS5 as a quick '
rogue
' and the Xbox Series X as a powerful 'warrior' and appreciated the difference between the two. According to Kotaku, Nintendo Switch is a 'magician'.
The Verge notes that prices for both game consoles are undecided. 'In the end, how the battle for next-generation consoles evolves depends heavily on price. Leading sales early on because it sold 4 at a significantly lower price than Xbox One, Microsoft promised not to make that mistake again on the Xbox Series X, but both companies gave hints on pricing. No, 'he said, saying that the price that will be revealed in the future will be the key to determining sex.