Twitter updates developer policies such as 'specifying bot account operator' and 'banning API use in academic research'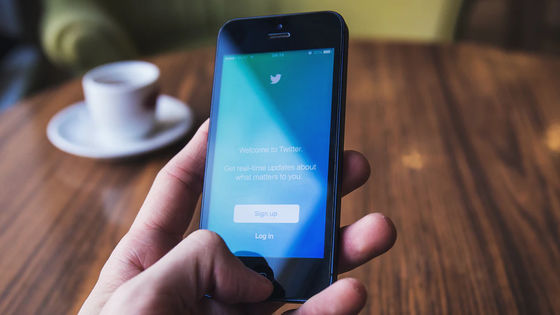 Twitter announces that it has updated its developer policy, 'It was hard to understand sentences and writing styles', to be simpler and clearer.

Updates to the Twitter Developer Policy

https://blog.twitter.com/developer/en_us/topics/community/2020/twitter_developer_policy_update.html
Updated Twitter developer policy
https://blog.twitter.com/developer/ja_jp/topics/tools/2020/DevPolicyUpdate.html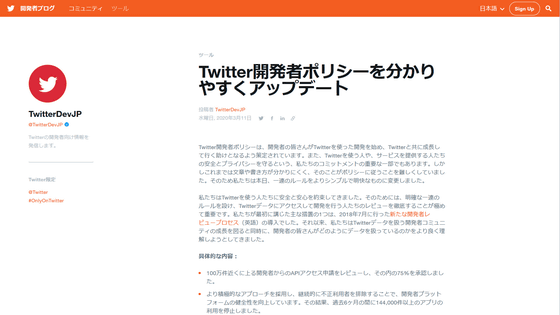 The 'Twitter Developer Policy' is designed to help those who access and develop Twitter data, but until now there are parts where sentences and how to write them are difficult to understand and difficult to follow the policy. That For this reason, the section has been revised to be simple and easy to understand, such as reducing the number of sections from eight to four.

The following are important updates:

◆ Academic research
A number of interesting studies using Twitter data have made it possible to use the Twitter API for non-profit research purposes.

◆ Simplification of redistribution rules for academic researchers
To further support academic research, you can now share an unlimited number of Tweet IDs and user IDs when conducting research solely for non-profit purposes.

◆ Approval of developer use cases
As Twitter data use cases change, we work with the developer community to make sure it complies with the rules.

◆ Bot account
A high-quality bot account improves the user experience of Twitter, and it is said that not all bot accounts are bad, but in the future whether or not an account is a bot, if anyone is a bot, who will be It is required to clearly indicate in the profile etc. that it operates.

◆ Matching with non-Twitter data
To protect the privacy of Twitter users, if you associate a Twitter account with a profile created using other data, you must follow Twitter policies.

Twitter introduced a new developer review process in July 2018, approving 75% of nearly 1 million API access applications. In the past six months, more than 144,000 unauthorized apps have been suspended.