Cat tower `` Cat Flat '' like sophisticated design furniture developed by cat psychologist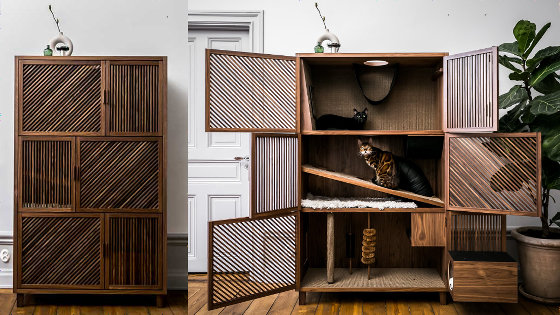 Is an expert in cat
Susanne Hellman Holmström
the cooperation of Mr. Eleonor Moschevitz of Mr. and interior designer, was the cat of happiness developed a cat tower
'Cat Flat'
that does not impair the landscape of the room while maximizing.
Gör plats för din katt med The Cat Flat | 24Storage | Hyr förråd helt enkelt
https://24storage.se/ett-storre-liv/kattskapet
The Cat Flat | The Coolector
https://www.thecoolector.com/the-cat-flat/
This is Cat Flat. When the doors are closed, the wooden cabinet itself is turned into a cat tower, with Holmström 'providing tools to cater to cats, such as hiding, scouting, and scratching.'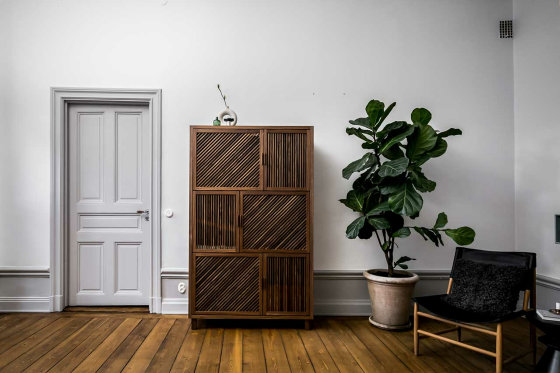 When the door is opened, you can see that the cat tower has a number of tricks that attract cats.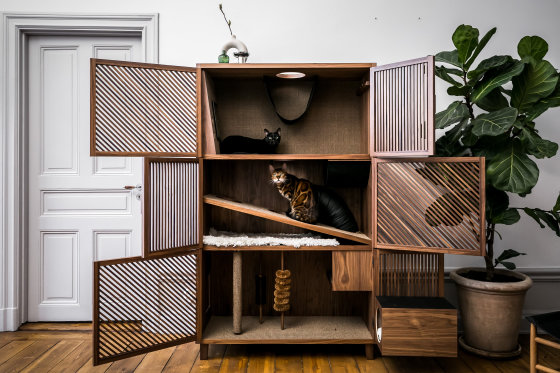 There is a hole on the top of the Cat Flat so that cats can enter and exit even when the door is closed.



Each floor is also connected by holes and tunnels.



A cat passing through the tunnel.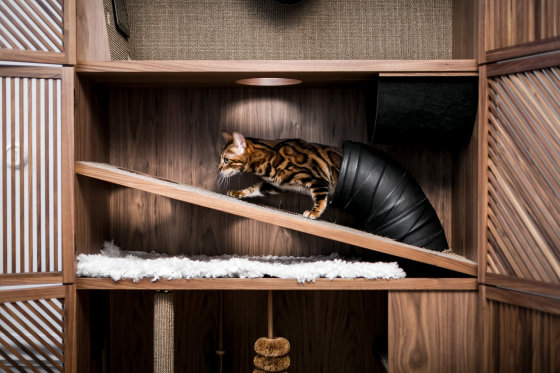 Goldfish swim on the screen of the tablet installed on the shelf, and rat toys appear from the holes.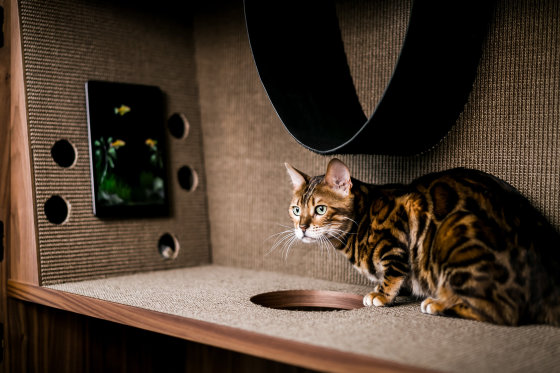 There was a hole in the ceiling, but there was an entrance with a door at the bottom.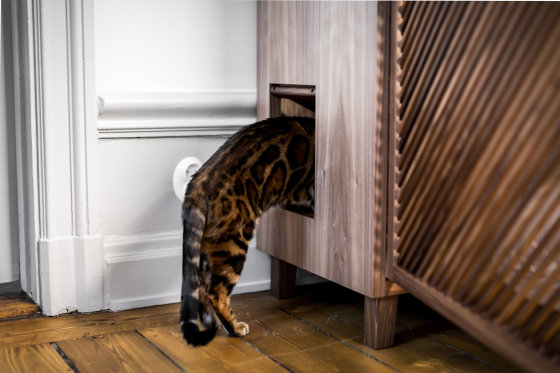 Inside the door on the first floor there is also a bed with fluffy futons.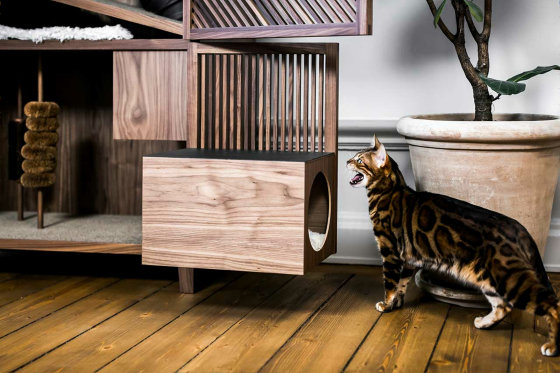 You can see how the cat actually uses Cat Flat from the following movie.


24Storage-Ett Större Liv-The Cat Flat-YouTube
The Cat Flat is made from walnut wood and the doors are slatted, so you can see the cat inside while having a clean design.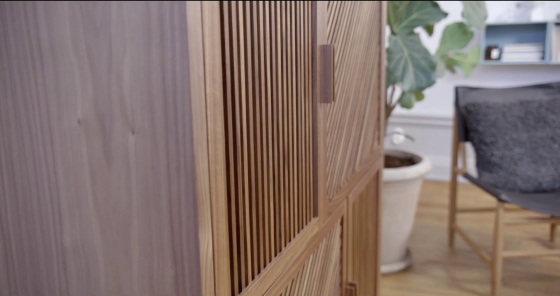 The door of the entrance in Cat Flat has the logo of '24STORAGE', the producer.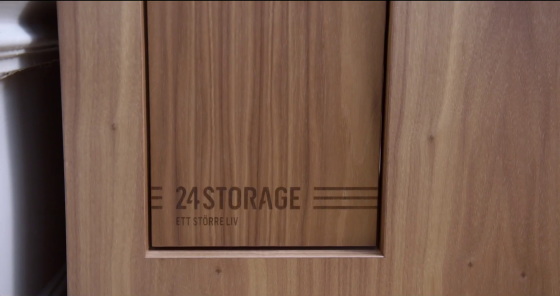 There are sticks with a series of scallops and sticks with brushes so that cats can groom themselves.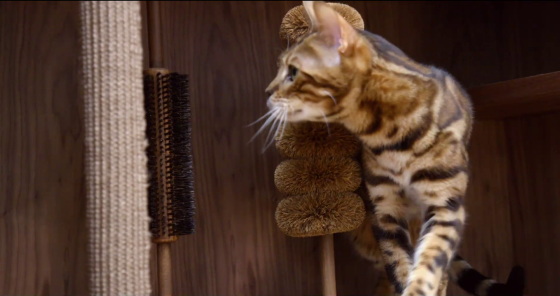 Cat Flat has a three-story structure that allows cats to move between each floor. In the movie, it was seen that the cat was moving using a narrow tunnel.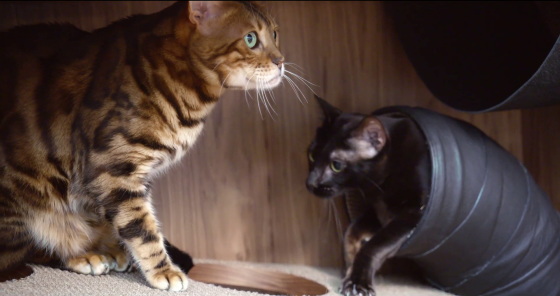 A cat that comes out of the hole connecting each floor.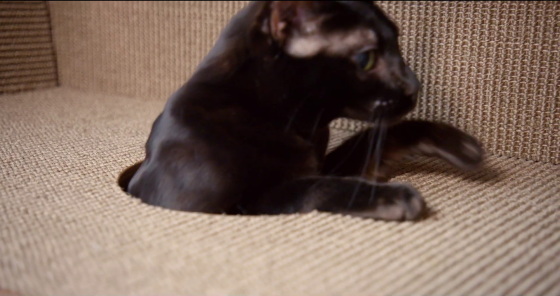 Some shelves hide cats in the dark.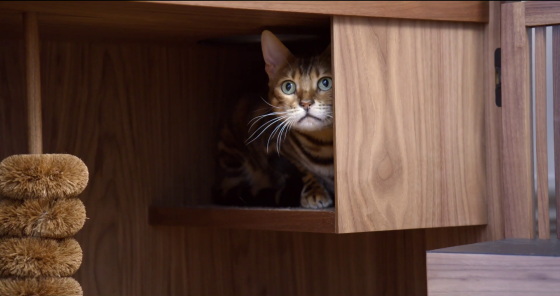 It looks like this without a cat.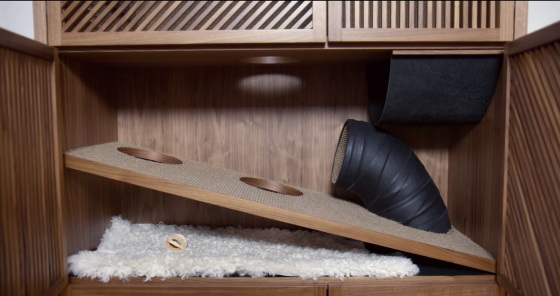 Some people who keep cats indoors have introduced cat towers and cat trees to keep their cats active and happiness in the room. However, when installed in the cat tower, there is a problem that the room will look like a `` cat playground '' style at a stretch, and in order to solve this problem, the interior brand 24STORAGE became serious about Cat Flat .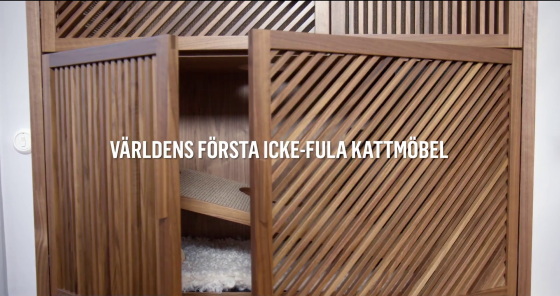 With Cat Flat, he said that he could secure tools for cats to live happily, and would be able to keep the atmosphere of the room in any room.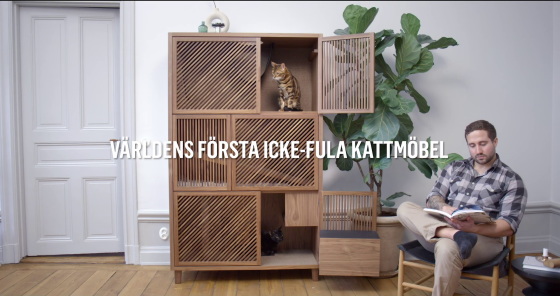 In addition, The Cat Flat is still in the concept state, and it will be decided whether to commercialize it according to future requests.