Interview with director Otomo Keishi, about 'shadow behind' aiming for a rich movie that wants to talk after leaving the movie theater


A movie based on the short novel that won the 157th Akutagawa Prize Shadow behind Will be released on Friday, February 14, 2020. The director of this work is director
Keishi Otomo
who worked on the movie '
Rurouni Kenshin
' series. 'Kage Ura' is a story about the encounter and separation of two men, set in Morioka City, Iwate Prefecture, where the director was born. I asked Director Otomo, who said, 'Japanese films were richer,' even to the back of the movie 'Shadow behind'.
Movie 'Shadow Back' Official Site
https://eiri-movie.com/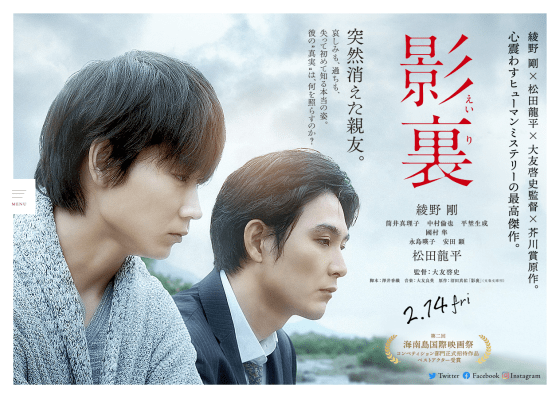 GIGAZINE (G):
When I actually watched the movie, I was surprised to see that Konno, who plays
Ayano Tsuyoshi
, came home and wandered around with pants alone, or became naked at a dressing room.
Director Keito Otomo (hereinafter referred to as Otomo):
That's not true if you live normally (laughs). As you can see from the whole, isn't the turning point of the story a disaster? So it is before and after life changes. In other words, what is lost in the earthquake is 'everyday', and it is important to draw the lost things carefully. That's why I show my daily life so much. There aren't many such movies. Usually, when something happens suddenly, it's a dynamic movie that rolls up and down more and more, but not this time. Really piled up everyday everyday, but something disturbing air was flowing there ... If that unrest leads to anything, it's nothing murder. You have to stack them up first. Konno came to a new land and sneak up on what kind of life he is and where he is.
As with myself, I think it's normal to go home and take off your suit. If you think about this with the consciousness of 'selling', I think that you will pay attention to 'Ayano's taking off', but in this movie you have to pile up your daily life plainly, so once you take off from yourself Nor. When I said, 'Yes, let's start,' I put things in the refrigerator, hung a suit, and raised jasmine. He played 'Life as Konno' as it was.
G:
When the director gives a production instruction, it becomes difficult to accumulate 'everyday'.
Otomo:
This time, it's a movie that depends on how much you throw away your awareness of showing it to others. I don't mean to show you Ayano's nakedness. But that's what the current media
thinks
: '
Tomoya Nakamura
, you've taken it off,' and there will be people who will eat there, but it doesn't matter. It's just interesting because female photographer
Akiko Ashizawa tries
to lick it. When I asked, 'Are you a woman?', She said she had a brief waistline and was Ayano-san. Doesn't that kind of camerawork show some kind of attribute of Konno? You don't have to explicitly tell them that you're a sexual minority from the beginning, but it's just a matter of letting them feel like they're different from ordinary men living alone. I think that. There is no intentional aim at anything. As he normally plays the character Konno, he cuts it as the photographer wants to cut it, and that's what it looks like. You think it has an intention, but it has no intention. It's not lost (laughs), but it's not what you want. You just cut out 'I'm living for granted.' It will change with the appearance of Hiasa.
If it's something like 'Rurouni Kenshin,' you'll climb the steps. You climb the steps while climbing a big mountain, but this time the undulation is small, it's amazing. It's small, but it's flat, but when it comes to big it's a way to make a movie that looks absolutely small but big.
G:
When I first saw it, I thought, 'It's a scented movie that is connected to
mini theater
screenings.' That's because the way of expression is not a premise of 'selling'.
Otomo:
It's difficult to think about movies. Because I grew up in a mini theater culture. I lived in college during the bubble economy, so Tokyo was the best city in the world to watch movies from around the world. However, since that time, I've been making
blockbuster
movies, or I'm making my own, but the number of '
G
' works that anyone can see a lot like 'Rurouni Kenshin' has increased. Just like Hollywood's so-called blockbuster movie, which can be enjoyed and enjoyed by the whole family, it has become the mainstream, and while the cinema has become a mall, such delicate movies have been a little culled out I haven't seen much. In my opinion, I wanted to make such a taste of a movie that I couldn't see in the back of my mainstream masterpiece movie.
However, this movie depicts a breakup from the encounter between a small friendship between men and romance and a story that does not relate to love, and what is happening is a small event like a TV drama, and as you can see, Unless you see it on a large screen, you can't tell what your heart is doing. I'm not crying because of big 'Wow', nor is there a big fight. Human emotions are lurking behind your eyes. Seeing from a distance looks like you're laughing, but if you look closer, you can see tears in your eyes. There must have been a lot of movies that showed such movements on a large screen.
Now that such films are gone, but from my point of view, `` Oh no, movies are more diverse and interesting, '' a director named Otomo, who makes movies like blockbuster, I think it's interesting to make it. I also liked myself.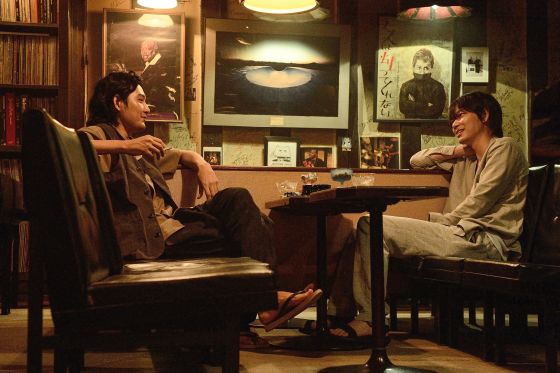 G:
Most of the director's latest works are up-tempo works, but have you made something new that made a movie that requires extremely delicate expressions like this one?

Otomo:
Probably, it's not special to anyone who knows my work in the NHK era, 'Oh, I'm sure I'm good at this,' 'Oh, I'm back here.' It's a movie that makes you think. So this is strange. It's difficult. For example, a girl who played the leading role of Morning Dora has only a pattern of becoming a role like a leading role of Morning Dora, becoming more and more an actress, and a role similar to having one role per role The only thing is that the offer will not come. Even in Hollywood, if you take a horror movie and hit it, you will only get a horror offer. When I left NHK and hit 'Rurouni Kenshin' for the first time, Otomo's mainstream became an action, and I started to get many such offers. I don't hate that (laughs), but before that, considering the drama that came in the NHK era, such as playing '
vulture
' and '
Jiro Shirasu
', this movie is nothing but an experiment. Naturally, the most orthodox and simple movie for making a human drama. I don't know if it will be a box office success, but making such a movie is what I am best at. I'm good at it and I like it. You are just trying to return to that starting point.
The 'results' of this movie will be born from now on. The new work of 'Rurouni Kenshin' will be released in July 2020, but I hope that such a movie will become a business card for my new career if possible. If anything, there are many offers of big movies, and there is a desire for such a thing, I do not intend to deny it at all, I would like to continue making big movies in the future, but sometimes this kind of thing If you don't do a movie where you can watch the human emotions on the ground and watch it, the movie making will be complicated. In the case of action entertainment, I can't help but sway a lot of things. I thought, 'Sometimes, if I don't do this kind of movie, my senses will get dull.' I thought, 'I have to work on it soon.' That's why it is for me. Whether 'shadow behind' will be released in theaters and bring something. Whether it reaches the customer, whether it is a movie that the customer can catch with me, a movie that can communicate with it, including a performance, but I want you to reach it to some extent Isn't it?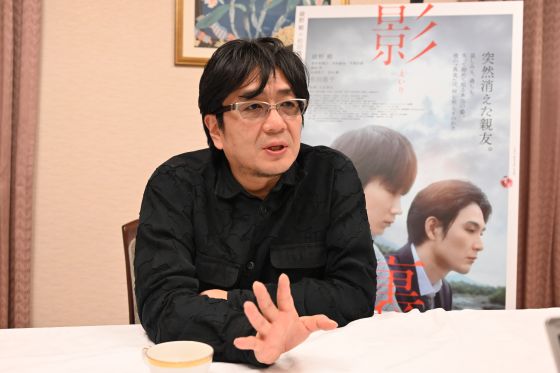 G:
'Kage Ura' has a novel as the original. The drama 'Vulture' also has an original novel, and at that time you saw that you re-entered the full text on your PC. Did you do the same thing this time?

Otomo:
I didn't do it this time. Yes, I wrote one of the vultures myself. There was a lot of things I didn't know at that time. In short, I'm talking about the backside of finance and the job of fund management.Foreign fund companies such as
Goldman Sachs
and some sort of confidential matter, and the work they do so much in the table They weren't the people who came out, and there were no movies that dealt with them, so I tried rewriting everything on a PC to understand it, and relived the work of writing the original author. This time, it's a story set in my countryside, and, in a nutshell, it's about a friendship between men and a breakup from an encounter, and just between the lines, `` The heroine Konno has something different. I don't know what it is. For the first time when Soejima appeared, it was clear that Konno was a sexual minority. There is a kind of aesthetic that Hidasa dares to hide what kind of character or that kind of thing between the lines, and everything is not overtly exposed, and that aesthetics is a very beautiful art or a condition of literature. I will not explain it explicitly.
In this era, 'explanation' is required at every level, and 'I don't know' is like a killing phrase for creators, so everyone is desperate to 'tell me.' It's a very important technique to stretch something you want to say in the middle of the line, but there are many things that are getting more bloody and less interesting just to understand. 'I understand it already.' It should be interesting to read it literally.
In the case of 'shadow behind', I am trying to settle my own as a creator, the fun of 'I do not understand' I felt when I read the original, but there are many interpretations for those who saw it I thought it would be a richer movie that I had seen in the past when I made it to remain. In other words, isn't even mystery like 'What happened to Hiasa?' The car has disappeared, and I don't even know where he was going. But, thinking, 'Maybe he'll be back tomorrow,' Konno can't give up on Hisa. It is just the feeling of those people who lost their loved ones and found no dead bodies in the earthquake that they couldn't be satisfied with the fact that an important person had died. I think. It wasn't limited to the earthquake, but when a loved one suddenly disappeared and didn't come back without any notice, the bad news was, 'Is it true that the days spent with that person were true?' I don't even think about it. ' I think there are various levels of people saying, 'Why no one was there yesterday?'
I think that if you hold down such a universal feeling that can be shared with anyone, then you can interpret it as you like. I think it's probably completely different between those who feel close to the earthquake and those who don't, and why the word 'Hisasa' was there and Konno wept, it was like 'Hisashi really died. Or 'Isn't it still alive?'
The `` rich movie '' that I watched in the past is not something that pushes a message or what I want to say, it allows more interpretations and I want to talk to people after leaving the cinema It must have been like that. Once again, I feel like I want to regain the same feeling in the movie I'm making, but I want customers to feel it.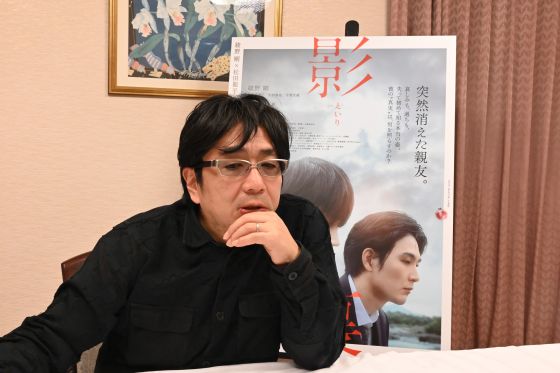 G:
It's just a movie that lets everyone talk about the 'backside'.

Otomo:
That's right.

G:
The movie adds elements that are not in the original. What criteria did you use when adding?

Otomo:
You can read books at your own pace. That is, some people read slowly over three days, while others read it in one day. Understand at your own pace and read at your own pace. But the movie we make is 2 hours. Only two hours are equal for everyone. It takes two hours to complete. Did you notice? It was released on February 14, and the show time was 2 hours and 14 minutes (laughs).

G:
Oh, such a match (laughs)

Otomo:
Aside from that (laughs), we have to present a conclusion as a story or an exit as a story. So, as a creator, we added things that we felt weren't enough when we dropped them from the original into a movie, or that could be a hint. Hiasa is also a person who has set foot on the ground, and his father says that such a cold thing, but in fact his father was also difficult. I think some hints that will help you understand are added at the script stage.

G:
Casting is the most important supplement to the original. The shape of the character, which is vaguely expressed in the novel, is determined by applying a cast. Did the cast come up immediately after reading the novel?

Otomo:
While reading the original, the role of Konno was Tsuyoshi Ayano and the role of Hiasa was Ryuhei Matsuda . It's usually hard to say if you can cast the cast you came up with, but fortunately this time two people took on the job immediately, so we were able to cast as we had imagined.

I think that something that Konno had was inherent in Ayano-san, and that what Hiasa had was also inherent in Matsuda-san. Even if you don't make a special role for this movie, if you are an actor like them, please come to the scene by yourself, enter the land called Morioka, breathe in Morioka, and play the role naturally Grab the emotions of I want to catch that emotional conflict. Assuming how that emotional collision will appear, we will consider various places and staging and other productions.

They are two actors who can catch and play without having to walk in and explain. They themselves are pulling out the inner Konno and Hiasa as they are, and collaborating with the emotions that arise from them to create works. We spend a lot of time hunting and giving hints through the set. When you say, 'This is your room,' he says, 'I see,' and he has the technology to convince him that he is a character living in this room. I don't do much in the field in that sense. I felt like I was shooting a documentary of two real people, Konno and Hiasa.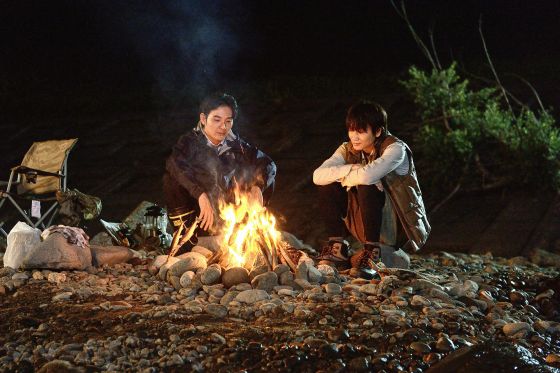 G:
If you prepare Konno and Hiasa, which exist in reality, something will happen there.

Otomo:
Something like a turning point where the story changes, but in the time of two hours, something is necessary. Film is a time art, so there is a big change, and to make it look bigger, it's about how to make the events up to that point minimal. It's a minimum, but it looks like a big shock.

'Rurouni Kenshin' is the opposite. Hard things happened from the start, rolling them dynamically. It's like a movie on a roller coaster, but it's like watching the feelings of two people, it's not everybody, so try to sympathize.

G:
How do you apply such a cast to other works?

Otomo:
It depends on the TPO, but I couldn't imagine immediately after reading this time. I usually think about a little more, including box office. The way you cast depends on what the movie looks like.

G:
This work is about the relationship between people as a theme. Like the festival scene. A work in which a person appears. I wonder if such a work is a little different from the previous work, but was there any difficulty in how to organize the staff?

Otomo:
Really, there is nothing difficult (laugh)

G:
(Lol)

Otomo:
To be honest, `` Rurouni Kenshin '' is hard work because it requires preparation, training is necessary, and there is a shooting team that does not fit the scale of Japanese movies, but in this sense it is 2 It's about staring at human relationships, so there's no need for extra things as a creator. The simplest type of movie, including preparation.

However, fishing is naturally subject to conditions, and shooting takes various seasons in a month, so various preparations are necessary. In order to capture the scene where the caught fish is bouncing finely, I had 100 fish caught 200 the day before, leveled the fish in the watercraft I made in the river, and the staff diving underwater with a fishing rod The fish is fed to the bait. For example, a fishing team may be created with fishermen's cooperatives. There is a common practice when making such a movie. If it rains, use that rain. If the river becomes dirty with muddy water during a downpour, you can take a picture with Mr. Matsuda, or you can take a picture of the water discharge from a dam and imagine Konno's tsunami from there.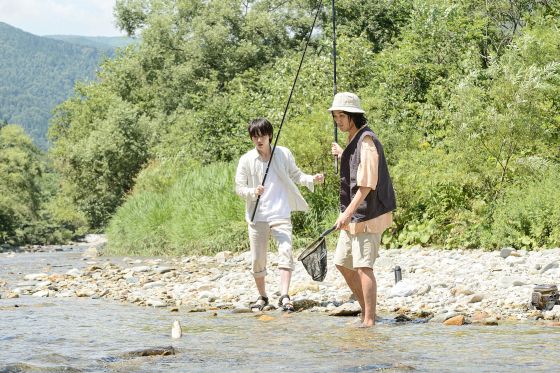 Otomo:
Originally the story of Konno, Hiasa and 'Water'. Hiasa is, in a sense, a person who embodies the nature of Iwate. When you meet Konno for the first time, HISAKA looks at the sky while smoking a cigarette and expects tomorrow's weather. Hino shallows Konno, who was in a room, to the river and fishing, and Konno, who was initially on the riverside, would go fishing up to his knees. 'Water volume' increases as the story progresses. Just before the sun came, it would be pouring down. After the sun was gone, water dripped from the tap. The tsunami means that water is constantly increasing and no one can control it. The back theme, which depicts the relationship between the two as the state of the water changes, is also the story of "water". Because we are quite conscious of this, we have a system in place to keep up with changes in water conditions.

In terms of taking a kind of documentary shooting, going to Morioka from August 1 means that the atmosphere of the town is like '
Sansa Odori
', so the script is We didn't have it at first, but we wanted to take in the Sansa dance. They are born while communicating with what is happening in the real world. It has become a kind of documentary. The team this time was a team with a feeling of mobility and a sense of size.
G:
This time, I felt like I was just taking the town.
Otomo:
'Town is the leading role.' It is also a story before and after the earthquake. That greatly changed people's relationships. When I talk about the 2011 earthquake, I am from my hometown, so I wonder if I can take it up. There were so many painful memories as local people, so I could not take it up easily, but at the timing when it was finally time to ask the `` land '' to tell the story, I felt that this work appeared at the timing That's right.
G:
I'm doing Iwate location for '
Lion in March
', but at that point it was still difficult to take it on.
Otomo:
I agree. Although this work is not a movie on the theme of the earthquake, the earthquake disaster always involves people who have lived in Morioka, Iwate. People change their way of thinking depending on where and how they live. Konno, who was in Tokyo with sexual minorities, may have had various kinds of friction. Even with this recognized society, there may have been inconvenience, but when you go to Morioka, no one knows about him, so you can feel a little free. But no one knows it, so I'm lonely. There are various feelings instead of either. It's just a story that Hiasa came in there. It's just a story. But that's the story that turned out to be a movie and maybe the most interesting. You may have overlooked Japanese movies. That's because I'm doing such a big movie.
Indeed, a special person like 'Personal
semi-underground family
'
Pont Juno
said in an Academy Award-winning speech in
Martin Scorsese
's words, 'The most personal thing is the most creative.' It's not about picking up people, but gathering voices that don't make the voices of those who live for the foreseeables, and it becomes a movie. You have to do such a movie properly.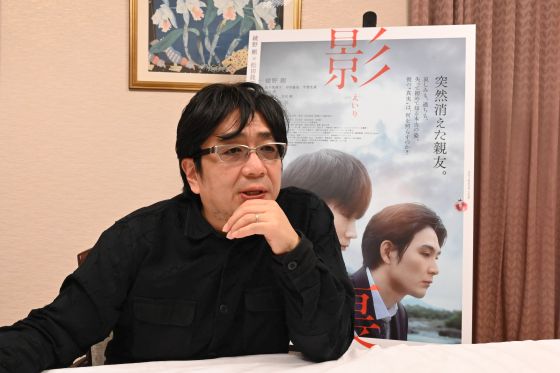 G:
The director himself said that this was the work he met when he should have met.

Otomo:
I think fans of 'vultures' think 'maybe you can see Otomo's next such thing'. I like 'Rurouni Kenshin,' but I also want to see that kind of drama in the NHK era. I guess there was something a little closer to it.

G:
"Shadow behind" has been released, and a new work for "Rurouni Kenshin" is about to be released. Do you have any ideas beyond that?

Otomo:
'Shadow behind' + 'Rurouni Kenshin', divided by 2 (laughs)

G:
Personally, the taiga drama ' Hideyoshi ' has a pretty impressive impression, so I hope it has that kind of feeling.

Otomo:
'Hideyoshi'! Surely 'Hideyoshi' was the last taiga drama with an average audience rating of 30%. I was very lucky to have experienced that when I was young, a team of top class directors on NHK, and I'm seeing enthusiasm underneath. That's how the team feels where and how to press the buttons to create enthusiasm.

It's so big to see if you feel that something swirls in the world. Because, when 'Rurouni Kenshin' became a huge hit, the mood changed drastically even at the distribution company Warner. So it's important to know that you win. I haven't experienced 'winning' like winning a Grand Prix in Cannes , but I do feel that my work spreads out in a swirl. It would be interesting to know how your work spreads and how it affects the world. Isn't that a business sense?

But after all, it's a business based on excitement. You don't want to be impressed with what you go to see. I get tired of just amazing actions. It is interesting because there are emotions. In other words, the "shadow behind" this time has only emotions. So it should be interesting.

G:
After I finished watching, there was certainly a feeling of how it was.

Otomo:
That's right. There are things that are interesting when it comes to a world where you can enjoy it. Apart from fashion. That's where Korean movies are strong. In Korea, there is a possibility that such movies and adult movies will be hit. I'm personally looking forward to seeing such adult films in Japan.

G:
Thank you for your busy today.

The movie 'Kage Ura' has been acclaimed since February 14, 2020 (Friday).

Movie `` Shadow back '' long notice released on February 14-YouTube

© 2020 'Shadow Back' Production Committee