One of the world's largest smuggling cases occurred, a man who smuggled `` living endangered eel '' worth about 7.5 billion yen was arrested and convicted

by
cynoclub
In Japan, eel kabayaki is often eaten on "Yoshi-no-Ox Day", but the same island nation, the United Kingdom, often eats eel by using
eel jelly
. In such a United Kingdom, a case was arrested for a man trying to smuggle about 7.5 billion yen worth of living eels. Due to its size, it has been described as a smuggling case that is unique in the world.
Man found guilty of smuggling £ 50m worth of live eels out of UK | UK news | The Guardian
https://www.theguardian.com/uk-news/2020/feb/07/man-guilty-smuggling-millions-pounds-worth-live-eels-uk-hong-kong
Seafood trader convicted of smuggling endangered eels in world's largest wildlife crime-The National
https://www.thenational.ae/world/europe/seafood-trader-convicted-of-smuggling-endangered-eels-in-world-s-largest-wildlife-crime-1.976480
Seafood salesman, 67, convicted of smuggling £ 53MILLION worth of baby eels from London to Hong Kong | Daily Mail Online
https://www.dailymail.co.uk/news/article-7979179/Seafood-trader-guilty-smuggling-53-million-endangered-live-eels.html
The Guardian, a British news media company, said on February 7, 2020, that the Southwark Criminal Court in London told Gilbert Kood, a 66-year-old seafood trader, today that he had 'moved animals without permission'. Have been found guilty of two violations of the law and three violations of 'bypassing export restrictions or bans on merchandise.' The specific punishment for Kuh will be sentenced on March 6.
At the Heathrow Airport in the United Kingdom, the Border Guard was found and arrested while trying to export '200 kg of live
European eel
fry (white
eels
) hidden under frozen fish' to Hong Kong.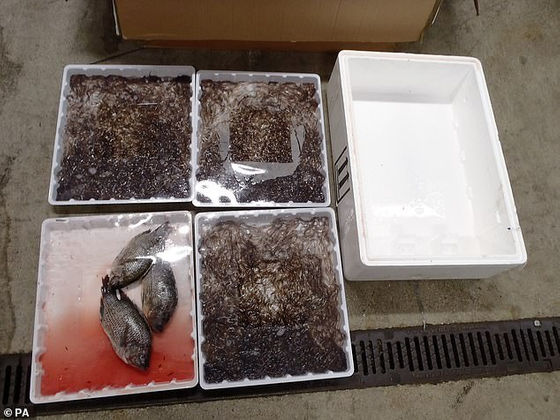 According to a survey by the British National Crime Agency, Kuu illegally exported a total of about 1775 kg of eel over the two years from 2015 to 2017, for a total value of £ 53 million (approximately 7.5 billion). Yen).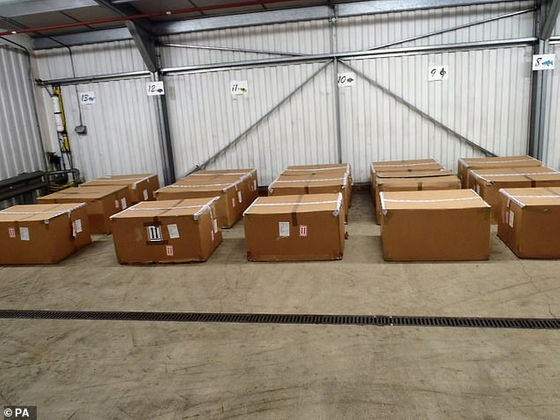 'Since Ku's traded with endangered eels, Ku's business was literally all-out illegal from the beginning to the end. The only motive was money,' said Ian Torby, senior investigator at the National Crime Agency. It must be. '

From his home in Kuu in London, documents indicating that glass eels imported from Spain and France were raised at a farm in the southwestern United Kingdom were reportedly seized. Most of the glass eels smuggled from the UK have been sent to fish farms in southern China, where they are believed to have been sold to grocery stores and others through huge sales channels.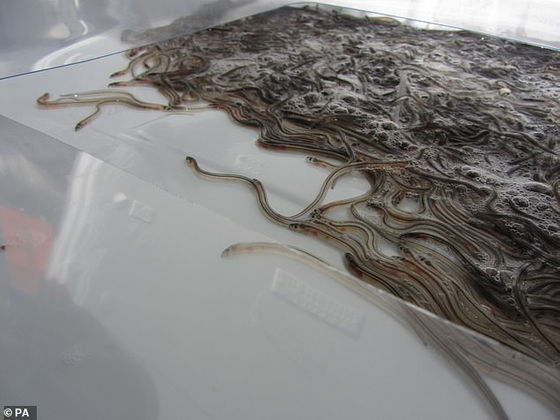 Eel is a foodstuff that is mainly used in East Asia, but overfishing has severely reduced the catch in the area, and the illegal smuggling from Europe and other countries continues to occur. In particular, European eels were designated as an endangered species in 2011 and were not allowed to be exported outside Europe, but a total of about 6 tons of eel fry seized in 10 European countries from 2018 to 2019, transaction value It costs about 11.5 million euros (about 1.4 billion yen).

Moreover, these smugglings have become more sophisticated year by year, and there have been reports of cases involving carriers carrying Chinese tourists, fishing boats with fake operating licenses, and Asian buyers. You.

'We thank the Border Guard and the National Crime Agency for helping to arrest Kuu in this case,' said Marion Longford, head of the UK Prosecutor's Office for Scams. We take crime seriously and will do our best to crack down on smuggling cases and strict punishment. '

It is also known that Kuu was smuggling gold ingots in addition to smuggling eels.