AFP communication warns that a lot of `` hoaxes '' about the new coronavirus are flying on SNS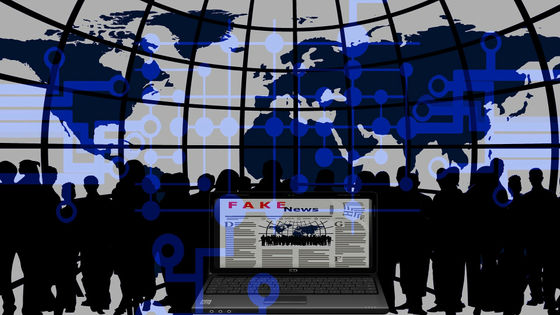 By
pixel2013
The number of people affected by the new coronavirus in China has exceeded 4,000, and 65 cases outside China have been confirmed in 17 countries and regions including Japan. Under these circumstances, AFP News has warned that 'There are many hoaxes about the new coronavirus on SNS.'
These Lies And Conspiracies About The Wuhan Coronavirus Are Totally False
https://www.sciencealert.com/here-s-all-the-nonsense-people-are-spreading-about-the-wuhan-coronavirus
On January 28, 2020, the National Health and Health Commission, a Chinese health authority, said, 'The number of new coronavirus cases has increased by 1771, a cumulative total of 4515, and another 26 deaths, a total of 106. T '.
New type pneumonia 4515 Chinese patients killed 106 | NHK News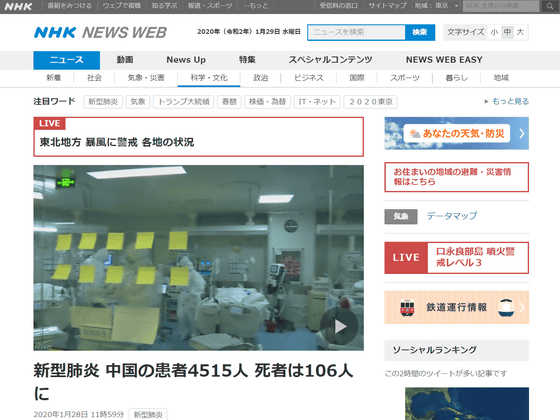 Although multiple cases of infection were confirmed in Japan, it was confirmed on January 28 that a Japanese man in his 60s who had never traveled to China, the source of the disease, had been infected. It is considered the first case of 'human-to-human' infection in Japan.

New type of pneumonia Japanese infection confirmed for the first time Domestic infection No history of staying in Wuhan | NHK News

https://www3.nhk.or.jp/news/html/20200128/k10012262471000.html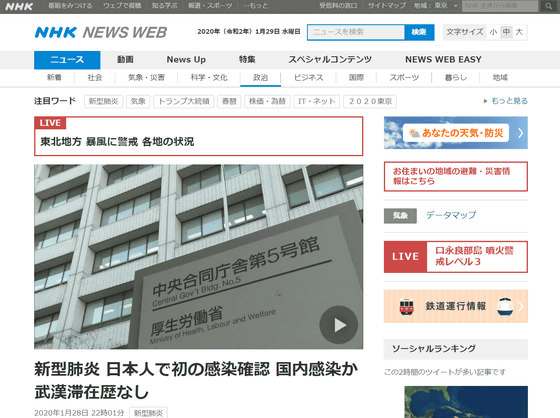 The new coronavirus is gaining worldwide attention as news outlets around the world have reported a great deal of relevant news. On the other hand, AFP found that 'many unfounded hoaxes about the new coronavirus are circulating on SNS.' Although most were obvious at first glance as 'obvious lies', AFP
newsletters
perform their own
fact checks
and issue warnings.
◆
Contaminated food / location list
The hoax that has been in fashion in Australia since January 28, 2020 is 'List of Foods and Places Contaminated by the New Coronavirus.' According to the hoax, not only rice from
Wuchang District
in Wuhan, China, but also
fortune cookies
, onion rings made in Korea's
Noshin
, peach iced tea from Lipton, yogurt milk drink, and Japanese beef are close to Wuhan. It may be contaminated with the new coronavirus because it is stored or produced locally. '
If you spot anything like what's in this picture on social media, do your duty and repeat the NSW Health mantra: ???? * there is no such entity as the 'Department of Diseasology Paramatta' * ???? https: // t.co/PDBUb2VgDq pic.twitter.com/YGujsoA9yz

— Carl Smith (@ Carl3Smith) January 28, 2020


It is also noted that a fictitious department called the Department of Pathology has discovered a new strain of coronavirus in some areas, such as Rose and Burwood, on the outskirts of Sydney, Australia.

A local health official told the AFP Newsletter, 'The food and location listed are safe.'

◆ Image of Wuhan City Fresh Market
On January 26, 2020, a video titled 'Source of New Coronavirus, Image of Wuhan Huanan Seafood Wholesale Market' was posted on Facebook, and bats, rats, giant snakes etc. are sold for food Is a topic that can be confirmed. The video in question is below.


However, AFP news agency identified the video in question at a market in Langowan, North Sulawesi, Indonesia on July 20, 2019, by performing an image search on the images extracted from the video.

◆ Wuhan city annihilation theory
In Sri Lanka, a post appeared on Facebook saying, 'Doctors predict that all residents of Wuhan are likely to die from the virus.' 'A vaccine against the new coronavirus has not been developed at this time, but the American Centers for Disease Control and Prevention (CDC) has stated that most patients will cure themselves,' the AFP commented on the post. The post also claimed that the new coronavirus was transmitted by eating Chinese poisonous snakes, but this has not been proven.

◆ Can be disinfected with saline
Multiple posts to Weibo, Twitter, and Faceboo on January 23, 2020, said Jiang Nanshan, who heads a team of Chinese health officials on the new coronavirus, said, `` Rinse mouth with saline to prevent infection. Was effective. '


According to AFP, a team of Chinese health officials said `` saline can't kill new coronaviruses, '' and the World Health Organization (WHO) also said `` saline will prevent new coronavirus infections. It has no effect. '

◆ American conspiracy theory
Claims that the new coronavirus was intentionally created by the CDC have also appeared on Facebook and Twitter.


This post cited several patents as grounds. AFP has confirmed that these patents are 'patents for making vaccines against certain coronaviruses.'

◆ Expansion of infection in France
Claims that the new coronavirus is emerging in some parts of France, such as the Val d'Oise and the Savoie, have appeared on some social media, along with screenshots from AFP and French news media.

The AFP has declared that 'these screenshots are digitally processed counterfeits' and reports that no infection has yet been identified in the municipalities mentioned in this claim.

As described above, erroneous information is flying around on SNS around the world. Under these circumstances, Japan's Ministry of Health, Labor and Welfare has officially reported primary information on the new coronavirus.

Outbreak of new type coronavirus-related pneumonia in Wuhan City, Hubei Province, China
https://www.mhlw.go.jp/stf/seisakunitsuite/bunya/0000164708_00001.html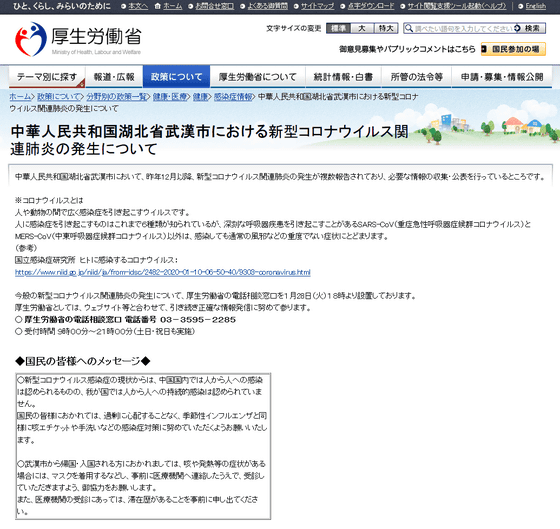 According to an announcement dated January 28, four infected people were confirmed in Japan. The first infected person has already recovered, and the second infected person has already been relieved. Symptoms of the third and fourth cases of infection are calm.

New Coronavirus-Associated Pneumonia in Wuhan, Hubei Province, China (January 28, 1980)

https://www.mhlw.go.jp/stf/newpage_09159.html