Attempt to find illegal fishing boats with GPS tracker attached to albatross

by
Tony Morris
In recent years, attempts to use the behavior and behavior of wild animals for scientific research have been increasing, and unique research has been conducted, such as '
Research on the ocean heat transport system using an antenna attached to the head of a seal
.' Research teams at the
French National Center
for
Scientific Research
have mounted GPS trackers on
albatross
with excellent flight capabilities and are attempting to find illegal fishing vessels without legal permission.
Ocean sentinel albatrosses locate illegal vessels and provide the first estimate of the extent of nondeclared fishing | PNAS
https://www.pnas.org/content/early/2020/01/21/1915499117
Albatrosses Outfitted With GPS Trackers Detect Illegal Fishing Vessels | Science | Smithsonian Magazine
https://www.smithsonianmag.com/science-nature/albatrosses-outfitted-with-gps-detect-illegal-fishing-vessels-180974054/
Revenge of the albatross: seabirds expose illicit fishing | AFP.com
https://www.afp.com/en/news/826/revenge-albatross-seabirds-expose-illicit-fishing-doc-1og0j71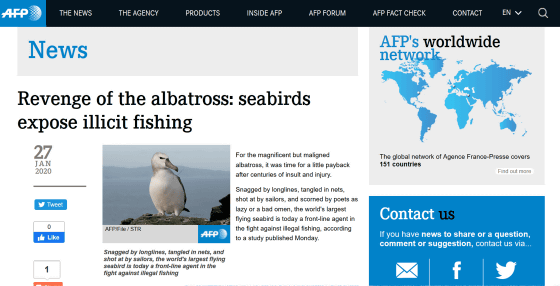 Illegal fishing is practiced in many
parts of the
world, and it has been pointed out that
one-fifth of the
fish on the market may have been
caught by illegal fishing
. Vessels fishing without permission underestimate the amount of fish caught by underreporting the amount of transportation and putting the sea ecosystem at risk. In addition, the illegal fisheries market is worth $ 20-30 billion annually worldwide (about 2.2 trillion to 3.3 trillion yen), detrimental to fishermen and countries with legitimate fisheries. I am.
On the other hand, it is very difficult to monitor the entire ocean covering more than 70% of the Earth's surface, and it is not easy for land-based law enforcement to effectively crack illegal fishing.
Amanda Gladics
, a fishery expert at Oregon State University, noted that crackdowns on resources and infrastructure were lacking in oceans far from the territorial waters of individual countries. The research team of
Henri Weimerskirch
, a marine ornithologist at the French National Center for Scientific Research, has devised a way to use 'albatross flying around the ocean' to
combat
illegal fishing.
Samantha Patrick,
a marine biologist at the University of Liverpool, co-author of the paper, noted that albatross uses fishing gear attached to the outside of a fishing boat as a 'snack buffet'. Albatross can find fishing boats about 20 miles (about 36 km) away, and can fly towards fishing boats.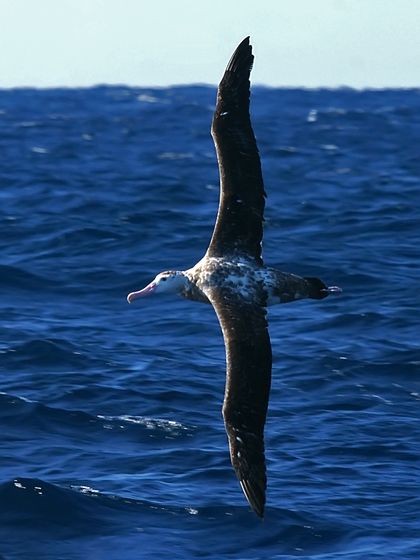 by
David Cook
Utilizing such albatross habits, the research team has a GPS tracker that tracks the location of the albatross, an antenna that senses the radar of the ship, another antenna that transmits data to the land-based research team, and a solar panel that supplies power to the device Developed the device summarized in.
General vessels are required to have an
automatic vessel identification system (AIS)
, but vessels conducting illegal fishing have AIS turned off, making it difficult for onshore law enforcement agencies to know the navigation route is. However, albatross equipment is approaching miles (several kilometers) from the vessel, even though illegal fishing vessels with AIS turned off still emit radar signals to avoid collisions with other vessels. By saying that, it can detect weak radar signals that do not reach this land.
To test the albatross' detection system for illegal fishing vessels, the research team actually attached a GPS tracker to the albatross and conducted an experiment. The research team has attached GPS trackers to the
wandering albatross
and the
Amsterdam albatross
, a type of
albatross
flying around the Antarctic Ocean. Researchers arriving at nesting sites on the
Amsterdam
,
Klose
, and
Kerguelen Islands
in the South Indian Ocean have taped or glued a 2 ounce GPS tracker on the back of a total of 169 albatross. I pasted it. 'Albatross is a sea sentry,' says Weimerskirch.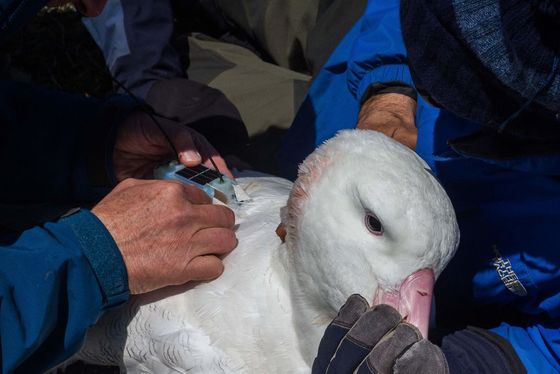 by Julien Collet

In the six months since November 2018, albatross patrols have flew over more than 4,700 square kilometers. When the albatross approached within 3 miles (about 5 km) of the fishing boat, its coordinates were recorded, the research team accessed an online database that could search the vessel's AIS data, searched for the relevant vessel and collated. . The tendency of albatross to approach fishing boats seemed to differ by age, indicating that older albatrosses approach fishing boats more frequently than younger albatrosses. In this regard, Patrick points out that the appeal of fishing boats can be learned over time.

During the survey, approximately 353 fishing boats were detected, of which 28% had AIS turned off, indicating that nearly 30% of the discovered fishing boats may have engaged in illegal fishing. It turns out. 'I didn't think that the percentage of vessels fishing illegally was so high,' says Weimerskirch. Ships that had AIS turned off tended to be particularly common in international waters , and within the exclusive economic zone, the tendency to turn off AIS was different for each country, and that country was regularly illegal. It may reflect whether or not you are monitoring fishing vessels.

Information on illegal fishing vessels detected by albatrosses is based solely on radar and location information and cannot be identified for individual vessels. Whether or not to actually crack down on illegal fishing vessels is still left to law enforcement officials, but Patrick says it helps at least map out places where illegal fishing is common.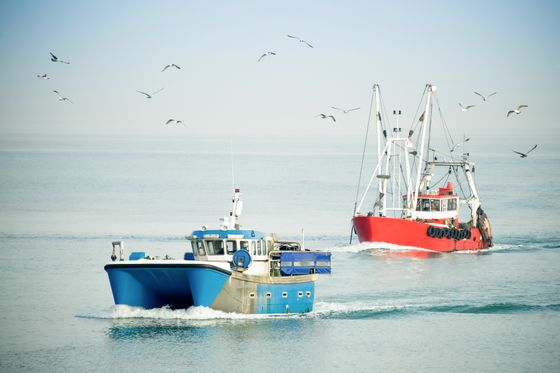 by nelsonart

Albatros-based surveillance systems are an inexpensive alternative to airplane patrols and satellite-based surveys. On the other hand, if a criminal group that engages in illegal fishing has the perception that albatross is being used to monitor illegal fisheries, radical measures such as 'shooting down illegal fisheries before they are reported' can be taken. There is a possibility that it may be fetched. Therefore, the team acknowledged that caution was needed when introducing an albatross-based surveillance system.