How did Amazon's doorbell with surveillance camera "Ring" become popular?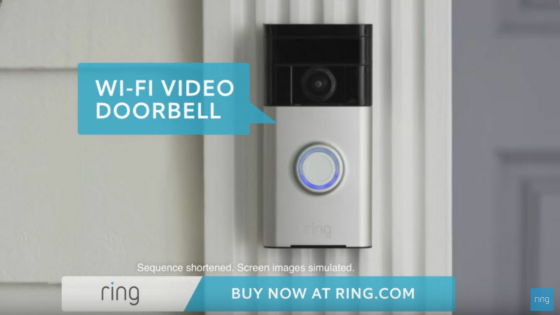 The smart doorbell "
Ring
" that allows you to check the face of a visitor remotely via Wi-Fi was released by an interphone manufacturer called "DoorBot" in 2012. DoorBot changed its name to "Ring" in 2014 and was acquired by Amazon in 2018. In 2019, we partnered with the police, and it has become so popular that Ring is monitoring the front door throughout the United States. Caroline Haskins summarizes how DoorBot was reborn and penetrated into Ring.
How Ring Went From 'Shark Tank' Reject to America's Scariest Surveillance Company-VICE
https://www.vice.com/en_us/article/zmjp53/how-ring-went-from-shark-tank-reject-to-americas-scariest-surveillance-company
The following movie shows what Ring is like.
Ring Video Doorbell-YouTube
Ring can be installed indoors or outdoors and can also be used as an intercom.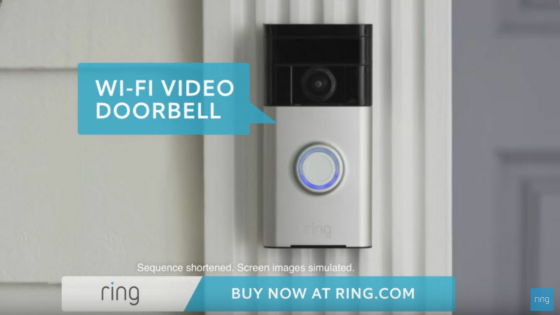 You can check the state of the camera from your smartphone, and you can also upload and share Ring videos.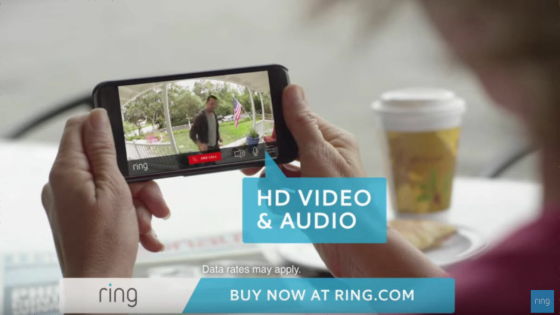 ◆ The beginning of Ring
Ring's founder Jamie Siminov's team invented DoorBot, the predecessor of Ring, in 2012. DoorBot is a small tool that incorporates the convenience of a smart home rather than a home security product at the beginning of development. DoorBot evolved based on the idea of Mr. Siminov, ' How to connect a smartphone and an intercom .'

The mechanism and functions of DoorBot can be confirmed from the following article.

`` DoorBot '' that allows you to check who came to the entrance with a smartphone with video / photo from the destination-GIGAZINE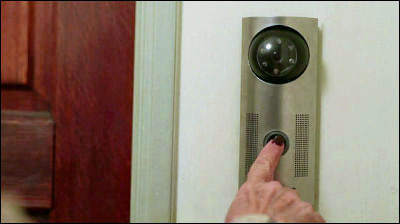 When DoorBot first appeared as a security camera, people had the impression that it was a poor camera, and it wasn't rated by Amazon until August 2014, with an average of 2.3 out of 5 stars based on 320 reviews.
MacSource
According to the, but the idea of DoorBot is great, the quality of the video is low, that of the speech was choppy.
The reported issues were consistently poor video, audio and Wi-Fi connectivity. By around January 2013, Ring had raised about $ 170,000 (about 18 million yen) for this issue, but the funds would soon hit the bottom.
The TV program called "
Shark Tank
" changed the financial difficulties. `` Shark Tank '' is a popular program in the United States where entrepreneurs sell their business to investors called `` sharks '', Mr. Siminov appeared on the program to sell DoorBot, and Ring is acquired by Amazon about 4 Broadcast half a year ago in November 2013. "Without Shark Tank, we wouldn't have existed as a company," says Siminov.
Remember Jamie Siminoff? Well, he's back, but this time it's a little different! #SharkTank pic.twitter.com/mrDL2GIIG1

— Shark Tank (@ABCSharkTank) October 4, 2018


"Consumers are currently spending billions of dollars to equip their homes with smartphone-friendly products," Mr. Siminov told Shark Tank, "But it 's one of the most popular technologies. The intercom hasn't evolved since it was invented in 1880. So far, we 're introducing DoorBot, the first video intercom built for smartphones. You can see and talk, 'introduced DoorBot.

As a result, Mr. Siminov was unable to get an investment in Shark Tank, but later Mr. Siminov said that he appeared in Shark Tank 'probably worth the $ 10 million ad'. In July 2014, we succeeded in raising $ 4.5 million from two companies. Based on the funds, DoorBot was restarted as Ring in September 2014.

◆ Acquisition by Amazon
Amazon acquired Ring for about $ 839 million (about 91.1 billion yen) in 2018.

Amazon acquires `` Ring '' startup company of smart home terminals-gigazine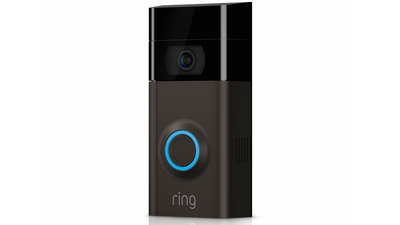 Amazon had invested heavily in Ring for about two years before acquiring Ring. According to CrunchBase , a business database, Ring raised $ 61.2 million in 2016 ($ 6.6 billion) and $ 109 million in 2017. You can see that he was the top investor in Ring.

Amazon states that the purpose of the Ring acquisition is to 'accelerate' Ring's mission to reduce crime. Also, Siminov will "accelerate our mission dramatically with Amazon by sharing Ring security devices and systems globally and accessing them more affordablely," said the Ring press release and Amazon's press. Stated in the release .

There are two main reasons Amazon acquired Ring. One is that Amazon wanted to expand its lineup of smart home products, including Echo and Alexa compatible Fire TV. Second, after a package was delivered from Amazon, if it was stolen before the customer received it, the company would lose, so Amazon needed a way to prevent and track the package theft . Amazon worked directly with Ring and the police to tackle luggage theft through a decoy investigation.

Baggage theft investigations were conducted using Amazon tape and boxes that were actually used on Amazon, creating an Amazon package to serve as food, and placing the package at the front door equipped with Ring. There were two goals for the decoy investigation, one was to arrest the criminal by holding the scene where the luggage was stolen with the Ring camera. Another goal was to make Ring's decoy report covered in as much media as possible. Although the decoy did not result in the arrest of the criminal, the effect of the press was sufficient to inform the existence of Ring.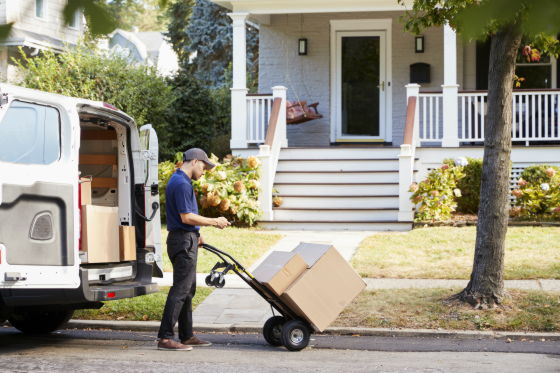 By
monkeybusiness
Until Ring penetrates throughout the United States
Baltimore's security in the United States is by no means good, and Pastor Troy Randall, who lives in northwestern Baltimore, says he has been hostaged by violence related to drug sales in the neighborhood. Many residents wanted to move out of Baltimore but were unable to leave Baltimore due to lack of money.
'The police don't do anything. They don't get out of the car, they don't go around. It's easy to buy and sell drugs,' says Randall.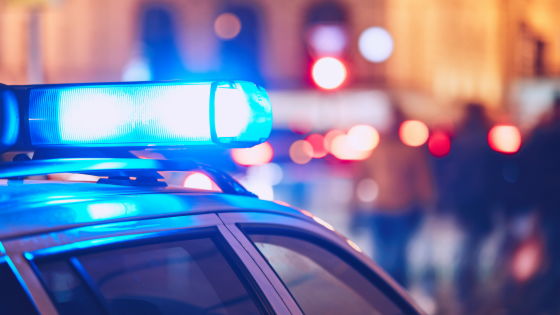 By
chalabala
Many inhabitants in northwest Baltimore did not trust the police at all. Because
(PDF file)
as reported in the 2016 Justice Ministry report
, Baltimore police compared with white residents to excessive suspension, search, arrest and violence against colored races for no good reason. Because I was going. While living in Northwest Baltimore, Pastor Randall was introduced to Amazon Ring by his friend Pastor Terry Moore.
Pastor Randall says that Ring was like 'the grace of heaven'. Pastor Randall, who was also the chairman of the neighborhood association, worked to install Ring as a security camera in Baltimore. Pastor Moore directly contacted Ring, who thought that even if the Baltimore police neglected to monitor the crime, people could monitor themselves with Ring. Ring accepted Pastor Moore, 'I want to help immediately.' Ring was developed with the theme of 'reducing crime in the neighborhood' and wanted to give hope to people who are close to danger and those who cannot trust the police.
Pastor Randall, who met a representative of Ring, explained what horrors the residents of northwest Baltimore were experiencing. The representative explained, "Installing cameras throughout the region can stop drug activity and reduce crime. We are doing the same in other cities," and provided 150 Rings free of charge. Then I offered. Instead, we required to pay $ 3 per month for each cloud storage fee for storing video from each camera, or $ 5400 per year.
Pastor Randall and Pastor Moore applied for a grant from the city of Baltimore, and in October 2018, they won $ 15,000 to pay for cloud storage and camera installation. However, even though Baltimore Police needed to sign a partnership agreement with Ring before Ring offered the camera, Baltimore Police was not signed with Ring at the time of writing.
More than 600 American police agencies
have already signed a contract with Ring, and this number is increasing daily.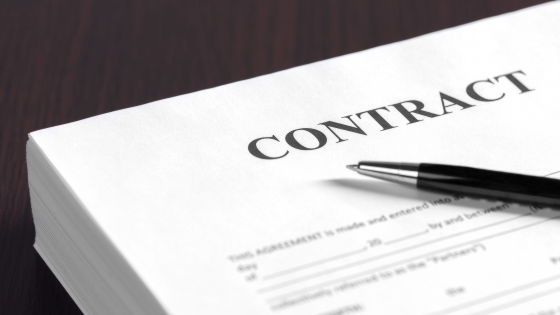 By alexstand

As police cooperate with Ring, police need to promote Ring and be able to approve information from Ring. Instead, the police will be able to request camera footage directly from residents without obtaining a warrant. As a result, although not signed in Baltimore, Ring pioneered surveillance networks across the United States with the help of police discounted camera discount programs funded by taxpayers .

With the acquisition of Ring, Amazon now also owns a company that builds privatized surveillance networks across the United States. This network is built by consumers purchasing their own cameras. In other words, Ring is a marketing company that earns money by selling fear. The 2016 Ring blog also says 'Fear sells'.

There is no reason not to trust Ring for people who live in fear, such as residents in the northwest of Baltimore. People in northwest Baltimore seemed to have some concerns about sharing video data on Ring. However, Pastor Moore says, "The people were terrified by fear and were eager to struggle, so they welcomed Ring."