Amazon acquires a start-up company "Ring" of a smart home terminal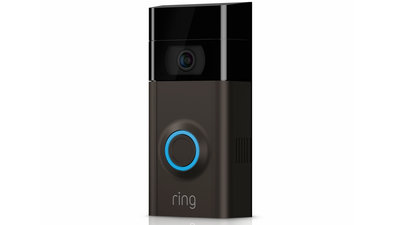 Amazon launches terminals for smart homes such as smart phone phones and cameras Startup "RingWe decided to purchase. Although the specific acquisition price has not been revealed,Acquired TwitchAnd online shoe retailer · Zappos.com acquisition, which is expected to be about 1 billion dollars (about 107 billion yen) scale.

Amazon Agrees to Buy Smart-Doorbell Startup Ring - Bloomberg
https://www.bloomberg.com/news/articles/2018-02-27/amazon-com-is-said-to-agree-to-buy-smart-doorbell-startup-ring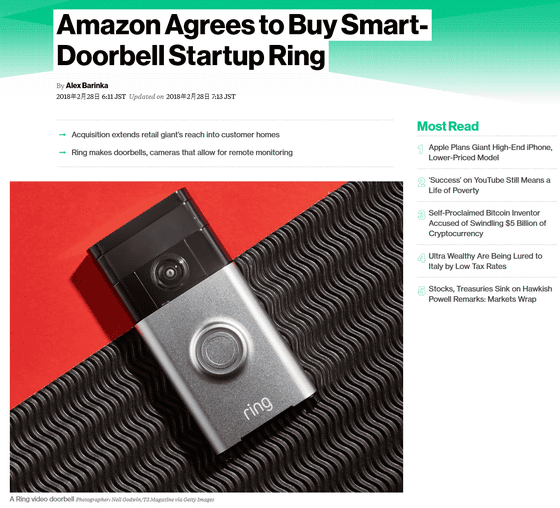 Amazon to pay over $ 1 billion for home security startup Ring: source
https://www.reuters.com/article/us-ring-m-a-amazon-com/amazon-to-pay-over-1-billion-for-home-security-startup-ring-source-idUSKCN1GB2VG

Amazon Acquires Ring, Maker of Video Doorbells - WSJ
https://www.wsj.com/articles/amazon-acquires-ring-maker-of-video-doorbells-1519768639

Ring is a startup that was born as a mother of Jamie Shiminoff and a group of engineers and founded in December 2012 with five teams. The first product had a goal of "reducing the crime in the community" with a door phone "Doorbot" that can correspond to visitors even while they are away by cooperating with mobile terminals.

The name of "Doorbot" was changed to "Ring" in 2014. Incorporating the company name "Ring", investing more than 3 billion yen from Mr. Richard Branson of the Virgin group, grew to be a major smart door phone in 2017.

In the case of the latest "Video Doorbell 2", in cooperating terminals, you can watch the intercom camera image at 1080p and also support night vision. The visible range is 160 degrees around the camera, corresponding to operation at temperatures between 48 degrees and minus 20 degrees. Intercom body 199 dollars (about 21,400 yen), the basic plan of to save the recorded video is agreement on every single camera month three US dollars (about 320 yen) or 30 years dollars (about 3200 yen), Or you need to subscribe to a protect plan of 10 dollars a month (about 1080 yen) or 100 dollars a year (about 10,800 yen) for any number of cameras.

Get Next-Level Security and Convenience With Ring Video Doorbell 2 | Ring
https://ring.com/video-doorbell-2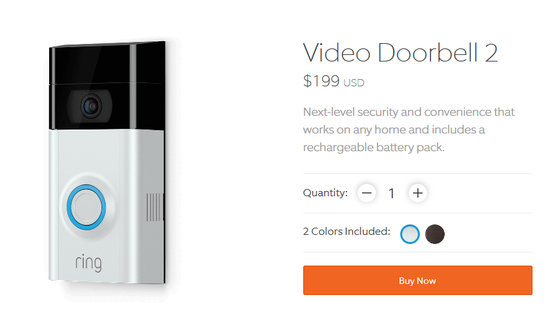 I watched this Ring,Smart speaker with artificial intelligence · Alexa "Amazon Echo"It is Amazon cutting into a smart home terminal.



Amazon said in a joint statement with Ring "Ring's home security products and services are pleasing customers from day one and can help with the mission of cooperating with this talented team to keep the house safe and secure I am excited to be excited. "

Amazon in 2017"Delivery personnel opens the door of the house without permission and delivers packages" Amazon Key "Although it started the service called, it seems that the thefts of luggage placed at the entrance are in succession, and cooperation with the door phone may help delivery.

By the way, Ring 's intercom can be purchased at Amazon, but it is parallel import goods that you can find without direct sales in Japan. Formal sales may start on this aircraft.