China is trying to lead a global organization that promotes protection of intellectual property rights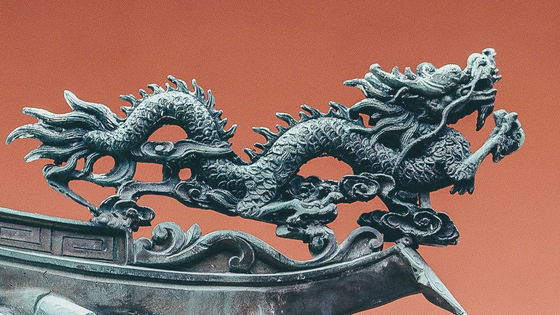 By
Annie Spratt
On November 14, 2019, Foreign Minister
Wang Yi
was appointed as the Secretary General of the
World Intellectual Property Organization (WIPO),
a specialized agency of the United Nations that aims to promote the protection of intellectual property rights. We recommended Wang Binying from China who is acting as the general manager of the brand design department. In response to this, the American news media,
Foreign Policy
, which reports on the world situation, has repelled, 'Are you going to let chicken-eating foxes manage henhouses?'
China Seeks to Lead the UN's Intellectual Property Organization, WIPO
https://foreignpolicy.com/2019/11/26/china-bids-lead-world-intellectual-property-organization-wipo/
China is said to be an active country in stealing intellectual property from other countries, especially President Trump often condemns China's attitude toward intellectual property in foreign policy.
At the opening address
of
the 74th United Nations General Assembly held in New York in September 2019,
President Trump touched on a case where American memory maker Micron had stolen confidential information by a Chinese company, and a strong barrier to entry In addition to enormous national subsidies, currency manipulation, unfair bargaining, and forced technology transfer, they accused China of name for intellectual property theft and massive trade secrets.
The story of Micron's confidential information being stolen by a Chinese company can be read in the following article.
The United States to lock out China's national memory manufacturing company as stealing confidential information from American companies-GIGAZINE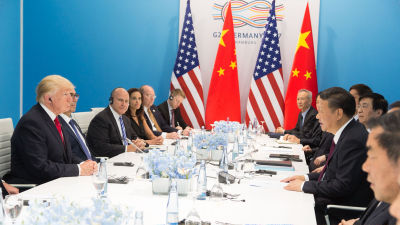 A team of American economists and government experts reported that the United States lost up to $ 50 billion annually due to unfair trade in Chinese trade secrets, counterfeit goods, and practices. It is.

Section 301 Investigation Fact Sheet | United States Trade Representative

https://ustr.gov/about-us/policy-offices/press-office/fact-sheets/2018/june/section-301-investigation-fact-sheet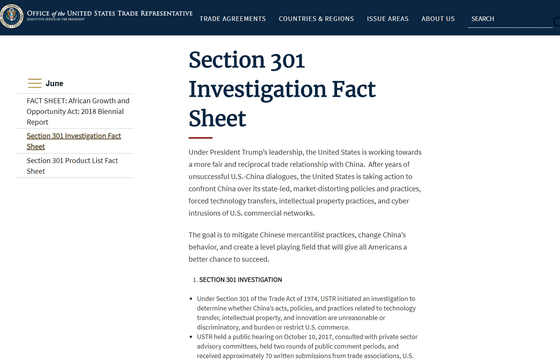 One of the issues that came up was the successor to WIPO Secretary
Francis Garry
, who will finish his term in 2020. The Chinese government sent a letter to WIPO as a candidate for the next WIPO Secretary General, recommending Mr. Wang Yi from China, acting as the Director of Brand Design.
circular3944.pdf
(PDF file) https://www.wipo.int/export/sites/www/about-wipo/en/elections2020/circular3944.pdf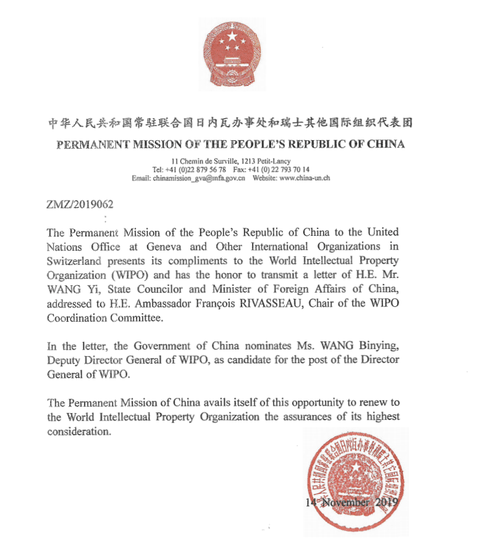 In the letter, Foreign Minister Wang Yi recommends that "He has decades of experience and is suitable for serving as WIPO Secretary General". After graduating from law school in the United States, Wang Yi worked for the Chinese National Industrial and Commercial Administration Administration before starting work at WIPO.

Concerns expressed by the Foreign Policy are China's active formation of an international system to protect intellectual property rights and the direct outflow of intellectual property. Patents filed with WIPO will be kept confidential for 18 months and published after approval. Foreign Policy, former WIPO deputy director James Pulley, said, "The Trump administration treats China as a thief. We are reporting remarks.

As of November 2019, among the 15 specialized agencies of the United Nations, the top of the
International Telecommunication Union
,
International Civil Aviation Organization
,
United Nations Industrial Development Organization,
and
United Nations Food and Agriculture Organization
are from China. The next WIPO Executive Director will be contested by seven candidates, including Mr. Wang Yi, recommended by China. The United States recommends Mr. Daren Tang from Singapore, while Japan has Mr. Kenichiro Natsume, senior director of the Legal and International Bureau of the WIPO Patent Cooperation Treaty.
Candidates for the Director General of the World Intellectual Property Organization (WIPO) (METI / METI)
https://www.meti.go.jp/press/2019/10/20191029001/20191029001.html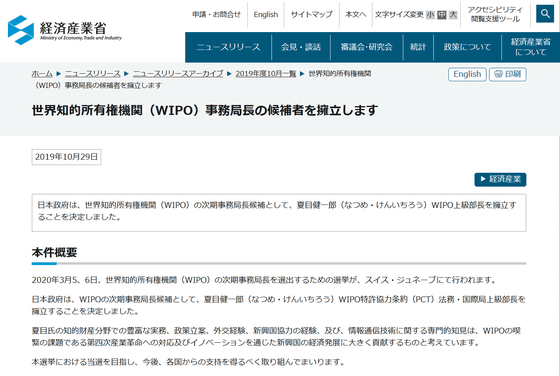 in Note, Posted by log1k_iy