Tesla sues US government for tariffs on imported parts from China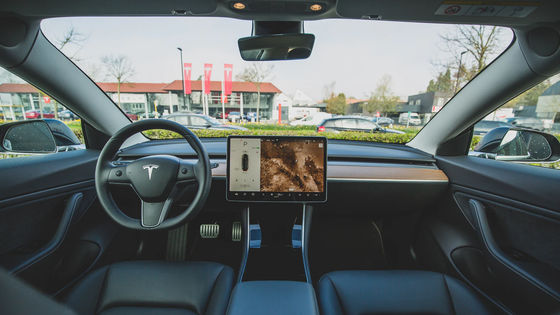 Electric car maker Tesla says it is 'illegal' to impose tariffs on parts imported from China due to trade friction between the United States and China, Robert Wright of the US government and trade representatives I have sued Secretary Sizer.

Tesla Sues to Block Trump Tariffs on Imports From China --Bloomberg

https://www.bloomberg.com/news/articles/2020-09-23/tesla-sues-to-block-trump-tariffs-on-trade-with-china
Tesla sues to overturn Trump administration tariffs on China
https://www.cnbc.com/2020/09/23/tesla-sues-to-overturn-trump-administration-tariffs-on-china-.html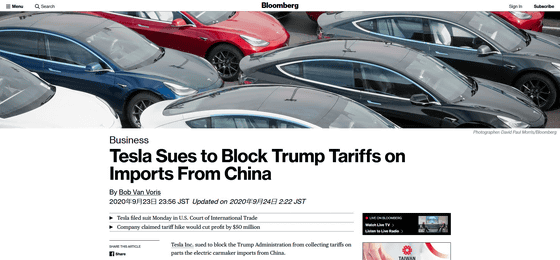 Tesla sues U.S. government for tariffs on Chinese imports 3 photos International News: AFPBB News
https://www.afpbb.com/articles/-/3306105

The tariffs that Tesla considers to be problematic are 'List 3' (third tariff on China) that came into effect in 2018 and 'List 4' (fourth tariff on China) that came into effect in 2019. List 3 is for 5745 items worth 200 billion dollars (about 22.35 trillion yen) of imports from China to the United States, and the tariff was 10% at the time of activation, but about half a year after the activation, May 2019 Was raised to 25%. Listing 4 is for 3243 items worth 120 billion dollars (about 13.2 trillion yen), which was reduced to 15% at the time of activation and then to 7.5%.

Tariff exemptions have been granted for certain items, and Tesla was exempt from tariffs on synthetic graphite , silicon oxide, and tailor-welded blanks for door rings for a limited time until August 2020.

However, the 25% tariff exemption application for Tesla Model 3 in-vehicle computers and screens has been denied because it uses strategically important technology in China's national security program.

Tesla argues that the impact of tariffs can be costly and profitable, with economic harm. On the other hand, he said, it is difficult to find other manufacturers who can make products that meet the requirements due to the tight schedule in the midst of rapid growth.


in Ride, Posted by logc_nt