YouTube calls creators to 'select if the video is for children'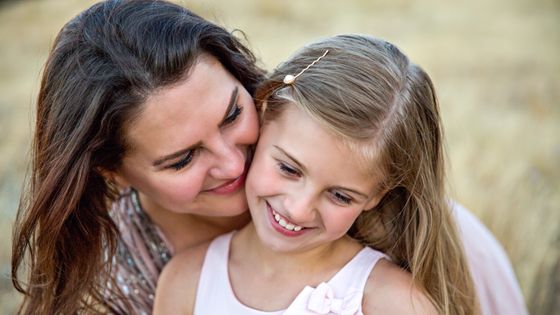 by
Irina Murza
In September 2019, YouTube told the
Federal Trade Commission (FTC)
170 million
that it had illegally collected children's personal information without parental consent and violated the
Children's Online Privacy Protection Act (COPPA).
Agreed to
pay a settlement of about $ 18 billion
. Against this backdrop, YouTube has firmly established a policy of thoroughly complying with COPPA, appealing that `` YouTube creators need to choose whether their posted movies are for children and report to YouTube '', We are also calling for setting changes for movies that have already been posted.
Upcoming changes to YouTube.com content for kids-YouTube help
https://support.google.com/youtube/answer/9383587
YouTube has posted a movie titled "Important Notice for All Creators: COPPA Compliance" about the new changes and appeals to creators who post movies on YouTube.
Important Update for All Creators: Complying with COPPA-YouTube
"If you 're creating content for YouTube, it 's very important to watch this movie. It explains how to change the upload procedure, what settings are required for all existing movies, and how it can affect monetization. "The woman who says," says Lauren, head of YouTube 's family partnership.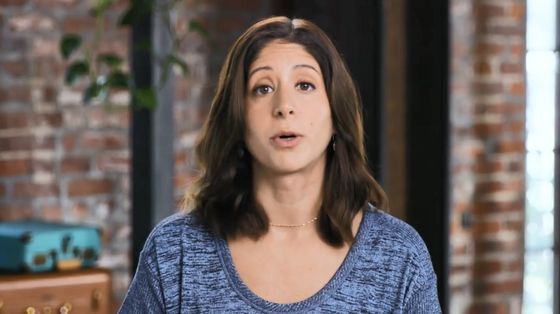 Lauren is appealing to creators for immediate changes in settings related to children's content that YouTube follows COPPA.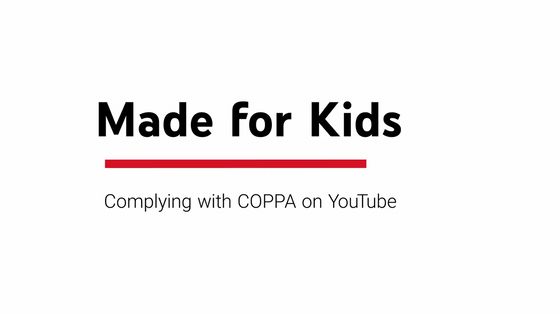 Following a settlement with the FTC in September 2019, YouTube has put in place measures to help creators comply with COPPA. This is because YouTube was obliged to 'request creators to declare whether the movie is content for children'. Creators residing outside the US will also be affected by this change, as content that can be viewed in the US will be included.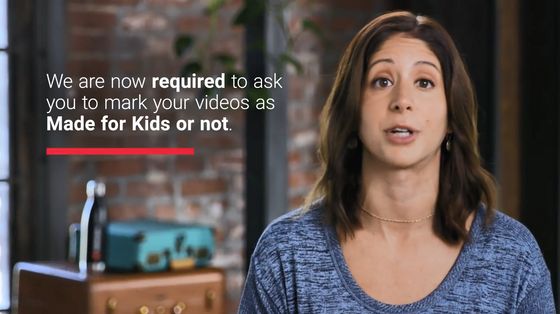 Since creators understand the most about the content of the movie, the authors now declare whether their content is for children or not.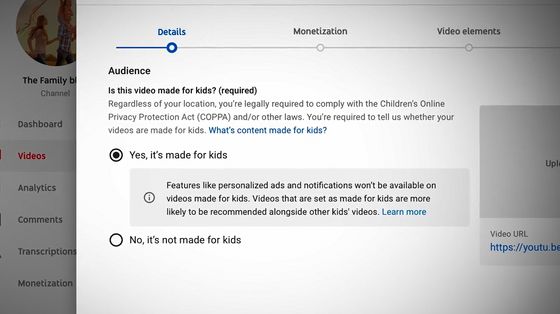 On the other hand, YouTube uses a machine learning system to detect content for children, and when the creator does not set it, it sets it instead. However, Mr. Lauren said, "Automatic judgment systems are not always perfect," calling for the author's own settings.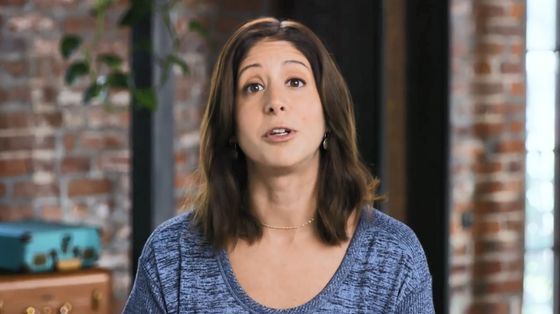 Content contributors can set "channel unit" or "movie unit" as to whether the content is for children. If all the posted content is for children, you can declare the entire channel as "Children's content" at once.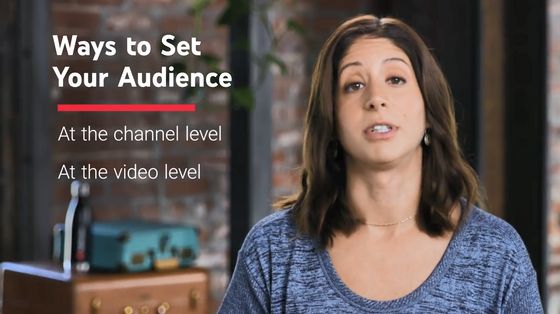 If you want to make a batch declaration for the entire channel, open the "Channel" tab from the "Settings" screen of YouTube Studio and open "Advanced settings". Then, "I set this channel as" for children ". I always upload content for children" "I set this channel as" not for children ". I wo n't upload content for children" Three options are displayed: "Check viewer settings for all videos." Choose the most appropriate one.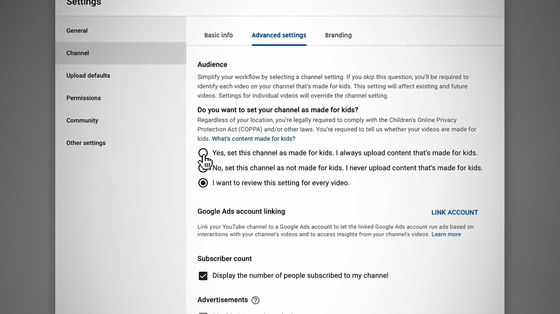 Setting viewers by channel will reflect the settings for all existing movies, so Lauren recommends channel settings first. Also, if there is a movie that does not match the settings of the entire channel, it can be handled by setting it individually.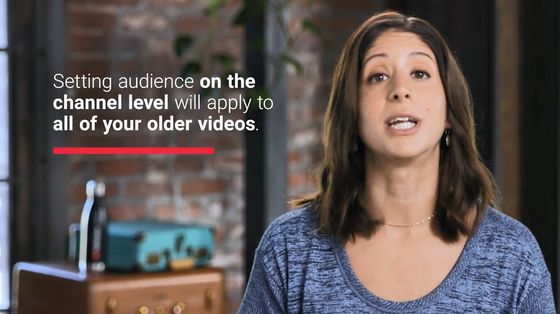 When setting for each movie, select a specific movie from YouTube Studio and click "Edit".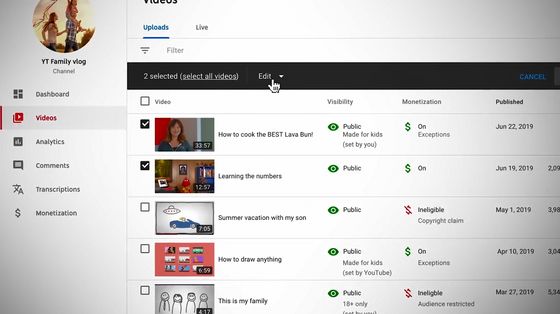 A menu will be displayed, so you can open the 'Viewer' tab and make settings.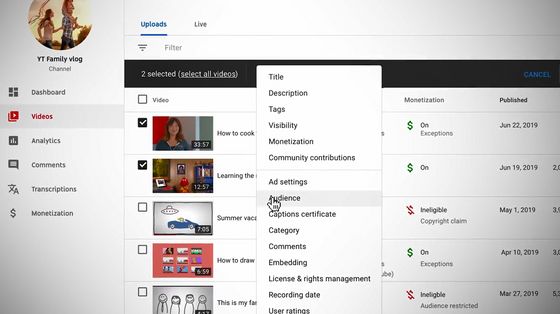 In addition, every time you upload a movie, you 'll need to declare whether it 's content for children. If the channel setting is already set for children, the setting image will be reflected, but if the movie does not match the channel setting, open the `` Details '' tab while uploading the movie and open the movie You can choose something close to the content.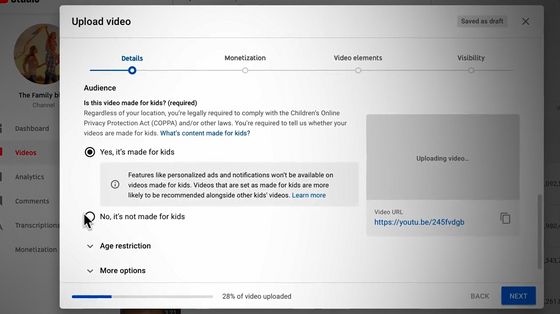 Mr. Lauren answers the basic question, "What is the content intended for children by COPPA?"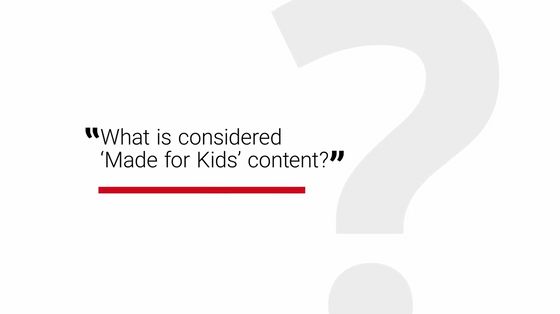 Items to consider include "movie themes" "whether children are supposed to be viewers" "whether children's actors and models appear" "characters, celebrities, and toys that attract children's interests" `` Whether words or expressions that are easy to understand for children are chosen '' `` whether activities for children such as pretend play and songs are included '' `` whether songs, stories, poems that attract children's interest are included '' '.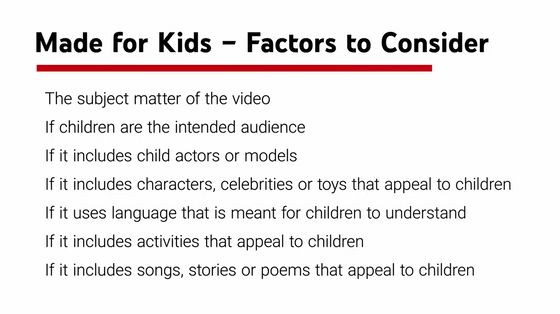 Since YouTube can not give legal advice, although it supports as much as possible, it is left to the creator to decide whether the content is for children.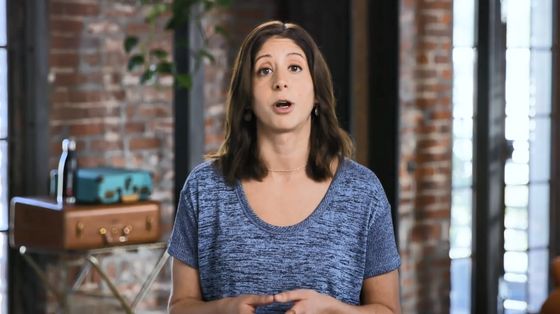 "Children" as defined by COPPA are said to be under 13 years old, but "Please consider not only COPPA but also the laws and regulations concerning children in each region," Lauren accuses.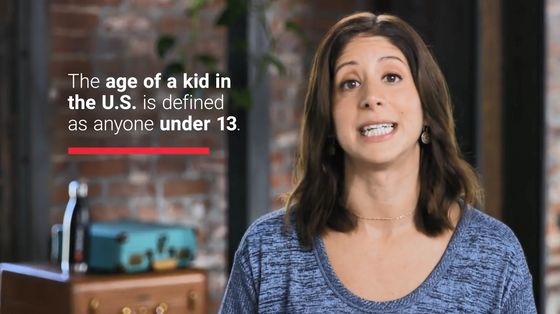 For movies set for children, the data collected by YouTube will be limited, so it will be treated differently from other movies.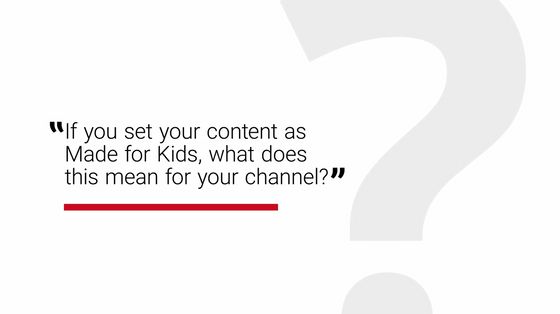 Some functions such as comments, information cards, and movie end screens are restricted.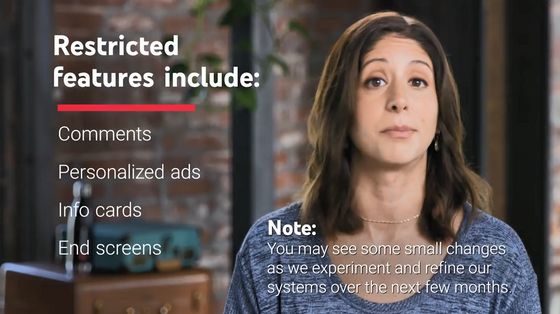 Because personalized ads will not be displayed, some creators will reduce revenue.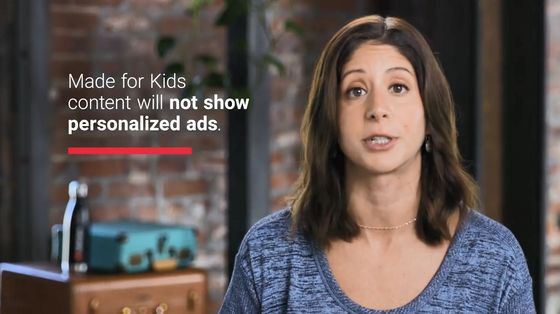 Also, if you set "for children" for each channel, you will not be able to use the story function, community tab, notification function, "watch later" function, etc.



If you set the wrong audience, you may be considered a violation of COPPA and other laws and regulations, and if YouTube deliberately determines that you are setting an illegal audience, Measures may be taken against movies and movies.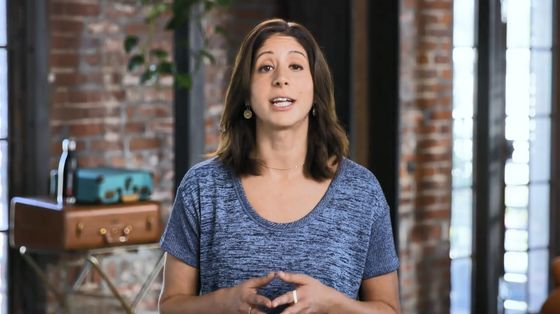 When you actually opened GIGAZINE YouTube Studio and opened in the order of "Settings" → "Channel" → "Detailed Settings", it was possible to set whether to set the entire channel for children.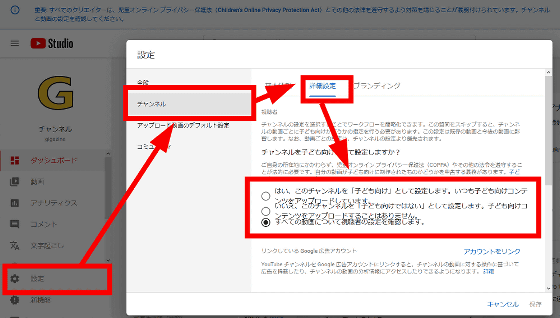 If you select a posted movie and click 'Details', you can also select whether the movie is for children individually.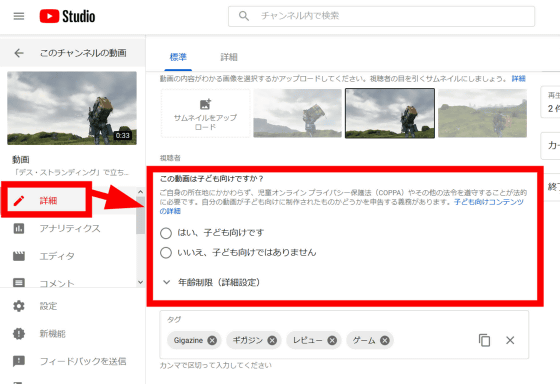 Also, list movies and check the left check box and click "Edit" ...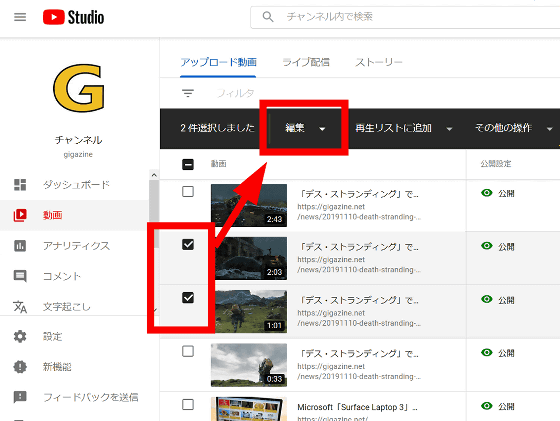 Click "Viewer".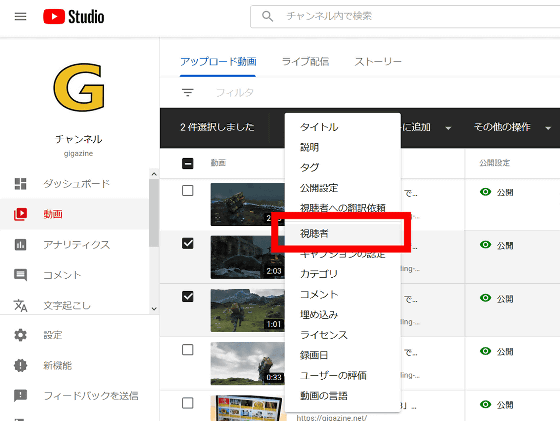 Then you can choose whether the selected movie is for children.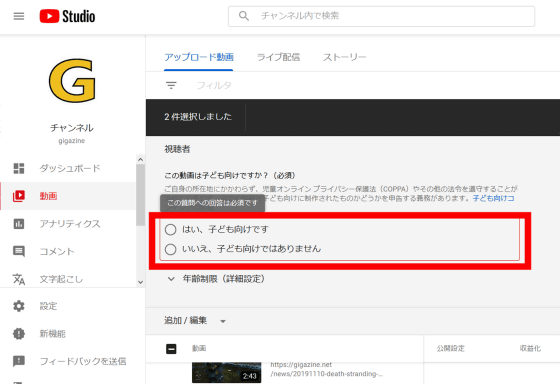 You can also restrict viewers to 18 years of age or older by clicking "age restriction (detailed settings)".