OV6948, an image sensor with a side of 0.575mm and sand particles, is certified as Guinness World Record as the world's smallest commercial image sensor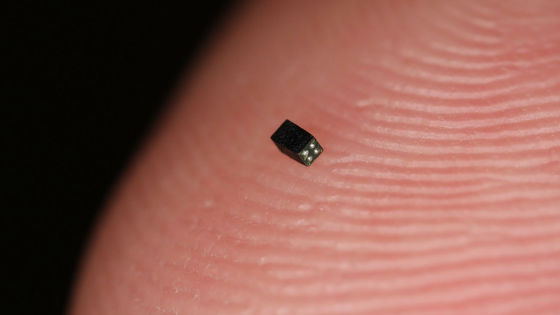 The
OVM6948
image sensor from
OmniVision Technologies
, a manufacturer of
CMOS image sensors,
has been certified by Guinness World Records as the world's smallest commercial image sensor.
Product Releases | News & Events | OmniVision
https://www.ovt.com/news-events/product-releases/omnivision-announces-guinness-world-record-for-smallest-image-sensor-and-new-miniature-camera-module-for-disposable- medical-applications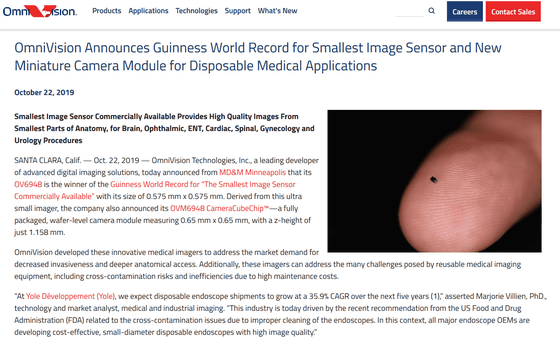 OmniVision | A Leading CMOS Sensor & BSI Image Sensor Manufacturer
https://www.ovt.com/sensors/OV6948

OmniVision Technologies' 'OV6948' certified as the 'smallest commercially available image sensor' in the Guinness World Record measures 0.575mm x 0.575mm. OmniVision Technologies announced the OVM6948 Camera Cube Chip, a 0.65mm x 0.65mm x 1.158mm camera module based on this OV6948.

According to market analyst Marjorie Villien, medical disposable endoscopes are expected to grow at an average annual rate of 35.9% over the next five years. The US Food and Drug Administration (FDA) is promoting the use of disposable endoscopes due to the problem of cross-contamination caused by improper cleaning of the endoscope. We are developing endoscopes.

According to OmniVision's Aaron Chan, the existing cameras were too large, and reusable endoscopes were not cost-effective so far, low-fidelity images from fiberscopes have been used for surgery. Or have been treated blindly without a camera. However, a compact disposable medical device like "OVM6948" improves patient comfort and shortens recovery time.

The feature of "OVM6948" is a chip-on-chip camera with back lighting. Excellent image quality and improved sensitivity. You can also use better lens technology than competing front-lit cameras in its class. The angle of view is 120 degrees, and the focal length is 3mm to 30mm. The image resolution is 200 x 200 pixels and the video is 30 fps. Shooting content can be transferred even if it is more than 4m away with reduced noise. Power consumption is as low as 25mW, and fever can be suppressed, reducing the burden on patients.