Why can't Apple's AirPods be repaired?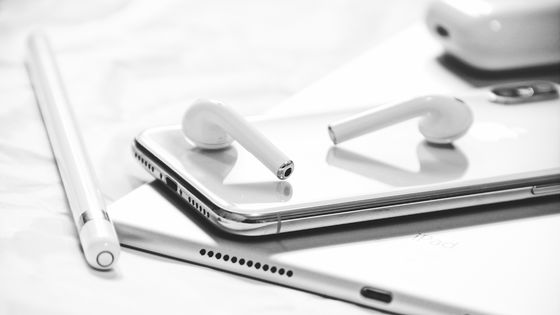 by
eleven x
About Apple's wireless earphone ``
AirPods
'', which is
expected
to ship 26 to 28 million units in 2018,
Washington Post
said, `` Why Apple's AirPods can not be repaired? '' Pointed out.
Why AirPods can't be fixed-The Washington Post
https://www.washingtonpost.com/technology/2019/10/08/everyones-airpods-will-die-weve-got-trick-replacing-them/
Washington Post's technology columnist Jeffrey A. Fowler seems to have purchased and used AirPods in 2016, but in 2019 it will be zero and the battery will be unusable in about 15 minutes It seems to have noticed. When I brought AirPods to Genius Bar, Apple's official support in the Apple Store, the store clerk said, 'I'm sorry, but we can't help you.'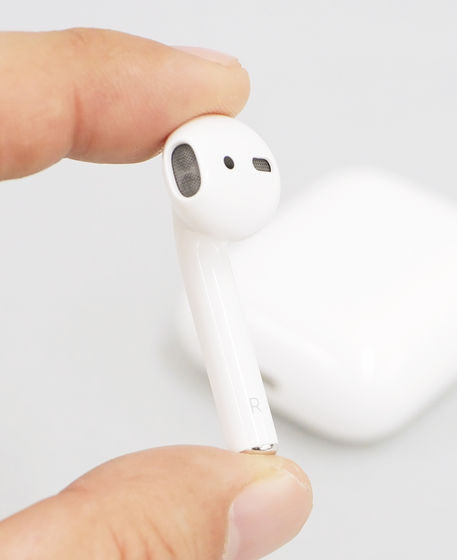 According to a Genius Bar clerk, users who purchased early AirPods like Fowler in 2019 brought AirPods to repair requests. The reason is that AirPods batteries reach the end of their life in about two years. Apple provides a
repair service
for AirPods, but there is no way to replace the battery even if it is brought to the Apple Store for repair, and only a discount service to the new AirPods is offered.
Until a while ago, earphones and headphones were one of the most universal and long lasting electronic devices. However, Apple is using AirPods to change earphones to "expensive and disposable electronic devices" and "damaging our wallet and environment," Fowler points out. In addition, the Washington Post has released a movie that destroys the housing part and takes out the battery inside as `` almost impossible '' to replace the battery without destroying the AirPods.
Apple states on the
battery service and recycling
page on the official website, 'All rechargeable batteries have a limited lifespan and may eventually require battery service and recycling.' Apple products have a service to replace the exhausted battery and a function to analyze the battery status of the terminal. In fact, battery replacement services for iPhone and MacBook are widely used. In fact, Apple has discounted more than 60% of iPhone battery replacement costs
, making
it clear that
11 million iPhones have replaced their batteries in
about a year.
However, in the case of AirPods, Apple seems to have very few options. First, AirPods does not have a function to diagnose the battery status. And Apple does not share AirPods battery life expectancy guidelines. An Apple spokesperson says `` AirPods are designed to last long '', but Mr. Fowler said `` The battery died in 34 months '', from another user
18 months
There are also reports
that the battery is dead
.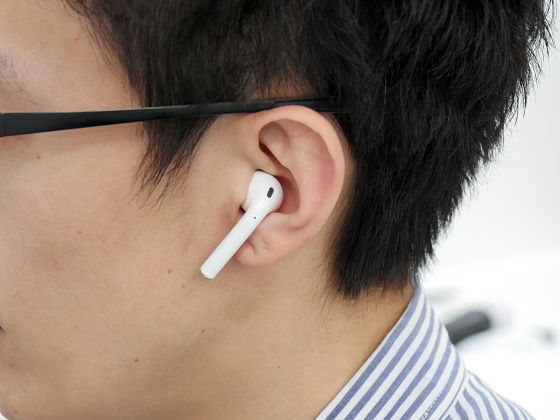 Also, Fowler points out that even Apple employees are not fully aware of AirPods repair options.

When Mr. Fowler brought AirPods to repair, it seems that he communicated with the support of three people online and Genius Bar, and finally it was diagnosed that repair of AirPods was impossible, so 138 new AirPods for replacement were replaced He said he had to buy it for $ 15,000. This is the same price as a new AirPods. However, when he first contacted support, he was told that he could replace the battery for $ 49, so Mr. Fowler repeated weeks with Apple.

As a result, the following answers were obtained from Apple.

-If the AirPods are less than one year old, the Apple Store will replace the battery for free if the battery can only operate below the default '5 hours listening'.
・ If you are subscribed to
AppleCare + for Headphones
, the official support program for AirPods, you can receive a battery replacement service for two years after purchase. However, the Washington Post notes that this extended warranty is only two years long and not long enough to support AirPods.
-If it is out of the warranty period of AirPods, Apple will state on the official page that it will replace the battery for $ 49 per AirPods (7800 yen in Japan). However, this means that it actually costs a total of $ 98 (15,600 yen in Japan), Fowler said. Also, the charge for replacing the charging case is $ 49 (about 5300 yen). It seems that the word `` battery service '' is the key, but Apple is providing additional training for customer service at the time of article creation, so Mr. Fowler will present
this page
if there is a problem Recommended.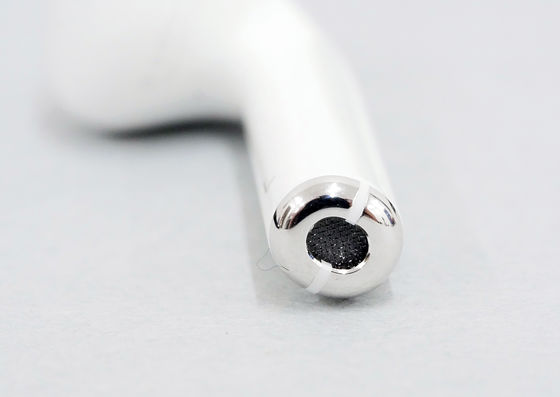 If it's outside the warranty period, it would be `` very expensive '' to cost $ 98 for battery replacement, says Fowler, and for the same Apple iPhone, the battery replacement cost is $ 49 (5400 yen in
Japan
or (7400 yen), Apple Watch is $ 79 (8800 yen in
Japan
), pointed out that the battery can be replaced at a lower cost. Fowler points out that the reason why AirPods' battery replacement is expensive is not to replace the battery, but to replace the earphone itself.
In the case of AirPods, the reason for replacing the main unit without replacing the battery is simply that it is difficult to replace the battery. Mr. Fowler sought advice from a repair specialist on why it was difficult to change the battery. When iFixit CEO Kyle Wiens tried to dismantle AirPods for the first time, he cut his fingers with a cutter many times and bleeds. In addition, the battery burned during the dismantling and smoke was raised.
Mr. Fowler, who was still not convinced, tried to dismantle AirPods with his own hands under the supervision of iFixit CEO Vienna. In order to take out the battery of AirPods, it seems that he tried to remove the metal part at the bottom of the main body with a cutter, but since this part is fixed with adhesive, it was quite difficult, and it was difficult to pull out even if heated . Therefore, it seems that it was necessary to cut the cutter deeply when removing metal parts. In addition, because it was unsuitable for dismantling with ordinary cutters, he wrote that he borrowed a special vibrating knife from the CEO of Vienna.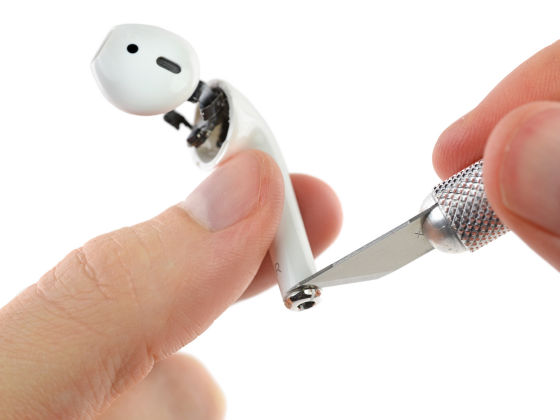 According to Fowler, even after removing the metal parts, many parts were fixed inside the body with adhesive. Therefore, it seems that the battery could not be pulled out with tweezers. Therefore, we will carefully cut the AirPods casing ...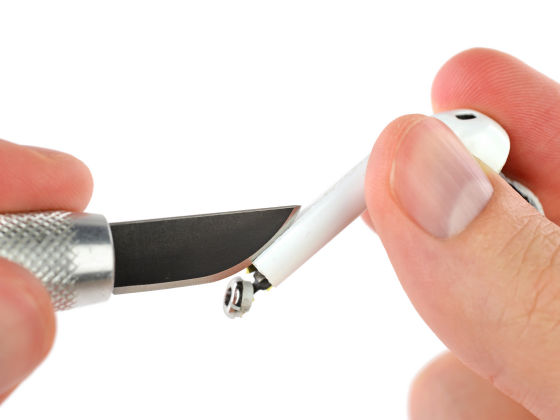 It seems that a battery about the size of a thick pasta came out from inside. When actually disassembling, Mr. Fowler wrote that `` It could not be assembled again '', and Vienna's CEO said, `` There was no way to take out the battery without completely destroying the AirPods '' The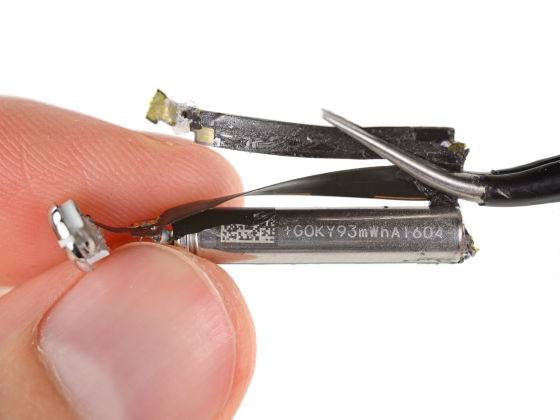 The Washington Post asked Apple if it was impossible to reassemble the AirPods after dismantling, but they didn't respond.

About this, Mr. Fowler pointed out, 'The cause of death of AirPods is clear, it is a poor design as a product.' In addition, media other than the Washington Post have repeatedly criticized AirPods, and VICE calls AirPods a "
disposable culture tragedy
". "The fact that Apple is obsessed with such disposable products is the IT industry version of the fashion industry sticking to skinny models," said Fowler. "We are under pressure to follow other trends set by Apple," he added.
The tendency to seek too thin is not healthy for gadgets. Fowler pointed out that Apple's design trend to cut a few millimeters of design led to a
MacBook keyboard failure
and a lot of AirPods being thrown into the trash. In addition, fixing electronic components with adhesive instead of screws and latches will lead to lighter devices and increased resistance to moisture and dust.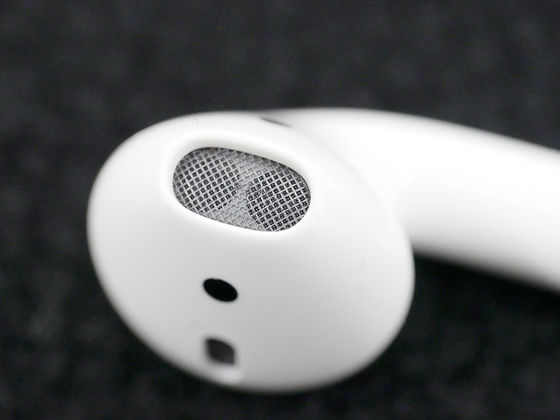 An Apple spokesperson said, "Apple products are designed with the environment in mind. We work closely with recyclers to ensure that AirPods are properly recycled, and to recyclers outside the supply chain. 'We provide support,' he claims, Apple products are designed with the environment in mind and are providing correct support for repaired products. But Fowler pointed out, "AirPods doesn't have much material that can be recycled. A lot of energy, water, and materials are needed in the AirPods manufacturing process." In addition, IT companies need to make the product last as long as possible through repair and reuse in order to correct the global environmental problems, and Fowler criticizes 'AirPods are not suitable for it.'