Threads, a new message app that allows Instagram to more closely communicate with close friends and to check each other's 'What are you doing now?'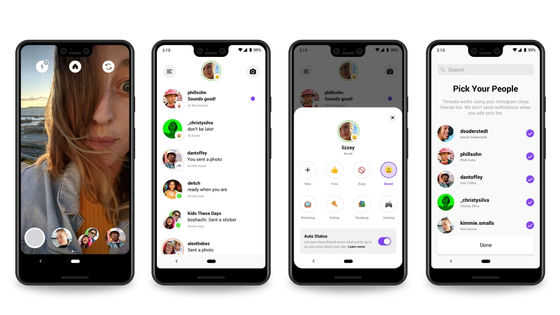 A camera-first message app ' Threads ' that helps you stay connected with close friends from Instagram has appeared. Instagram is an app that allows you to post photos and movies and connect easily with an unspecified number of people, but Threads seems to have been developed because there should be a way to communicate more closely with close friends. With Threads, you can tell your friends what you are doing and how you feel through photos and movies, and you can communicate in a private space different from Instagram.

Introducing threads-instagram

https://instagram-press.com/blog/2019/10/03/introducing-threads/
Instagram launches Threads, a Close Friends chat app with auto-status | TechCrunch
https://techcrunch.com/2019/10/03/instagram-launches-threads-a-close-friends-chat-app-with-auto-statu
Threads is a separate app from Instagram that allows you to share messages, photos, movies, and Instagram stories only with your close Instagram friends. You can always manage who you can contact from within the app, and you can only contact people you care about.
Threads can send messages to users registered on the list using the "
Close Friends
" feature on Instagram. If you haven't created a close friend list on Instagram, you can create a list directly when you start Threads for the first time.
Threads seems to be the `` fastest way '' to share photos and movies with close friends, and the camera opens directly when you open the application, so you can share `` what you are doing '' just by tapping the screen twice .
The development team felt that "Even if there is no time to send photos or exchange messages, we need a way to communicate easily," and the "status" function was created there. You can set your status and tell your partner what you 're doing, such as "learning" or "driving", or check your friend 's status to see what your partner is doing It is possible to check whether it is. The status function is a function created in consideration of privacy, and it seems that you can finely manage who the status is shared with.
The following screen is the status setting screen. There are everything from "At home" and "On the move" to modern statuses like "Low battery".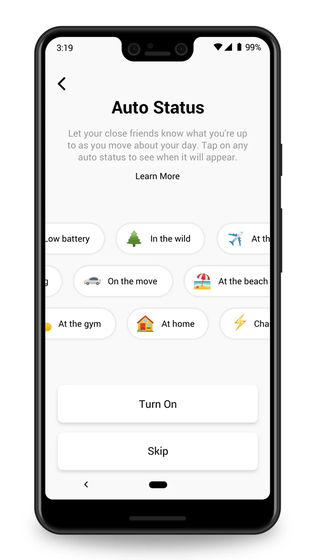 Messages with close friends appear to be displayed on both
Instagram Direct
and Threads of the
Instagram
direct message function.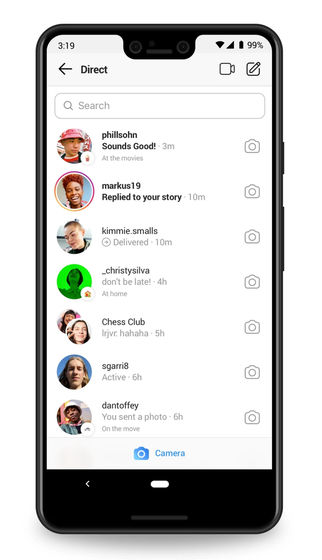 Threads will be distributed on October 4, 2019, and both iOS and Android versions have already been released.