Google `` kills '' Android application developers without telling the reason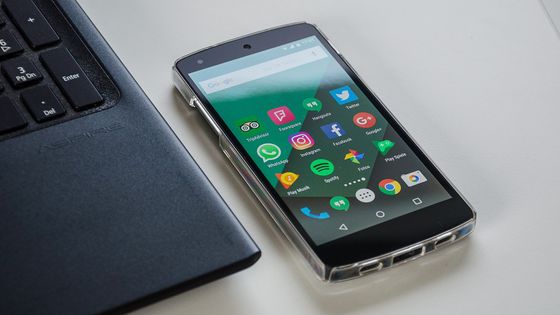 by USA-Reiseblogger

With Google Play, a distribution service that provides apps and content mainly for Android devices, third-party developers can also publish their own apps and make profits from app purchase fees, billing, etc. . However, a developer who made a living with an application for Google Play suddenly deleted his account without being informed of the reason. The developer complains that 'I lost everything overnight.'

How Google Play "Terminated" a Developer for No Reason
https://medium.com/@tokata/how-google-play-terminated-a-developer-for-no-reason-e4d760e9f472

Patrick Godot, a freelance app developer, is a popular app developer who distributes 8 apps to Google Play and App Store under the name TokataSoft and records a total of millions of downloads centered on Google Play .

A typical example of an app developed by Mr. Godot is " Star Words ", which allows you to create an opening roll like the movie " Star Wars " using your favorite background image.

Did you know? You can add custom background images with the menu Settings> Background image> Add ...
Have fun with Star Words app, and may the Force be with you! #StarWars #StarWarsCelebration #StarWarsFan #StarWarsIX pic.twitter.com/1nmgiXymAm

— Tokata (@TokataSoft) July 12, 2019


In addition, we released " Cozmic Zoom Lite ", which allows you to zoom in on the galaxy and enjoy the starry sky like this.

#BlackHole approaching ... In the meantime, here is a zoom to the center of the Milky Way <3 (Video by ESO from Cozmic Zoom app.) #BlackHoleDay #EHTBlackHole #EHT pic.twitter.com/VTHnPacNoa

— Tokata (@TokataSoft) April 10, 2019


However, on July 31, 2019, suddenly, Google received a message from Mr. Godot saying, "Star Words is acting maliciously, so it has been removed from Google Play as a policy violation". On the same day, the Google Play developer account was closed, and all of the apps that Godot delivered were gone.

This isn't the first time that Mr. Godot has experienced the removal of an app, but so far he has successfully solved the problem. The first case was when TokataSoft's first app "Jimi Guitar" was delivered in 2017. Mr. Godot, who saw the popular Jimi Guitar being copied in China in large quantities, introduced Google's `` application falsification prevention technology '' recommended for engineers and tried to stop copyright infringement .

However, since users received a report that Star Words and Cozmic Zoom Lite that introduced the technology were blocked by the anti-virus application " F-Secure Mobile Security ", Mr. Godot immediately contacted F-Secure support and made an error. Notification of detection. Two days later, the anti-virus application judged that it was "safe", and I got nothing.


by athree23

Also, when Cozmic Zoom Lite was suddenly deleted in June 2018, Google provided information that it may be related to YouTube access by the app. Mr. Godot thought that this might have something to do with the fact that Cozmic Zoom Lite uses public domain movies uploaded to YouTube, but in the end we could not find a specific problem .

However, when Mr. Godot applied for Google to distribute the application again, the application was accepted on the condition that it was distributed as another application, so the number of downloads until then was reset, but Cozmic Zoom Lite is safe Re-delivery is in progress.

Mr. Godot, who thought that this app deletion and account freeze this time `` maybe something wrong '' immediately contacted Google, but there is no valid response, and it is impossible to register a developer account again And the reply that the account registration fee was not refunded was just received.

Mr. Godot has posted an image of a scene in which a medium frozen by Han Solo appearing in Star Wars as "My state when I received Google's email" in a Medium article, but at the time of writing the article This is the profile picture of TokataSoft's official Twitter account.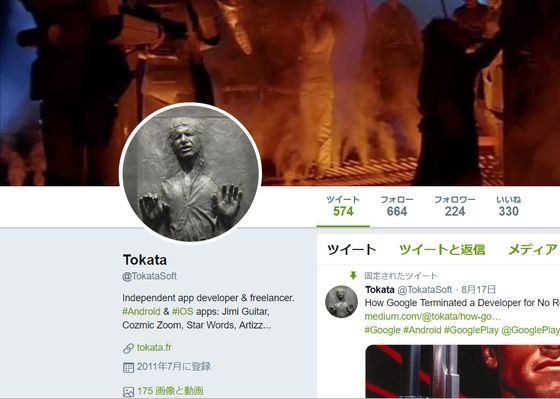 Godo said to Google, "I know I need to protect my system from malicious apps and protect user trust. But I do n't have to worry about losing everything overnight. , Isn't it necessary to have a minimum level of developer trust? '

Also, users who have been using the app so far have said, "Even if the app is just a toy to kill time, there are people in the background of the app who have been working hard to develop the app. Do n't forget, "he called for the spread of examples like this.