Samsung develops the industry's first image sensor for smartphones with 108 million pixels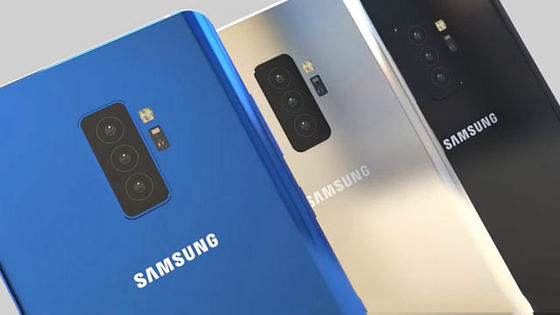 by
Top Ten Alternatives
Samsung, a smartphone and semiconductor manufacturer, announced the
ISOCELL Bright HMX
, the industry's first image sensor for smartphones with 108 million pixels. ISOCELL Bright HMX is a joint development between Samsung and Chinese smartphone maker Xiaomi. Mass production is scheduled to start in August 2019.
Samsung Takes Mobile Photography to the Next Level with Industry's First 108Mp Image Sensor for Smartphones – Samsung Global Newsroom
https://news.samsung.com/global/samsung-takes-mobile-photography-to-the-next-level-with-industrys-first-108mp-image-sensor-for-smartphones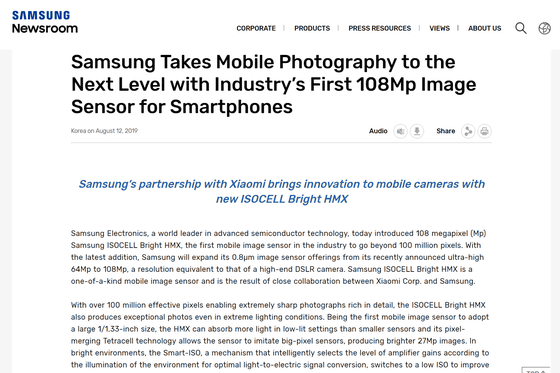 Samsung Just Made a 108MP Camera for Phones-Thurrott.com
https://www.thurrott.com/hardware/212012/samsung-just-made-a-108mp-camera-for-phones
By using an image sensor of 108 million pixels, smartphones can take high-quality photos under various lighting conditions. Samsung said, "The ISOCELL Bright HMX, with a size of 1 / 1.33 inches, has a resolution comparable to a high-end digital SLR camera, and can take pictures that are extremely clear and rich in detail."
According to Samsung, the technology called `
` Tetracell
'' that can shoot images of up to 27 million pixels brighter with a 108 million pixel sensor by combining 4 pixels into one, and the level of amplifier gain according to the brightness of the shooting environment It is said that a technology called "
Smart-ISO
" that automatically selects is adopted. For example, when taking a photo in a bright place, the ISO sensitivity automatically decreases, and further, the saturation of the pixel is improved and a 27 million pixel photo image is generated. In the dark, noise can be reduced even if the ISO sensitivity is increased.
Samsung also announced that ISOCELL Bright HMX is designed for movie shooting and supports 6K movies up to 6016 pixels x 3384 pixels.

by Franco Dal Molin

"The ISOCELL Bright HMX research and development, Xiaomi and Samsung have worked closely from the initial concept to manufacturing. So far, we have been a top-level digital SLR camera. I am very pleased that images with a resolution that could only be taken with smartphones can now be taken with smartphones. '

Park Yong-gin, executive vice president of sensor business at Samsung Electronics, said, "Samsung has developed ISOCELL Bright HMX, pixel and logic technologies to capture the world closer to what the human eye perceives. `` ISOCELL Bright HMX works closely with Xiaomi to realize unparalleled color reproduction and amazing image quality with advanced technology beyond 100 million pixels by working closely with Xiaomi This is the industry's first image sensor for mobile devices. '