Over 2000 personal information participants who participated in E3 2019 leaked personal information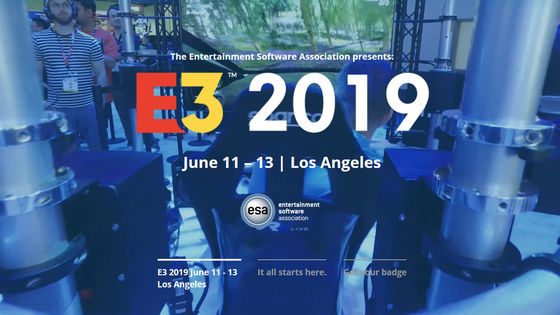 At the world's largest game event ' E3 2019 ' held for three days from June 11 to 13, 2019 , 2020 , Microsoft's
Xbox
announced '
Project Scarlett
' of a new game console project, from Square Enix The latest video of '
Final Fantasy VII Remake
' is released, and
Nintendo
announces
the
creation of
the
sequel
of
'The
Legend of Zelda: Breath of the Wild
' Has jumped out. Under such circumstances, it has become clear that personal information of more than 2000 media related to E3 2019 has been leaked.
E3 Organizer Leaks The Personal Data Of Over 2,000 Journalists, Content Creators And Analyzers-Game Informer
https://www.gameinformer.com/2019/08/03/e3-organizer-leaks-the-personal-data-of-over-2000-journalists-content-creators-and
E3 Expo Leaks The Personal Information Of Over 2,000 Journalists
https://kotaku.com/e3-expo-leaks-the-personal-information-of-over-2-000-jo-1836936908
E3 is a global gaming event sponsored by the
Entertainment Software Association
(ESA). To participate in the event as a coverage or related party, call the host ESA a phone number, address, email address, and other personal information. You need to register information and get media badges. The number of people who received the media badge at E3 2019 seems to be more than 2000, and it is clear that their personal information was being leaked on the Internet.
It was discovered that
Sophia Narwitz
's YouTube channel has discovered that over 2000 personal information registered in the media has been leaked. Narwitz is creating a movie like this:
The Entertainment Software Association just doxxed over 2000 journalists and content creators-YouTube
According to the movie, he found a list of personal information stored in 'accessible places' on the official site of ESA. In response to protests from journalists and analysts who unexpectedly become victims of data breaches, ESA has removed the list.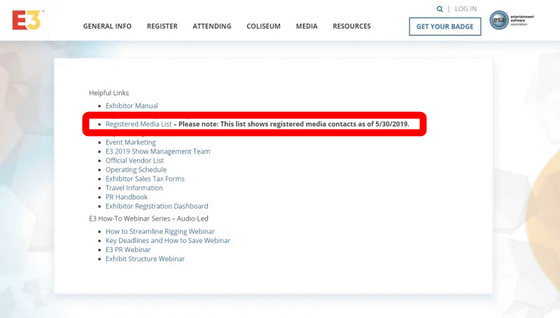 The ESA has made a statement on this matter, saying: 'ESA yesterday (August 2, 2019) recognized a vulnerability in the website in the Exhibitors Portal section on the official website of E3. Unfortunately, The vulnerability has been exploited and the list has been released, and I deeply regret that something like this happened, and I apologize.

In addition, exhibitors can invite media to E3 press events, keep in touch for interviews, and provide events by providing a password-protected media list to ESA members and exhibitors about media badges. Can tell you what to introduce in the

According to ESA, 'For the past 20 years or more, such problems have never occurred. When we find this problem, we close the portal for E3 exhibitors, and the media list is on the E3 website. 'I made it unavailable' and stressed that he addressed the problem immediately.

When Kotaku in game media contacted Narwitz who found a data breach, 'I performed a procedure to make sure that the data wasn't available before I considered making a movie. When I searched the Internet archive, I could not find anything, and the page was 404. However, it seems that the data was cached somewhere else, so I made the movie public. Did not notice until they were disseminated, "commented.

In addition, Game Informer, a foreign game media company, has pointed out that this data breach may cause ESAs to become involved in the General Public Data Protection Rules (GDPR) -related lawsuits.