We have eaten a hearty 'Naked Chicken Octopus' where the deep fried fried chicken became a whole Tacos dough.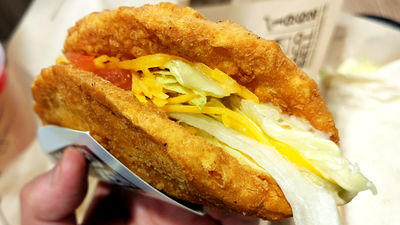 The American fast food chain 'Taco Bell' has been offering ' Naked Chicken Taco ' from Tuesday, July 9, 2019. The whole dough is made of fried chicken, and it is a highly impacted tacos with plenty of vegetables and special mayo sauce. I was really worried about what the volume was, so I actually went to eat.

NEW NAKED CHICKEN TACO

https://tacobell.co.jp/saikyo2019/
The strongest chicken ever hit Japan! 'NAKED CHICKEN TACO' is released for a limited time from TACO BELL (Taco Bell)! Don't miss great deals!
(PDF file) https://ssl4.eir-parts.net/doc/3069/tdnet/1729600/00.pdf
I came to Taco Bell.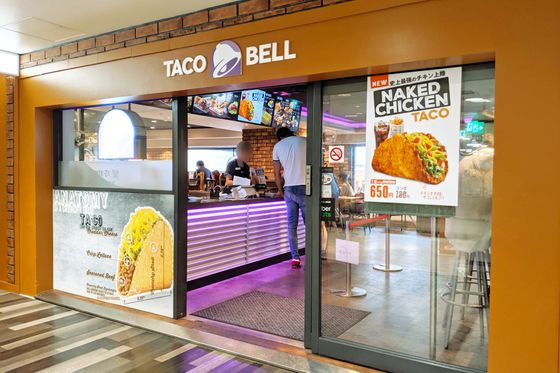 At the store, it was marked as 'the strongest chicken landing in history,' and the appearance of a naked chicken octopus was announced.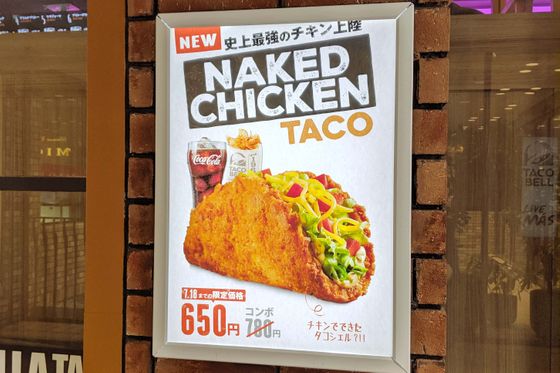 We ordered, and combo of naked chicken octopus (tax-included 650 yen) came to hand in less than 10 minutes.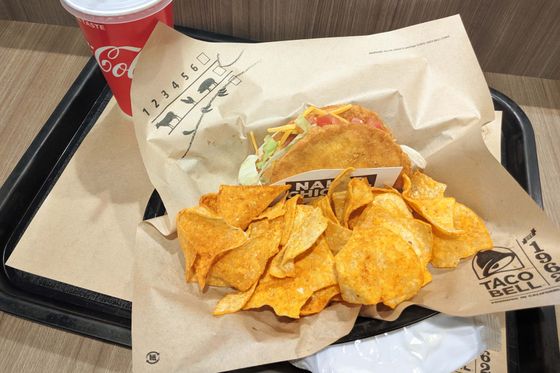 Brown taco wrapped in a paper case.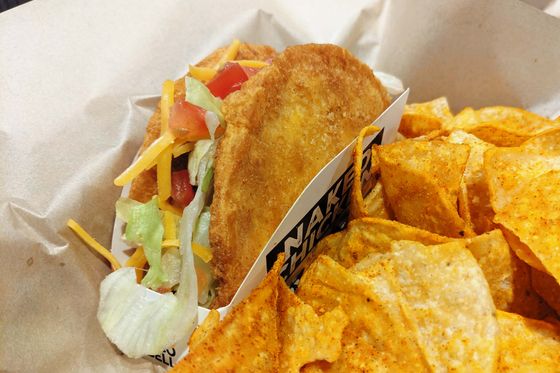 Naked chicken octopus is freshly fried and extremely hot, and if you try to touch it with your bare hands without using a paper case, you are likely to get burnt.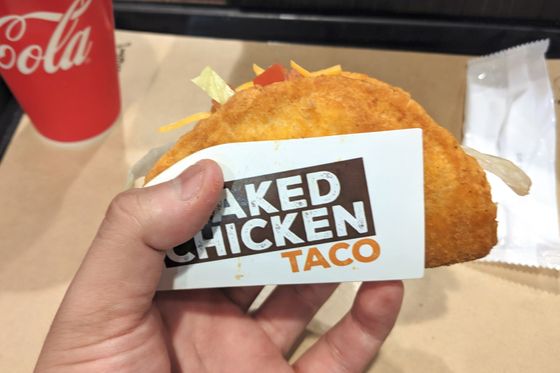 The size looks like this compared to the traffic IC card.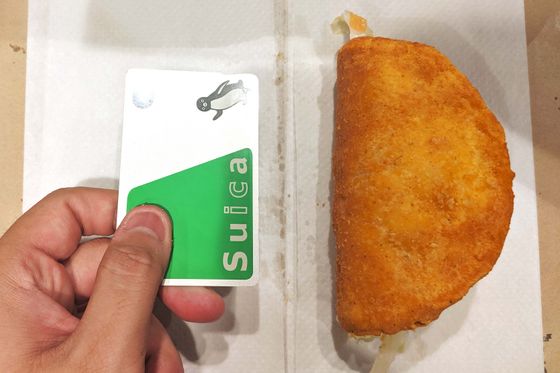 Naked chicken octopus and Taco's regular menu Tacos (soft shell) compared. The size of fried chicken was a bit smaller than tortillas.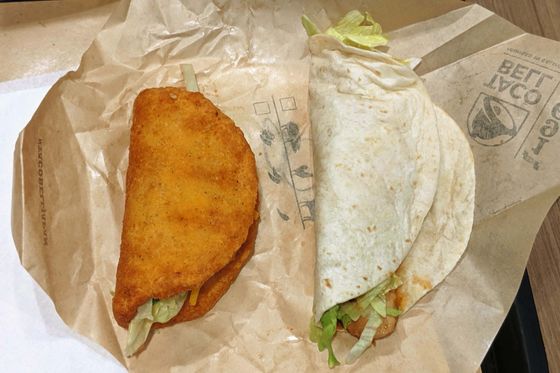 The ingredients wrapped in regular tacos are vegetables, cheese, meat, and spicy salsa.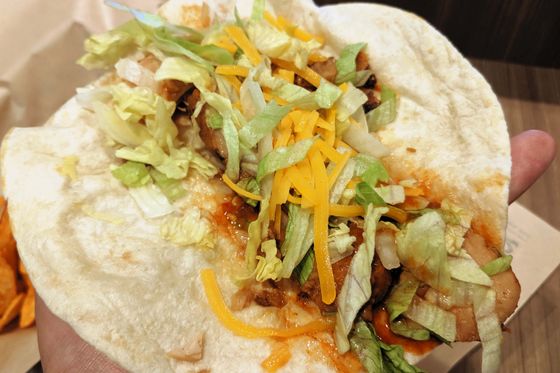 Naked chicken octopus is made of meat itself, and the ingredients are vegetables and cheese only. The source is not red salsa but white special mayo sauce.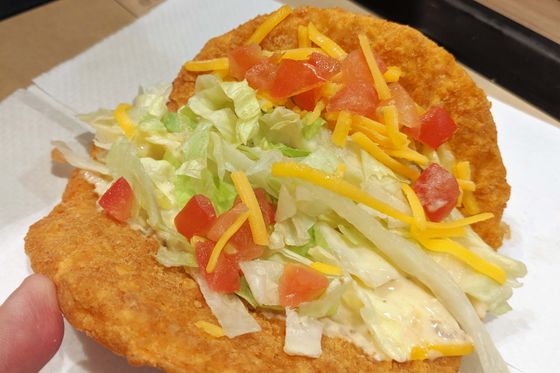 Let's eat right away before it gets cold.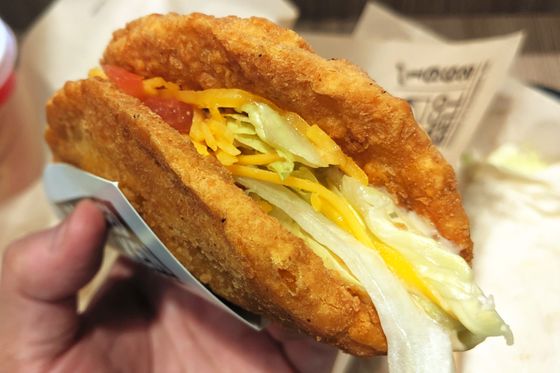 Tacos' dough was 'fried chicken', but the texture was rather chicken nuggets. The clothes are deep fried and crispy, and the meat inside is pure and resilient. I thought before eating, 'It's hard to eat tacos wrapped in chicken,' but I felt that it was very easy to eat thanks to its good size and paper case. In addition, I was expecting that the whole chicken would be doughy with a rather greasy taste, but when I actually eat it, I feel fresh and crispy texture of fresh vegetables and refreshing with specially made mayo sauce with acidity like caesar dressing. , I finished eating while I was eating.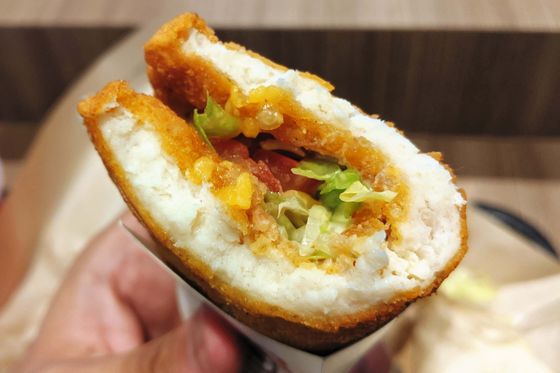 Naikit chicken octopus is separately available at 480 yen and combo 780 yen, and can be ordered from July 9, 2019 (Tuesday) with Taco Bells nationwide except for stores in Tokyo Dome. Also, Naked Chicken Octopus from July 9th to July 18th, 2019, a combination of drinks and side menu will be offered at tax-included 650 yen instead of 780 yen-included tax.

Furthermore, from July 9, 2019 to July 31 (Wed), wearing a tank top, camisole and tube top, posing for the following image to a cashier clerk and buying for half price including tax of ¥ 390 The 'strongest chicken challenge' that can be held is held. As it is with a limited challenge up to 10,000 sets in all stores in total, if you are confident in your muscles, please try.